Q&A
Halt and Catch Fire Q&A — Anna Chlumsky (Dr. Katie Herman)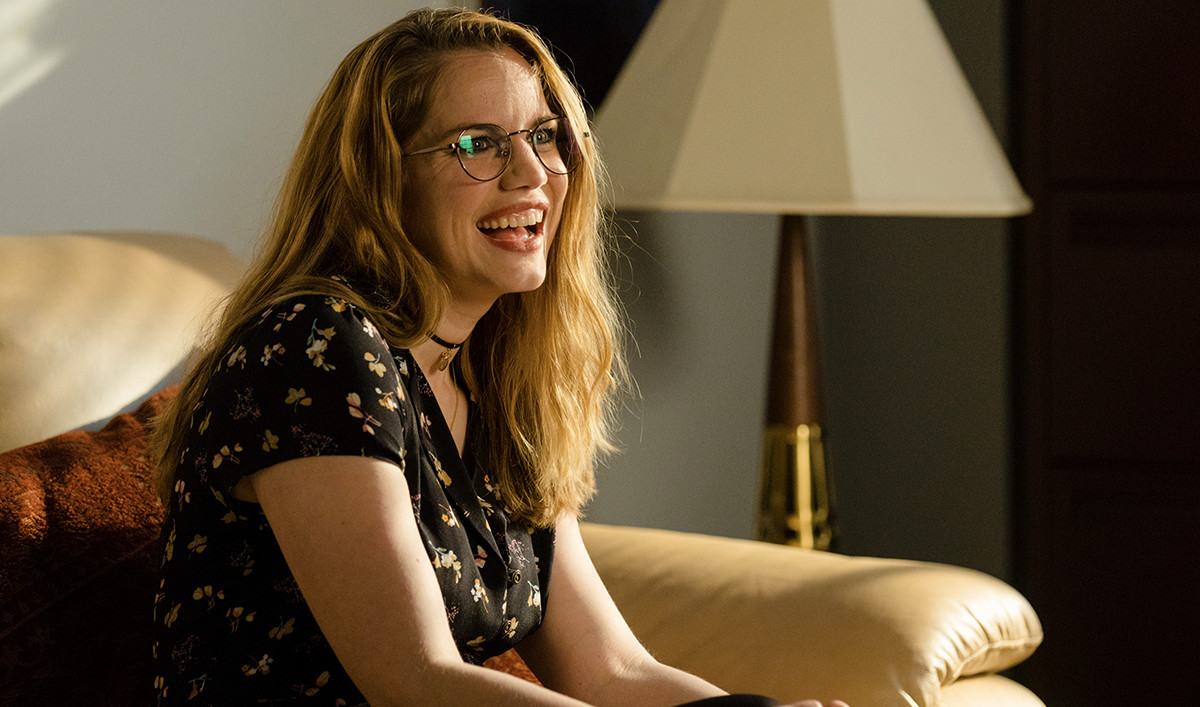 Anna Chlumsky, who plays Dr. Katie Herman on AMC's Halt and Catch Fire, discusses the way her character's brain works, the instant connection between Katie and Gordon, and what Katie would have thought of the My Girl movies.
Q: What were you most excited about playing this character?
A: She's definitely not like Amy [from Veep]. Any of us who are nerdy about what we do are always happy to stretch and go in different directions and find different facets of our craft.  It's refreshing for me to be able to play that. Like I said to Lee [Pace] and Scoot [McNairy], I hope she makes sense in their world. They said she does, so I have to believe them.
Q: Once we meet Katie, we instantly get a sense of how her brain works. How did you use that to build the character?
A: It was my first jumping off point for discovering who she is, what makes her tick, the pace of her brain and how quickly it moves to draw relationships and solve problems, and how quick of a thinker she can be. It was the thing I was most impressed by in that first episode – how quickly she jumps right in and introduces herself to the department and is like, "OK. This is how we can make things better." She already has ideas and can keep up with that pace.
Q: What does Katie make of Comet's operation when she first walks in to the interview?
A: I think it's definitely a breath of fresh air. She mentions that she just left a job in Chicago after not very long that was archiving at the Art Institute. That sounds like a marvelous and beautiful job, but she's so into new stuff and esoteric taste. Back then, the whole idea of the open plan office and the less-structured work day was all really new. I think she saw that and went, "Oh my gosh. This is exactly where I want to be working." It's probably like a match made in Heaven.

Q: Joe and Gordon are clearly impressed quickly by her skills in that first interview. Do you think they underestimated her?
A: These companies were really inventing this position at that point, so I think they probably knew the job description before they knew what the job was and who to look for. I think they were throwing darts blindly and hoping something would stick. [Laughs] Joe's reaction when she seems to be exactly what they're looking for is like a lightbulb going off. It's like an "ask and you shall receive" moment for them.

Q: There are some signs that Katie is interested in Gordon almost immediately. What does she see in him that interests her?
A: I think in that first episode, you can see there's some type of pheromonal thing going on. They don't know anything about each other, yet he's really charmed by her. She notices that and in turn, is really charmed by him. It's pretty much the biological response at that point.

Q: What's Katie's first thought when she hears Gordon's young daughter is working at Comet? 
A: I think at first, she's looking for the wedding ring and going, "Oh sh—t. Did I miss something?" It probably slows her down slightly. That's definitely what it felt like.
Q: Katie and Haley seem to bond pretty quickly. How would you describe the dynamic between them? Is any part of her befriending Haley to get closer to Gordon?
A: I think it's genuine. I don't think she's befriending Haley to get close to Gordon. She can get close to Gordon all on her own. She genuinely admires this young woman and probably sees some of herself in her. This place is full of outcasts, people who are misunderstood and who are like round pegs in square holes. So, I definitely think she connects and identifies with her in a warm sense. She really sees the potential in her as a person.
Q: As you mentioned, Katie is unafraid to jump right in and mix things up. Do you think she's found a home at Comet?
A: Definitely. Katie is somebody who loves books, music, culture and history enough to archive it and really go deep into a subject. A lot of the times, growing up with that type of a brain isn't necessarily accepted or understood at its very best. We learn a little bit more as we go along, but she's not the type of person that stays in one place long, and I think that is indicative of her never really finding her tribe or her home. This place is like the first time she really entertains the idea that she could stick around and lead this merry band of misfits.
Q: What does it mean for you to play this complex woman in this male-dominated world? 
A: That was one of the things I definitely talked to Chris [Rogers] and Chris [Cantwell] about when we were talking about Katie. We've gotten to the point in television and storytelling where everyone's aware now that females are people. Sadly, to make a generalization, Silicon Valley itself is just catching up to that, but our characters are certainly on the forefront of that. All characters have to be round if we're going to play them. If you're going to hire me to play one of your characters, I'm going to ask all those questions and find out what makes them tick. Nobody is black and white. Everybody's gray. Every role is gray, and there's a lot of complex stuff that goes into making a person and even more that goes into playing a person and writing a person. That is the strength of this show.
Q: Have you become any better versed in technology because of this role?
A: I've become less afraid of technology since this show. Before, I was a person who was like, "Somebody figure this out for me" and now, I'm like "Wait a second. If I press this button, what happens?" I've become more experimental and competent in my own abilities.
Q: You're playing an adult character in the time frame that My Girl movies would have been in the culture. What do you think Katie would think of those films?
A: She'd probably like it. I feel like the only thing that'd get her to see that movie is if she had a niece or nephew around that age. I could imagine her taking them to go see it and them crying their eyes out and her being like, "I can't wait until your mom comes home because I cannot explain this sh—t to you." [Laughs]
Read a Q&A with Kerry Bishé, who plays Donna Emerson.
Halt and Catch Fire airs Saturdays at 9/8c on AMC. To stay up-to-date with all the latest Halt and Catch Fire news, sign up for the Members Only Club.
Read More