Q&A
Halt and Catch Fire Q&A — Manish Dayal (Ryan Ray)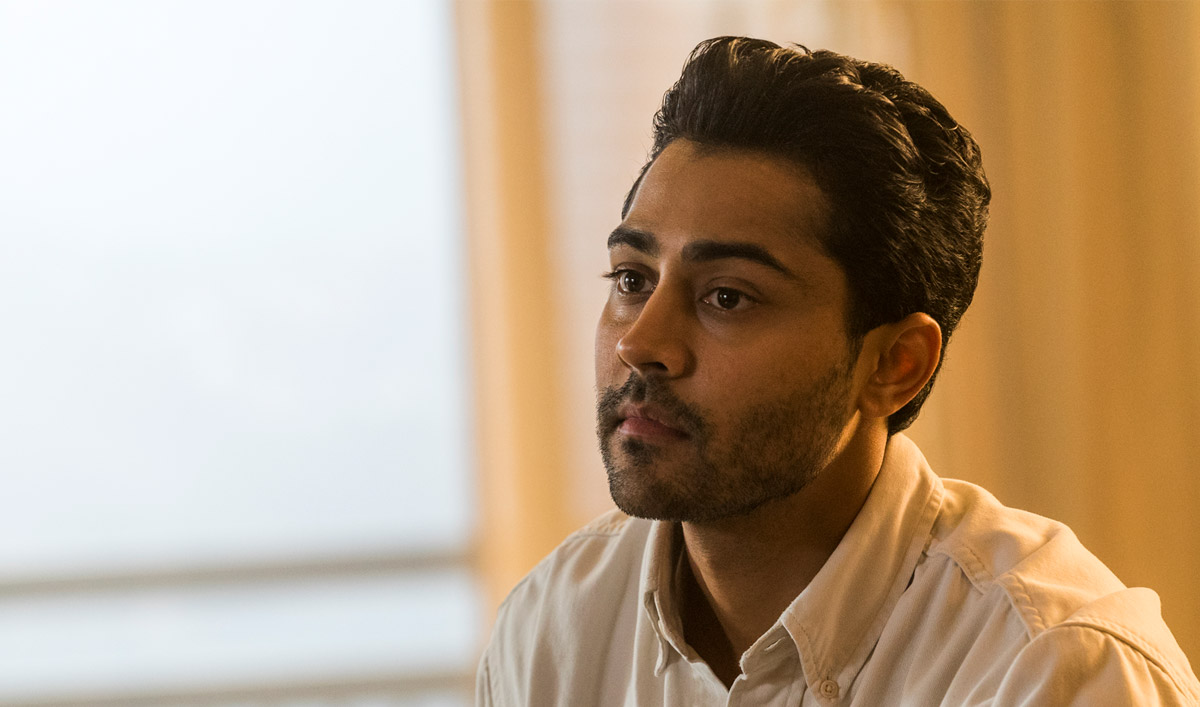 Manish Dayal, who plays Ryan Ray on AMC's Halt and Catch Fire, talks about what Ryan saw in Joe, why he left Mutiny and the devastating conclusion of Episode 8.
Q: What was it like joining an already established cast? Did it help you relate to Ryan as a bit of an outsider on this team?
A: Joining an established cast is somewhat tricky because you want your choices and your vision for the character to connect with what the cast already established. For Halt and Catch Fire, it was seamless. It was clear that the cast welcomed new ideas. They were devoted to its quality and invested in expanding it. I was honored to be a part of this show. The first scene I shot happened to be two solid pages of continuous dialogue in what was almost an entirely different language. Understanding and making sense of that tech speak took time and patience. It was one hell of a first scene to start with, but Mackenzie [Davis] and Kerry [Bishé] were totally in sync with the language and the story Ryan was telling. For research, I observed a few people like Ryan – folks solely devoted and focused on something so intensely it sort of renders them blind to the real world. That part was difficult to relate to because Ryan's world is only in his head – the place where his ideas can't be argued. He's the smartest guy in the room and he knows it. Ryan's a complicated character and that's what made playing him interesting.
Q: Ryan establishes a connection with both Gordon and Joe. What do you think he sees in each of them? Why did he ultimately choose Joe?
A: Ryan is a smart and overwound tech prodigy who lives in his mind and that's what makes him relatable to Gordon. Ryan's eager to share his ideas with Gordon because he'll comprehend them. On the other hand, Ryan knows in order to achieve something extraordinary, he'll need more than just a coworker who understands him. Ryan clearly sees the future of technology and develops this hunger to understand and implement it – it becomes his purpose this season. He might relate to Gordon, but it's Joe who ultimately promises the future Ryan's after. In his own way, Ryan's a shark. He's seriously ambitious. To get what he wants, he needs Joe. Joe inspires people and articulates a big picture – Ryan's main limitation. Working with Joe is an opportunity to be a part of a movement. With Gordon, there's an uncertainty Ryan isn't going to chance.
Q: Were you surprised at all when he leaves Mutiny or was it bound to happen? 
A: Bound to happen. Mutiny isn't the place for someone like Ryan to grow. He's not a team player and he's self-aware enough to know it. He doesn't want to think about a supervisor's expectations or the different personalities in a work place. He'd be terrible at it.
Q: Ryan's certainly brilliant and seems to put much of his energy into his work – he even shows up for work at Joe's on July 4th. What else did you notice or appreciate about your character?
A: I don't think holidays mean much to someone like Ryan. In my mind, he didn't even know it was the 4th of July when he showed up at Joe's. Ryan is solely focused on the new technology they're developing that holidays or days off don't even process for him. What I appreciated most about my character are the sincere reasons for his ambitions. Ultimately, he wants to do good by protecting people. My goal as an actor and the reason I became an actor is simple – it allows me the space and opportunity to expand, broaden and elaborate fixed ideas. It's my passion, I take it very seriously and it's what I am focused on. Maybe this is where Ryan and I might be similar and why I value this character. There are challenges in any field as an ethnic minority. There's also the weight of your ambition and the fight to right wrongs. Ryan isn't just a programmer or coder; he's a guy who sees a dangerous future for technology and is working to keep people safe. For him, that's his true pursuit.
Q: Ryan does a devastating thing business-wise in Episode 7. Does he feel any remorse after releasing the source code for MacMillan Utility? 
A: Maybe he doubts his choice for a moment, but he doesn't feel remorse. In his mind, he's doing the right thing. He could be angry after he's betrayed, but he releases the code as an act of defiance against a company that made too many false promises. The individuals they set out to protect became dollar signs and it went against what Ryan believed in.
Q: Ryan tries to convince Joe that what he did was an act that Joe himself would have done, but Joe doesn't seem to agree. Has Ryan "out-Joed" Joe?
A: Assuming Joe was truthful to Ryan about not throwing him under the bus, I don't think Ryan's trying to outsmart anyone. Ryan wants to make the source code available to the public to fulfill that promise McMillan utility made. That's what matters.
Q: What did you think about Joe still being willing to help Ryan – even if that meant offering $50,000 to skip town? What does this act mean to Ryan?
A: At first, I think Ryan believes the offer is insincere. Ryan's on the run, the cops are after him, he's paranoid and desperate. At this point in the story, Ryan knows Joe's tricks and might think he's being played… again. Ryan's smart enough to know that skipping town isn't going to work. With that said, maybe Joe's idea about going to jail is the real advice of a true friend that Ryan unfortunately doesn't take.
Q: What was your reaction to Ryan ending his life in Episode 8?

A: Ryan's identity is specifically tied to his work and then it all gets taken from him. When I read that episode, I knew something was going down. I got the call from the showrunners about the suicide and I first thought, "Why would he do that? There are simpler ways to figure this out." For Ryan, though, it's a testimony to his commitment to technology.
Q: In Ryan's eyes, was not being allowed to touch a computer, per the CFAA, a worse punishment than death?
A: For Ryan, absolutely. Computers are his lifeblood. Technology is the only language he speaks.
Q: What was it like delivering the deeply emotional monologue that was Ryan's letter/admission of guilt? 
A: The monologue speaks to many themes Halt presents this season. It's about safety, loyalty, commitment and faith. It precisely punctuates everything Ryan wanted to say, but didn't know how. I don't think it was as much a letter of admission as it was Ryan's final statement. Ryan wants people to know that a dangerous future might be coming.
Q: How do you compare the context of Ryan's letter about safety, vulnerability and the disappearing "barriers between us" to how we connect online in today's world?
A: Ryan is saying the barriers between us will soon be non-existent. The show takes place in the early '80s and Ryan is making a prophecy. It's a warning that something's coming and its going to tear down our walls. That something is the hyper-connectivity we all share today. He's saying the result of that connectivity can be dangerous if we're not careful.
Q: What was your favorite moment or memory from being on set?
A: Developing the character with [Chris Cantwell, Chris Rogers] and Melissa [Bernstein]. Working on this show was an amazing experience. Everyone who worked on it took risks and they were fully invested in the characters.
Read a Q&A with Annabeth Gish, who plays Diane Gould.
Halt and Catch Fire airs Tuesdays at 10/9c.  Sign up for the Insiders Club to be the first to receive show exclusives.
Read More