Q&A
Halt and Catch Fire Q&A — Annabeth Gish (Diane Gould)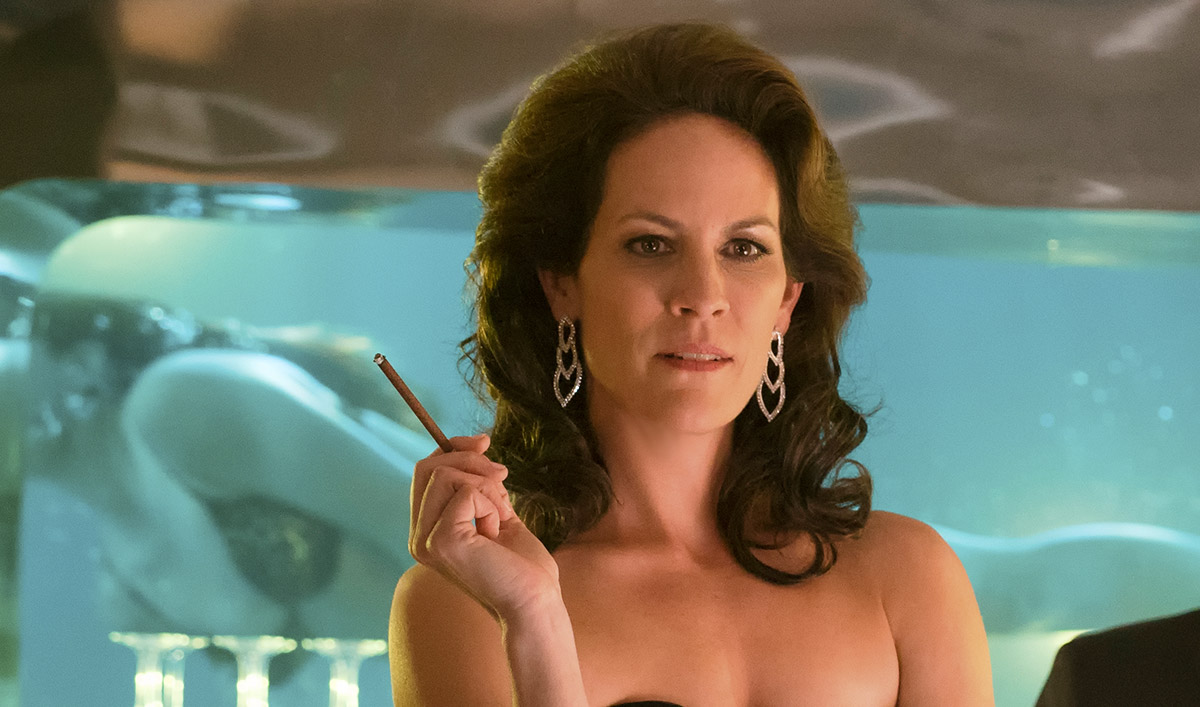 Annabeth Gish, who plays Diane Gould on AMC's Halt and Catch Fire, talks about the dynamic that Diane brings to Mutiny, the budding relationship with Bos, and the special treat she received on the last day of filming.
Q: We clearly see that Diane is a headstrong business woman, but who is she to you, beneath all that?
A: She's a woman in a man's world who's had a lot of success. She exudes power but also humanity, and that's been a really fun challenge for me. She's as any woman is in any industry – even Hollywood — where in order to wield power, you have to have some hard edges. I think as we're introduced to her, Diane comes in as a force. She's direct, she doesn't apologize, and she says what she needs to say even if it's about her own daughter. I love that they wrote someone who doesn't apologize at all.
Q: Diane initially passes on investing in Mutiny, which Donna incorrectly registers as an act of sexism. Do you think Diane had any remorse about that rejection?
A: I don't think Diane had any remorse about saying no. She is a business woman first. She can have friendships with a woman, which she eventually does with Donna, but she's not going to apologize for the fact that she's in charge of her money and in charge of her business. From an actress perspective, I've played so many roles where you come from the heart first. I sort of lead that way – with a vulnerability element – but Diane does not lead from that place, even if she has to turn off a part of herself to do that.
Q: In Episode 7,  Donna and Cameron's meeting to discuss the IPO turns ugly. How does their tumultuous relationship affect Diane? Does she regret investing in Mutiny and becoming a part of this larger issue?
A: I think so. She and Donna, in particular, have formed a friendship and I do think it was a painful scene for Diane to witness, as it was for me as an actress. [Laughs] I think Donna and Diane are a nice mirror for each other. Diane is obviously a mentor, but Diane sees elements of herself in Donna. So, I think the dissolution of Mutiny is painful for all involved, especially everyone in that scene.
Q: No one seems to hear Cameron's case about waiting on the IPO. Do you think Diane voted in good conscience or was it purely a business tactic to bring in profit?
A: I think when push comes to shove, for Diane Gould, the answer is always going to be the bottom line of finances. She is not an advocate for the soul, for the artistry, for the beauty and elegance of the creation. She is a business woman.
Q: Diane's relationships with Donna and Cameron are different. Does Diane approach them differently? 
A: I think when Joe plants that seed about Cameron perhaps being unstable, it's a flag for Diane. For Diane, she's relying upon facts and the fact is Cameron is the flightier one, she doesn't show up for meetings and she's not reliable. I think in the relationship between Diane and Donna, there's a clear resonance because their lives are similar. They're both mothers, Diane had a marriage that dissolved as it seems Donna's is doing… I think there's a real resonance between the two of them… But I don't think she has sabotaged or abandoned Cameron in any way. She's just looking to make the best deal for the company.
Q: Diane suggests Cameron and Donna spend a weekend together at her vacation home in Sonoma. Does she see Cameron and Donna's rocky friendship as a threat to the business? 
A: I think she sees that the relationship has gotten toxic and dysfunctional, and in wanting to help them mend, she suggests going away. There's a scene where Diane tells Donna they have to talk about these things because otherwise, the relationship will rot and fester. In that sense, again, Diane is bringing in not just business but also some therapeutic advice and that reveals that she isn't out to separate the two. She does in fact, for the good of all, want them to stay together. By Episode 7, we know that Diane is having an intimate relationship with Bos, but also she knows the relationship between Bos and Cameron, so there's a sensitivity to Diane that doesn't preclude her being a powerful executive.
Q: Diane and Bos are indeed falling for one another, but he initially rejects her night cap invitation. How does that land on Diane in that moment, even though he later brings her flowers and admits he wanted to come over?
A:  I think it did feel like rejection to her even in this mature sense where they have no expectations. Alluding to the complexity of all of this, she is still a woman that has feelings and a pulse and a heart.
Q: Diane seems unfazed by Bos mentioning his ex-wife and the fact that he's been in jail. What does she see in him? Why was she nervous about Donna finding out about their relationship?
A: Well, he is a character, isn't he? He's an atypical Texan charmer who doesn't quite fit in with the Silicon Valley guys in tech, but I think that's why she likes him so much. He's eccentric, he's unique and he's himself. Just like any woman who knows better than to mix business with pleasure, I'm sure she's trying to protect Donna from knowing the truth.
Q: We heard the cast and crew had snow cones to commemorate your last day of shooting…
A: From top to bottom, this crew and this cast are just a great bunch of artists and people. They have a snow cone truck at the end of your run and it's a lovely tradition. My son probably wishes he could have been there!
Read a Q&A with Mackenzie Davis, who plays Cameron Howe.
Halt and Catch Fire airs Tuesdays at 10/9c.  Sign up for the Insiders Club to be the first to receive show exclusives.
Read More