Press
Lee Pace Talks to Esquire, IGN; Kerry Bishé Teases Season 2 to TV Insider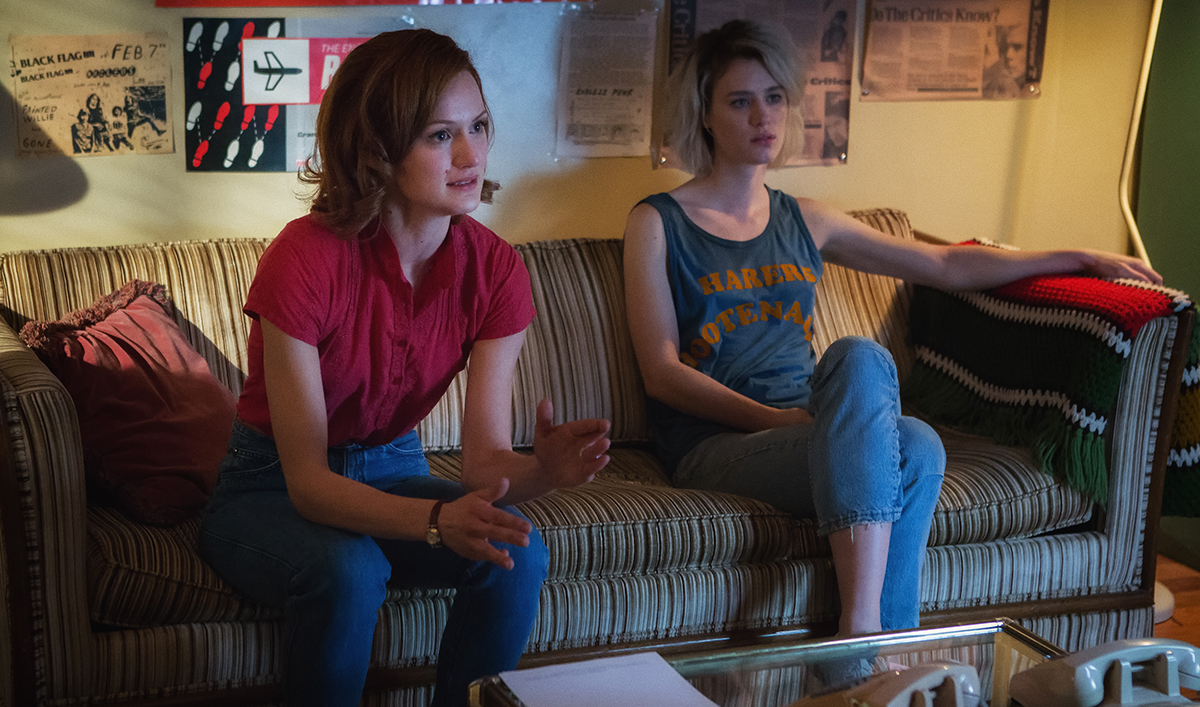 This week, Lee Pace talks to Esquire, IGN, The Fresno Bee and the Fort Worth Star-Telegram, while Kerry Bishé teases Season 2 to TV Insider. Plus, Time, Deadline, Slate and more are all fans of the show. Read on for more:
• Esquire interviews Lee Pace, who says Joe is "an uncompromising person. He cares so much about this technology and about making something truly unique and revolutionary."
• Discussing Season 2 with IGN, Lee Pace declares, "I'm interested in transforming Joe from this hungry wolf on the outside of the pack — trying to get into the gang — to someone of significance."
• Lee Pace, talking to the Fort Worth Star-Telegram, explains that Donna and Cameron's company, Mutiny, "in its primordial form, is the birth of the Internet. We're witnessing the first shaky steps toward the modern social networking age."
• Ahead of the Season 2 premiere, The Fresno Bee learns from Lee Pace that working on the show "feels like a theater company, except instead of doing the same show every night, we are getting different scripts every week."
• Speaking with TV Insider, Kerry Bishé characterizes Donna and Cameron's Season 2 relationship as "two people who really want to make the best thing out there and are really trying to make it work, but they have different views on how to achieve that goal."
• NPR talks to Mackenzie Davis, who says, "I always view Cameron and Donna as interesting feminist foils to each other."
• Mackenzie Davis, chatting with HuffPost Live about her similarities with Cameron, says, "I've spent so much time with her that we're a Venn diagram of each other."
• Mackenzie Davis shares with Metro that "for the beginning of the second season, there's a lot of Cameron negotiating between her ideals and her ambitions."
• On The Verge's podcast, Chris Cantwell and Chris Rogers discuss making computers interesting, saying, "We were always careful to make sure that the characters were pushing the drama and the plot forward, and the computer backdrop and setting were always in service of the character drama."
• Time proclaims, "If you weren't an early adopter of this computer-biz drama, don't worry. Season 2 is easy to jump into, and it's excellent."
• Deadline's Season 2 review applauds, "If you missed the show last time around, make sure you don't this season because one of my favorite new series of 2014 hit the return button and came back with way more bandwidth and RAM."
• Slate asserts that Halt and Catch Fire "may be set in the '80s, but it is very much in conversation with the current moment, when tech companies, their CEOs, their valuations, and their hubristic utopianism are both idolized and pilloried, a constant source of fascination."
• In a New Yorker profile of Marc Andreessen, the Silicon Valley venture capitalist says, "The best scenes with Cameron were when she was alone in the basement, coding" and calls her "the future."
• HitFix's "Firewall and Iceberg Podcast" finds Season 2 appealing and adds, "At this point, Kerry Bishé's Donna is one of my favorite characters on TV. She is a truly interesting, smart, capable, conflicted, appealing character."
• In a separate review, HitFix adds that Season 2 is "essentially Halt and Catch Fire 2.0, with all the bugs worked out so that it can function exactly as it first promised. It's terrific, and a classic case of hope-watching paying off."
• Reviewing Season 2, The Globe and Mail writes, "The verve of the drama and its occasional flourish of bitter comedy amounts to a terrific exuberance in the storytelling. And it's a world you feel drawn to."
• Scoot McNairy, interviewed by Parade about playing a computer genius in Halt and Catch Fire, says he knows electronics, "but if I can't physically touch it, mechanics are hard for my dyslexic brain to process."
• Toby Huss tells Paste that his character relates most to Cameron because she's "smart, and she's a little reckless and she's really forward thinking. That reminds Bosworth of how he used to think, before he became the sort of conservative Texas, tired old businessman."
• Blastr compliments Season 1 of Halt and Catch Fire, which was "anchored by great performances from Lee Pace, Scoot McNairy, Mackenzie Davis and Kerry Bishé."
• Halt and Catch Fire's production designer takes Atlanta on a tour of the show's Mutiny set, which includes a Commodore 64 computer and rotary-dial phones.
• Digital Spy and CarterMatt spotlight AMC's Season 2 behind-the-scenes video, with the latter saying it's hoping for "an epic second season."
• CarterMatt highlights AMC's video preview of its upcoming shows, including Halt and Catch Fire.
• Bloguin talks up Halt and Catch Fire, which "has one of the most winning ensembles of any show currently on TV."
• Citybeat Cincinnati's summer TV preview includes Season 2 of Halt and Catch Fire, which premieres May 31.
• USA Today, Bustle, io9, NJ.com, The Plain Dealer, The Atlanta Journal-Constitution, Engadget, New York Post and Los Angeles Daily News also draw attention to the Season 2 opener.
• Bustle proposes that Lee Pace play Damian Dark on the CW's Arrow.
• Indiewire notes that Mackenzie Davis is part of the cast of Ridley Scott's The Martian, which is slated to be released on Nov. 25.
To stay up-to-date with all the latest Halt and Catch Fire news, sign up for the Halt and Catch Fire Members Only Club.
Read More