Press
Lee Pace Takes MTV's The Hobbit Test; ScreenCrush on Pace's "American" Halt Accent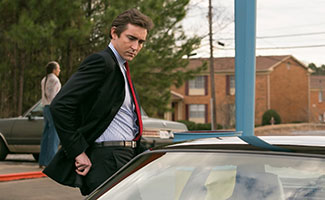 This week, Lee Pace takes MTV's The Hobbit test, while ScreenCrush talks to Pace about his Halt and Catch Fire accent. Plus, Comic Book Resources speaks with Pace about playing Joe in a year full of otherworldly roles. Read on for more:
• Lee Pace takes MTV's The Hobbit trivia test, including "the basic (but daunting) task" of naming all 12 dwarves.
• Oklahoma native Lee Pace learns from ScreenCrush that viewers are impressed by his "amazing" American accent on Halt and Catch Fire.
• Interviewed by Comic Book Resources, Lee Pace describes Joe as "an ambitious man. He's a flawed man, and I just want to see that. I want to understand that. I want to feel the connection to that."

• Mindy Kaling, talking to Vulture about Lee Pace's upcoming appearance on FOX's The Mindy Project, says, "He's been playing so many supernatural creatures these days, I forgot that he is also just this good, old-fashioned leading man."
• Lee Pace tells More Content Now that the challenge of Halt and Catch Fire is "not to do the mask, and to learn more about myself and reveal more about myself through the character."
• Flickering Myth compliments the "superb" cast of Black Sea, including Scoot McNairy "who shows a villainous and manipulative side that we've not seen before."
To stay up-to-date with all the latest Halt and Catch Fire news, sign up for the Halt and Catch Fire Members Only Club.
Read More