Q&A
Halt and Catch Fire Q&A – Christopher Cantwell & Christopher C. Rogers (Creators, Co-Executive Producers and Writers)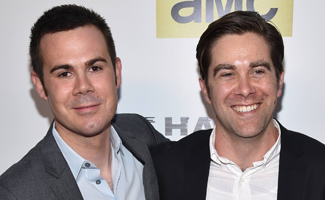 Christopher Cantwell and Christoper C. Rogers, creators, co-executive producers and writers of AMC's Halt and Catch Fire, talk about their inspiration for the series and why Lee Pace is the perfect Joe MacMillan.
Q: How long have you two been writing partners? 
CR: Chris and I met when we were working together in social media. We were working together for about a year before we went out for beers and realized we were both dream-deferred writers and saw a chance to make a run at this.
Q: What inspired the creation of this show? Why did you want to tell this story?
CC: My father was in the computer field in the early '80s. He actually moved my family down from Chicago to Texas when I was six weeks old or so and took a job in system software. I saw his story and his experiences on a day-to-day basis with his job, and Chris and I were trying to figure out what to write next. We talked about the different relationships [my Dad] had with these brass knuckle bosses, like John Bosworth, and sales engineers he'd partner with like Gordon Clark. That informed some of the relationships [on the show] and gave us a depth of the world. From there, Chris and I started to research what was going on in computers in general at the time in Texas and we stumbled upon this reverse engineering story. We thought this would be a story people didn't know and an interesting way into the world that we're all familiar with.
Q: Chris Cantwell, how did you pull from your own personal experience when working on this show?
CC: After we decided to write this, I got on the phone with my Dad and talked to him for about two hours. I got him talking about the good ol' days, like you do with your parents. He opened up and the vernacular and stories were really interesting to us — it was really the tip of the iceberg. As we moved from the pilot to the series, we spoke to a lot of other people who worked in the industry at that time. Those stories on the ground level are a different perspective than we all know and it provided life to the story and to the drama. It informed the humanity of the world and that was extremely important.
Q: What was your first thought when you heard the news about the pilot getting picked up?
CR: I don't know if it was an audible sound, it was probably some kind of primal yelp or scream! [Laughs] We were very excited. We went down to Atlanta and put our lives on hold for two months, lived in hotel rooms and just worked on this thing that we both loved so much and never thought we'd have the opportunity to make. I certainly remember that phone call when it came through, getting off the phone and then running over to Chris Cantwell's house and just being thrilled. It was something we were privately laboring over since 2011 and to know it was going to be out in the world and to know we were going to have a real chance to have this canvas — it was indescribable.
Q: What do each of you think the other brings to the table that's unique?
CC: I think Chris [Rogers] is a very analytical thinker and has a lot of story logic that he brings to our process when it comes to the two of us. He's good at pulling me back when I want to go somewhere insane and has a real knack for delivering those perfect and insightful moments.
CR: Aww, that's so nice, man! [Laughs] What I would say about Chris Cantwell is he is a natural storyteller and I think that's a hard thing to do when writing — having a voice that's distinct and creating actual characters who have viewpoints and rhythms that are interesting. He is such a generous writer and contributor.
Q: Halt and Catch Fire's producers include Breaking Bad's Melissa Bernstein and Mark Johnson. How did that collaboration come about?
CR: The network brought us to them after developing with us for about a year. We immediately knew we wanted to work with them. They had produced what we consider one of the greatest TV shows of all time — not to mention all of the things that Mark Johnson has done in his illustrious career. We sat down with him and it was cordial and friendly and there was no Hollywood weirdness or hierarchy. They just wanted to dig into our story with us and we really appreciated that. The level of expertise they brought to the project was astounding to us. I think a lot of writers would agree that development can be a hellish process, but when you have someone who understands story and can communicate as well as writers do and work with you, development becomes so much fun instead of painful. Melissa and Mark's insight was just fantastic.
Q: How did you know Lee Pace would make the perfect Joe MacMillan?
CC: We joke that casting is when you have the most opportunity to mess your show up the fastest. We saw all kinds of people, but when we found Lee, we were struck by his presence. He has such a humanity and you just care about him. He gave us so many great options. Once we cast him, it really opened up avenues that we could have never imagined.
Q: We interviewed Lee Pace, who said this story is really about the people, rather than the computers. Do you agree? What was the number one thing you wanted the fans to take away from this series?
CR: We couldn't agree with Lee more. The computers and the world are very much a backdrop to fuel the fire of these characters' ambition and relationships. We wanted people to enjoy the period and the history of computing, but more importantly, we wanted them to take away an enjoyment and empathy for these people that we created. The characters themselves and what they're going through are universal struggles and what a lot of us go through. They're looking at themselves and wondering if they're the real deal and what they pretend to be.
Read an interview with Halt and Catch Fire showrunner and executive producer Jonathon Lisco.
Save
Read More