Press
AMC Renews Halt and Catch Fire for Second Season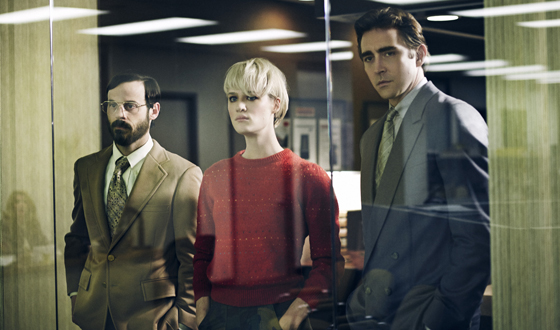 AMC today announced that it had ordered a second season of the drama Halt and Catch Fire, a show that attracted a committed core audience and notable critical acclaim across its initial season. The show will return to AMC next summer.
"This is a show about invention, experimentation, and the inherent risks in trying to break new ground — themes that really resonate with us as a network and attracted a passionate audience," said Charlie Collier, AMC president. "We have a history of demonstrating patience through the early seasons of new shows, betting on talent and building audience over time. We see that opportunity here and look forward to a second season of Halt and Catch Fire from creators Chris Cantwell and Chris Rogers, and showrunner Jonathan Lisco."
"We're thrilled to have the opportunity to continue telling this story. Our series about creation, innovation, and taking bold risks wouldn't be possible if it weren't for our partners at AMC, a network known for these very things," Lisco, Cantwell and Rogers said. "Harnessing the momentum of our first season, this next chapter will take the rich characters our audience has come to love in new and surprising directions."
Click here to watch Season 1 of Halt and Catch Fire on www.amc.com (Log-in required.)

According to Nielsen data, the first season of Halt and Catch Fire was one of the most upscale dramas on ad-supported television, #3 among adults 18-49, behind Mad Men and The Good Wife, and #4 among adults 25-54, behind Mad Men, The Good Wife and Parenthood. It was also one of cable's most engaging dramas among adults 18-49 (#3) and adults 25-54 (#4), according to Nielsen TV Brand Effect.
VIDEO: Wrapping Up Season 1: Halt and Catch Fire
From AMC Studios, Halt and Catch Fire captures the rise of the PC era in the early 1980s, focused on four primary characters attempting to innovate against the changing backdrop of technology and Texas' Silicon Prairie. The series was created by Chris Cantwell and Christopher C. Rogers and executive produced by Cantwell, Rogers, showrunner Jonathan Lisco (Southland) and Gran Via Productions' Mark Johnson (Breaking Bad, Rectify, Diner, Rain Man) and Melissa Bernstein (Breaking Bad, Rectify). Main characters include Joe MacMillan (Lee Pace), Gordon Clark (Scoot McNairy), Donna Clarke (Kerry Bishé), Cameron Howe (Mackenzie Davis) and John Bosworth (Toby Huss).
Halt and Catch Fire is distributed internationally by Entertainment One Television (eOne), through an exclusive multi-year output agreement.
Recent Critical Reception
"It's a risky thing to ask an audience to invest in a season that is largely about its chief characters embarking on a quest that's, well, wrong … Halt ended up being a revealing, if imperfect, story about creation, ambition and the costs of pursuing dreams." – James Poniewozik, TIME
"For all the early technical bells and whistles, Halt has a straightforward, pleasing story arc—a ragtag team that against long odds and many obstacles does the near impossible—that toward the season's end ran into a genuinely thought-provoking hurdle: capitalism." – Willa Paskin, Slate
"So ends the rare prestige-drama season in which the female characters wind up happier and more fulfilled than their male counterparts… Here's hoping we get to switch Halt and Catch Fire on again next year to see what the new model can really do." – Sean Collins, Rolling Stone
"The show is earning every viewer it catches. For most of its episodes so far, it's had to grab them while airing against some of the toughest competition on television, HBO's Game of Thrones." – Tim Molloy, The Wrap
Read More