Q&A
Halt and Catch Fire Q&A – Mike Pniewski (Barry)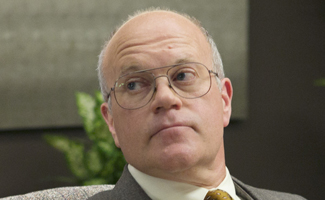 Mike Pniewski, who plays Barry on AMC's Halt and Catch Fire, talks about his favorite piece of technology and which role he's always wanted to play.
Q: You've played a football coach, a detective, and now you play a lawyer. Is there any other type of role or character you haven't played but have always wanted to?
A: The only one that ever comes to mind when people ask me that question is some day, I want to get the girl. I always play the best buddy or the guy next door or the brother of the handsome guy who gets the girl. Someday, I hope to get the girl, but at this point in my career, it's probably going to be some nursing home movie.
Q: Did any bits and pieces of the '80s resonate with you after working on the show?
A: A lot of it did. A lot of the clothes did, the glasses that I wear — I had a pair of glasses very similar to those in the '80s. The clothes felt very similar to a lot of things I wore. Just looking around, it was almost like time travel. I got out of college in '83 so I was in my 20s in the '80s. Your senses are very alive at that time. You remember that time very vividly. All of it felt very real and very much like I was back in my 20s again.
Q: Were there any challenges that were unique to your role as Barry? 
A: Bringing reality into the moment, making it the best it can be and serving the story… that's a good thing. Those are all challenges we welcome every day. They didn't have the technology that we have today so your frame of mind is a little different. There are no challenges that I'm not welcoming. It was just a wonderful place to work with marvelous actors, great writing and dynamite material. It was always very thrilling.
Q: Do you have a favorite memory from the '80s?

A: Well, my favorite part of the '80s was meeting my wife, and I got married. Overall, what would come second to that is my career really got going in the '80s. I started working regularly by the end of the decade which is fortunately still happening today.
Q: How much did you already know about the history of the PC? Did you learn anything new after working on the show?
A: I didn't know a whole lot about the beginnings. One thing I learned from the show was there was so much activity in Dallas. Most of us confine the growth of the PC in central California up to Washington where Microsoft was, so I didn't realize there was such an industry down in Dallas trying to make a name for itself.
Q: What's your favorite piece of modern technology that wasn't available in the '80s?
A: Probably the GPS. To be able to follow it without having to read a map or fumble around while you're driving makes life very convenient.
Q: Do you ever wish you could go back to this period in time, before all of the cell phones and computers? Was it a simpler time for you in any way?
A: Well, it was definitely simpler, but I don't know that I'd go back. I've never been the kind of guy who does a lot of "what ifs." I try to stay in the moment and keep going forward.
Read an interview with Lee Pace, who plays Joe MacMillan on AMC's Halt and Catch Fire.
Save
Read More