Games, Polls & Quizzes
Play the Colossal Cave Adventure Game Just Like Halt and Catch Fire's Cameron Howe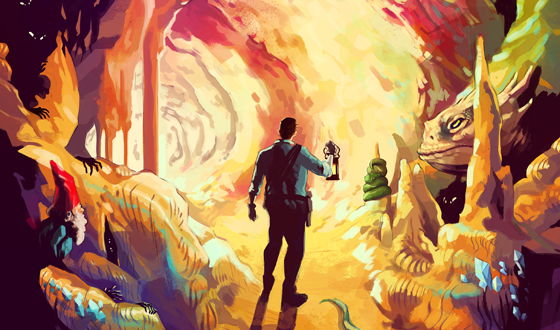 In Halt and Catch Fire Season 1, Episode 5 "Adventure", Cameron Howe and her fellow programmers become obsessed with the computer game, Colossal Cave Adventure. But did you know Adventure is a real game from the '80s? Better yet, you can now play Colossal Cave Adventure online at www.amc.com. This original text-based adventure game is presented on a simulated 1983 PC screen and comes with ten all-new pieces of secret artwork that can be unlocked throughout your quest.
Finding the game too challenging? You're not alone. A common jest is that the release of Adventure set the computing industry back two weeks due to time lost playing the game. (That's why Cameron uses it to figure out which programmers are worth keeping around.) Never fear, the www.amc.com version comes stocked with pop-up hints throughout to keep you moving, as well as a full FAQ to impart a few tips & tricks that will help you beat the game with the elusive 350-point perfect score.

Don't miss brand new episodes of Halt and Catch Fire Sundays at 10/9c on AMC.
Read More