Press
Chris Rogers, Jonathan Lisco Preview Halt and Catch Fire; Lee Pace Talks Joe MacMillan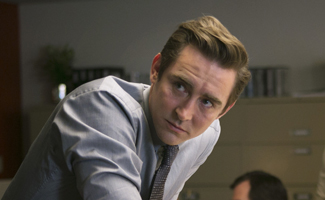 This week, ahead of the June 1 premiere, Halt and Catch Fire's co-creator and showrunner discuss Halt and Catch Fire's main themes, while Lee Pace does several interviews in which he discusses his character, Joe MacMillan, and computers. Plus, Bustle proclaims that Mackenzie Davis is a "new nerd hero." Read on for more:
• Chris Rogers, a co-creator, talks to The Hollywood Reporter about the show focusing on three main characters "working together and creating something special – in the process exorcising their own demons and realizing their own visions."
• Halt and Catch Fire's showrunner, Jonathan Lisco, tells TheWrap that technology, as a center for drama, is "very vivid, it's very graphic, and it's very dynamic."
• Ahead of the series premiere, Lee Pace did several interviews — with HitFix, TVLine and Yahoo TV, among others.
• Bustle proclaims that "the most important reason to watch AMC's new offering is because your new nerd hero is the star of Halt & Catch Fire: Mackenzie Davis."
• Mackenzie Davis tells DuJour she enjoyed the transition to TV from film because "I really wanted to be with a character for six months and not for a week."
• Scoot McNairy speaks with his hometown paper, The Dallas Morning News, about his Texas childhood and how he got into acting.
• Crave Online speaks with Scoot McNairy and Kerry Bishe about Halt and Catch Fire, including the lingo of the '80's.
• Scoot McNairy talks to HitFix about his memories of the '80's and his level of technological savviness.
• The Huffington Post explains why Lee Pace looks so familiar.
• Forbes interviews Halt and Catch Fire's technology advisor, Carl Ledbetter, who explains how the show's title is "a metaphor for the way the technology industry works."
• Wired talks about the effort that went into making sure that Halt and Catch Fire was "as true to the time and place as possible."
• The Fort Worth Star-Telegram talks Halt and Catch Fire's Texas roots.
• Chris Rogers, a Halt and Catch Fire writer, chats with Inc. about the allure of telling a story that's essentially been untold, saying, "Whenever you can walk people into a moment in history that they didn't know existed, this seems to be a wonderful, dramatic entry point."
• TechRepublic learns from Jonathan Lisco, Halt and Catch Fire's executive producer, that the show is airing "when today's level of connectivity has reached a critical mass and average people's relationship with their technology can border on addiction."
• Bustle takes a look at computers in the '80's, as depicted in the era of Halt and Catch Fire.
• For recaps and reviews of the series premiere, "I/O," check out A.V. Club, Big Shiny Robot, ChicagoNow, Heavy, HitFix, Paste, PopDust, TV.com, TV Fanatic, TVLine and The Verge.
To stay up-to-date with all the latest Halt and Catch Fire news, sign up for the The AMC Weekly.
Read More