Uncategorized
'80s Playlist for Halt and Catch Fire's Donna Clark Now on Spotify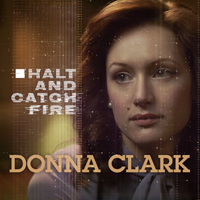 Halt and Catch Fire's Donna Clark (Kerry Bishé) is a brilliant engineer in her own right, but must balance raising two children, her career and her increasingly erratic husband Gordon, who is wreaking havoc in her home. Fearing that the new Cardiff Electric PC project will result in the end of her marriage, it's no wonder her personal mixtape leans towards the relaxing side, with artists like Billy Joel, Joni Mitchell and — owing to a background in classical music studies — a little Chopin and Mozart to boot. See what else Donna would listen to with this exclusive Spotify playlist of '80s music for Donna Clark, courtesy of Halt and Catch Fire's Music Supervisor Thomas Golubić and his team at SuperMusicVision. And be sure to check back each week for a new playlist based on a different Halt and Catch Fire character.
Follow AMC Halt and Catch Fire on Spotify.
Halt and Catch Fire episodes and music are also available on iTunes.
Look after the jump to download songs from Donna Clark's '80s playlist now.
1. Penguin Cafe Orchestra, "Air a Danser"
2. Billy Joel, "Don't Ask Me Why"
3. Spyro Gyra, "It Doesn't Matter"
5. Quincy Jones and James Ingram, "One Hundred Ways"
6. Joni Mitchell, "Underneath the Streetlight"
7. Suzanne Ciani, "The Fourth Wave – Wind In the Sea"
8. Shadowfax and G.E. Stinson, "Angel's Flight"
9. Andreas Vollenweider, "Skin and Skin"
10. The Alan Parsons Project, "Time"
11. Frederic Chopin and Idil Biret, "Fantasy-Impromptu in C sharp minor, Op. 66"
12. Claude Bolling, Laurel Zucker, and Joe Gilman, "Suite for Flute and Jazz Piano"
13. Alexandre Lagoya and Claude Bolling, "Tendre"
14. Wolfgang Amadeus Mozart, "Flute Quartet No. 4 in A Major"
15. Glenn Gould, "Goldberg Variations, BWV 988"
16. Joanne Brackeen, "Dreamers"
17. Jean-Pierre Rampal and Antonio Vivaldi, "Flute Concerto No. 3 in D Major"
18. Elvis Costello and The Attractions, "Every Day I Write the Book"
19. Bill Evans, "B Minor Waltz (For Ellaine)"
20. Michael Hedges, "Two Days Old"
21. Rickie Lee Jones, "Living It Up"
Don't miss a new episode of Halt and Catch Fire Sunday at 10/9c on AMC.
Click here to see Spotify playlists for other Halt and Catch Fire characters including Joe MacMillan, Cameron Howe and Gordon Clark.
Read More