Video
Watch the Sneak Preview of the Full Halt and Catch Fire Premiere Episode Online Now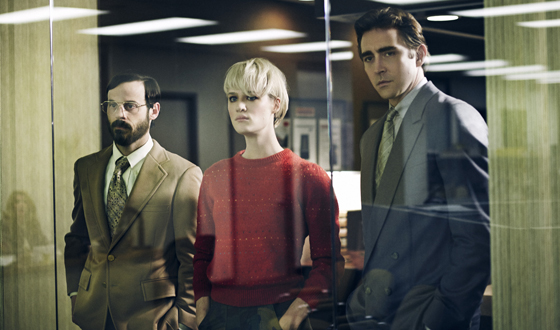 AMC announced today that it will make its newest drama Halt and Catch Fire, set in the world of technology and the early days of the personal computer, widely available to viewers through a two-week, full-episode sneak preview on Tumblr, through video on demand and TV Everywhere services from major video providers, and on www.amc.com. The preview will be the first-ever television series premiere on Tumblr and the first time AMC has partnered with a social media platform to premiere a new show.
Click here to watch the sneak preview of the full premiere episode on www.amc.com (no log-in required).
Click here to watch the sneak preview of the full premiere episode on Tumblr (and also grab shareable Halt and Catch Fire gifs and graphics).

The special sneak preview will begin on Monday, May 19 and run through Saturday, May 31, the day before Halt and Catch Fire premieres on AMC on Sunday, June 1 at 10/9c . Also on May 19, AMC will screen the premiere episode for Tumblr influencers at the company's New York headquarters, the latest in a series of private screenings at technology companies in recent weeks that have included Apple, Twitter, Google and Dropbox.
"Halt and Catch Fire is a fun ride through the early days of the PC era, a time when no one could imagine a portable computer weighing less than 15 pounds, let alone one that was a few ounces and doubled as a phone. It's a perfect show for summer and – given the subject matter – a good fit for Tumblr's first TV series premiere and AMC's first social media screening," said Charlie Collier, AMC President.
"Tumblr is the biggest platform for social TV and destination for many of AMC's most passionate fans," said Lee Brown, Global Head of Brand Partnerships at Tumblr. "We're excited to welcome Halt and Catch Fire and the rest of AMC's lineup to the home of fandoms through Tumblr integration on AMC.com and to offer this first look at Halt and Catch Fire to our community."
Timed to the Halt and Catch Fire sneak preview, AMC will launch its branded network Tumblr page, which will be integrated on AMC.com and used to connect the superfans who converge on the network's website with the fandoms of AMC programming in the Tumblr community.
From AMC Studios, Halt and Catch Fire captures the rise of the PC era in the early 1980s, during which a renegade trio — a visionary, an engineer and a prodigy — risk it all to realize their vision of building a computer that could change the future. The series charts the changing culture of Texas's Silicon Prairie while tensions build within the group as they attempt to truly innovate. They navigate the thin line between genius and delusion, as their drive to do something that might truly matter runs up against innumerable obstacles. The 10-episode series is created by Christopher Cantwell and Christopher C. Rogers and executive produced by showrunner Jonathan Lisco (Southland), Gran Via Productions' Mark Johnson (Breaking Bad, Rectify, Diner, Rain Man) and Melissa Bernstein (Breaking Bad, Rectify).
Halt and Catch Fire  is set roughly one year after IBM all but corners the market with the release of its first major product — the IBM PC. It is also the same year people realize that the IBM PC has a fatal flaw, which quickly makes personal computing anyone's game. In this fictional drama, a former IBM executive, Joe MacMillan (Lee Pace), plans to reverse-engineer the flagship product of his former employer, and he forces his current company, Cardiff Electric, into the personal computer race. MacMillan enlists the help of Gordon Clark (Scoot McNairy), a once-great engineer who dreams of creating a revolutionary product while trying to manage his initially-unsupportive wife, Donna (Kerry Bishé), and Cameron Howe (Mackenzie Davis), a volatile prodigy who puts her future in jeopardy to join MacMillan's rogue PC project.
Viewers can also engage with Halt and Catch Fire on Twitter and Facebook at: http://www.twitter.com/haltamc and https://www.facebook.com/HaltAndCatchFireAMC 
Halt and Catch Fire premieres on Sunday, June 1 at 10/9c on AMC. Click here to watch the sneak preview of the full premiere episode on www.amc.com.
Read More