Press
USA Today Previews Halt and Catch Fire; TV Equals Likes Series "Retro" Poster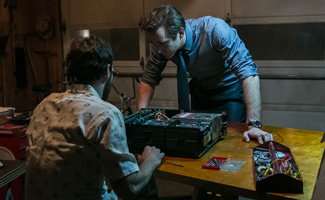 This week, Halt and Catch Fire is previewed by USA Today, while TV Equals applauds the "retro" poster for the series. Plus, Re/code takes a closer look at the show's tech backdrop. Read on for more:
• Previewing Halt and Catch Fire, USA Today asks, "What happens when you cross the early '80s setting of FX's The Americans with the lovable tech geeks of HBO's Silicon Valley?"
• TV Equals calls the poster for Halt and Catch Fire "pure, retro goodness right down to its flashy color scheme."
• Re/code observes that Halt and Catch Fire "explores the tenuous line that entrepreneurs can walk between brilliance and deranged self-aggrandizement."
• After watching a Halt and Catch Fire featurette, Bustle thinks the new series "looks pretty fantastic."
• Checking out Halt and Catch Fire, Geek says, "AMC seems to have done a good job of finding people who can be attractive while credibly pulling off '80s hair and clothes, and looks like (roughly) credible computer nerds."
• Cinema Blend, watching a preview of Halt and Catch Fire, considers "not only how much computers have evolved since the 80s, but also how many crucial uses they have from one industry and household to the next."
• World Screen reports that Halt and Catch Fire is a series from Entertainment One (eOne) Television International.
To stay up-to-date with all the latest Halt and Catch Fire news, sign up for the The AMC Weekly.
Read More