Press
Lee Pace Visits Today Show; Praise for Halt and Catch Fire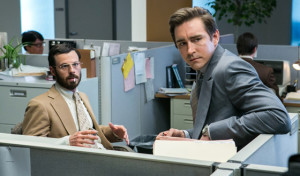 This week, Lee Pace promoted Halt and Catch Fire on NBC's Today Show, while the series garners enthusiastic reviews ahead of its June 1 premiere. Plus, Pace speaks to Entertainment Weekly about the 1980's. Read on for more:
• Lee Pace, visiting with the Today Show's Hoda and Kathie Lee, says Halt and Catch Fire takes place in the "moment when everyone's trying to get into the business and make something significant."
• The Los Angeles Times previews Halt and Catch Fire, observing that "TV producers are now finding that those at the center of computer tech's advancements are worth exploring."
• Lee Pace talks to Entertainment Weekly about his cultural touchstones from the '80's, the era in which Halt and Catch Fire is set. (No link)

• The Chicago Tribune interviews Kerry Bishe, who, in the pilot, "carries serious narrative weight, adding a human touch to the tech-heavy story."
• According to Rolling Stone, "Tech-geek nostalgia seems to be in the air" and cites the "excellent" Halt and Catch Fire as an example. (No link)
• Wired checks out Halt and Catch Fire's set, which "illustrates how the series gets the '80s right — and where it takes the occasional liberty." (No link)
• The Hollywood Reporter debuts a featurette about Joe MacMillan, the character Lee Pace plays on Halt and Catch Fire.
• The Chicago Tribune cites Halt and Catch Fire as an example of how watching TV on Sunday nights if "becoming something of a lesson in how pop culture's view of tech culture has evolved."
• The San Jose Mercury News names Halt and Catch Fire one of the summer's top 10 must-see shows because "the pilot has us intrigued," while USA Today also anticipates the show's premiere. TV.com says Halt and Catch Fire is "the first television show to tackle what is arguably the most important stretch of history in the last 40 years." Describing the series as "intriguing," the Chicago Sun-Times awards it three stars.
• "AMC boots up another great series," IGN says about Halt and Catch Fire.
• Melissa Bernstein, a Halt and Catch Fire executive producer (who also acted as executive producer for Breaking Bad), talks to SundanceTV about what drew her to AMC's newest project.
• The Atlanta Journal-Constitution explores what it was like transforming modern-day Atlanta into 1983-era Dallas.
• Business Insider calls Halt and Catch Fire "an excellent new drama that takes place in the early 1980s amidst the rise of personal computing."
• Co.CREATE, interviewing Jonathan Lisco, applauds Halt and Catch Fire, which "finds a way to breathe new life into the archetype of the hard-to-root-for, hard-to-root-against protagonist."
• After watching the Halt and Catch Fire pilot, Ars Technica thinks that "geeky TV types might be in for a legitimate, serialized take on early '80s computer culture."
• Hollywood.com favorably compares Halt and Catch Fire to Mad Men and believes the new show "looks primed to deliver something very special."
• Variety features a Halt and Catch Fire promotional video where kids of today react to old computers.
To stay up-to-date with all the latest Halt and Catch Fire news, sign up for the The AMC Weekly.
Read More