Press
E! Online Excited About Lee Pace on TV Again; Dallas Morning News Entertained by Halt and Catch Fire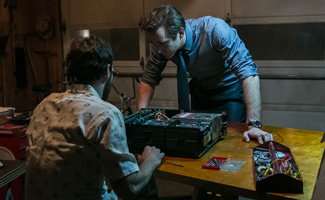 This week, E! Online is eager for Lee Pace's TV return, while The Dallas Morning News is "thoroughly entertained" by Halt and Catch Fire. Plus, the series opener will be previewed on Tumblr. Read on for more:
• E! Online touts Halt and Catch Fire, commenting, "Lee Pace is returning to our TVs and suddenly everything feels OK."
• The Dallas Morning News calls the series opener "thoroughly entertaining."
• The Hollywood Reporter says that AMC has made the Halt and Catch Fire premiere available on various platforms, including a first-ever Tumblr preview, ahead of its June 1 premiere.
• U.S. News and World Report includes Halt and Catch Fire in its summer guide to TV shows "about which viewers should be most excited."
• The Denver Post observes, "Early computer technology is having its moment in some of the best current dramas," including Halt and Catch Fire.
• TheWrap's preview of Halt and Catch Fire calls the show "ambitious" and details the various characters.
• Dallas Observer examines the genesis of Halt and Catch Fire and observes that no less an expert than Steve Wozniak, one of Apple's co-founders, has described the series as "very realistic."
• The Next Web checks out a behind-the-scenes video about recreating the '80's look, "replete with Speak-n-Spell, Star Wars, and wood paneling."
• Cinema Blend spotlights a new promo for Halt and Catch Fire that features Mackenzie Davis and asks, "Who said a story about building a computer couldn't be sexy?"
• Meanwhile, TheWrap takes a closer look at Scoot McNairy's character, Gordon Clark, "a gifted but overlooked computer engineer in danger of letting his prime slip away from him."
• Central Iowa's Times-Republican profiles Iowa native Toby Huss, who has a part on Halt and Catch Fire and calls the series "the first show that delves into the Wild West mentality of that time."
To stay up-to-date with all the latest Halt and Catch Fire news, sign up for the The AMC Weekly.
Read More