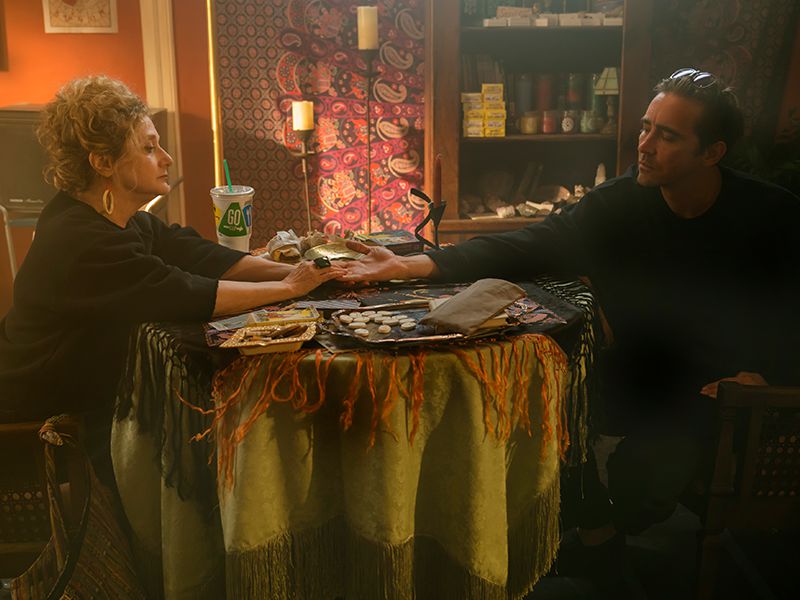 Season 4, Episode 10
Ten of Swords
Donna celebrates a milestone with her closest allies. Cameron contemplates saying goodbye. Joe confronts an uncertain future.
Show Full Recap
Halt and Catch Fire is currently not in season.
---
Full Recap
Joanie calls Donna from a hostel to tell her about a visit to some temple ruins — and how they made her think of Gordon. Joanie realizes that she and Donna fight a lot because they're similar.
Joe says good-bye to the Comet employees following his decision to shut down the company. As he walks through the empty office, he flashes back to a moment from Comet's early days: Gordon looks around the bullpen and realizes how much he likes the space.
Joe visits a tarot card reader. She looks at his "future" card and portends agony, indecision and misery, but also hope. Joe asks to keep the card. She sells him a brand-new pack.
Joe opens his tarot cards in the street. Dale Butler, his former colleague at IBM, recognizes him.
Joe catches up with Dale in a restaurant. Dale commends Joe for always being able to sniff out the next big thing in tech.
Donna changes the name of AGGEK to Symphonic Ventures and overhauls the firm. She fosters a spirit of collaboration and play.
Donna receives a travel photo from Joanie in the mail.
On their way home from the airport, Alexa complains to Cameron that they have nothing to show for their two months of meetings with top European investors. Cameron accuses Alexa of losing interest because she now has to work, rather than just dream about possibilities. Cameron gets out of the car.
Cameron packs up the Airstream with Bosworth and tells him that she's thinking of going to Florida to visit her mother. Bosworth offers some parting words, causing Cameron to tear up.
Cameron brings a box of Joe's belongings to his apartment. A realtor informs Cameron that the apartment is on the market. Cameron walks around the empty apartment in shock.
Cameron stops by Donna's house to say good-bye before getting on the road. Donna mentions that Joe recently sent Haley a letter. Haley walks in with her boyfriend Kevin and goes to her bedroom. Moments later, Donna and Cameron hear a scream from Haley's room.
Haley tells Donna that she can't open a computer file for a school project. Cameron troubleshoots at the computer. Donna tells Kevin to take Haley to a movie while they try to fix it.
Donna works on Haley's computer then asks Cameron to take over while she gets dressed for a gala she's hosting at her home that evening.
Donna rejoins Cameron, who eventually concludes that the computer is beyond fixing. Out of the blue, Cameron suggests they work together again. Donna is speechless. Cameron apologizes and backpedals.
Donna chats with Diane at the gala and tells her that Cameron proposed working together again.
Cameron asks Haley about Joe's letter. Haley summarizes the letter, in which Joe says he needed to start over. Cameron notices that the return address is in Armonk, New York, where IBM is based. She hugs Haley good-bye.
Donna gives a speech at her gala, an event to promote women in the tech industry. She shares her hope for a future in which women will be provided the same opportunities as men in the tech industry. She admits that she once voted her female partner out of her own company and that she lost a marriage to her line of work. She warns that it is hard to remain satisfied when you're obsessed with what's next, but concludes that the one constant in her work is the people that the projects bring together. She thanks Diane, Gordon and her "best partner," Cameron. The audience claps. Cameron cries, then accidentally falls in the pool.
After the party, Donna tells Cameron that she has been wanting to work with Cameron again for years. She warns, however, that it could ruin their friendship. Haley announces that she dumped Kevin. After she leaves, Donna and Cameron agree that Haley might be gay.
Donna and Cameron visit the Comet and former Mutiny office. They reminisce about Mutiny and imagine what it would be like to start a new company together. They come up with a name, Phoenix, and imagine the path they would follow: conducting two years of research and development, making compromises after the company goes public, arguing about the direction of the company, Donna strategizing a safe play while Cameron digs in her heels against her. They both imagine an outcome, however, where the company doesn't destroy their friendship.
Haley sits at her computer and gets out Gordon's Walkman. She listens to the tape of Gordon's voice, which he listened to in order to calm himself down. Gordon's voice reminds her to focus on "being" and to look up from the computer every once in a while. Haley looks up.
Cameron and Donna take one last look around the office.
Cameron calls her mother from a diner and tells her she'll arrive in a couple of weeks. She finishes breakfast with Donna then goes outside while Donna pays the bill. Donna looks around at the people in the diner and is struck by a thought.
Donna slowly walks to Cameron in the parking lot. "I have an idea," she says.
Joe arrives at the campus of an East Coast prep school where he now works as a humanities teacher. He sits in his office, which contains photos of Cameron, Gordon and Haley. The bell rings.
Joe walks to his classroom and smiles at his students. "Let me start by asking a question," he says.