Q&A
Geeking Out Q&A — The Ninjak vs. the Valiant Universe Creative Team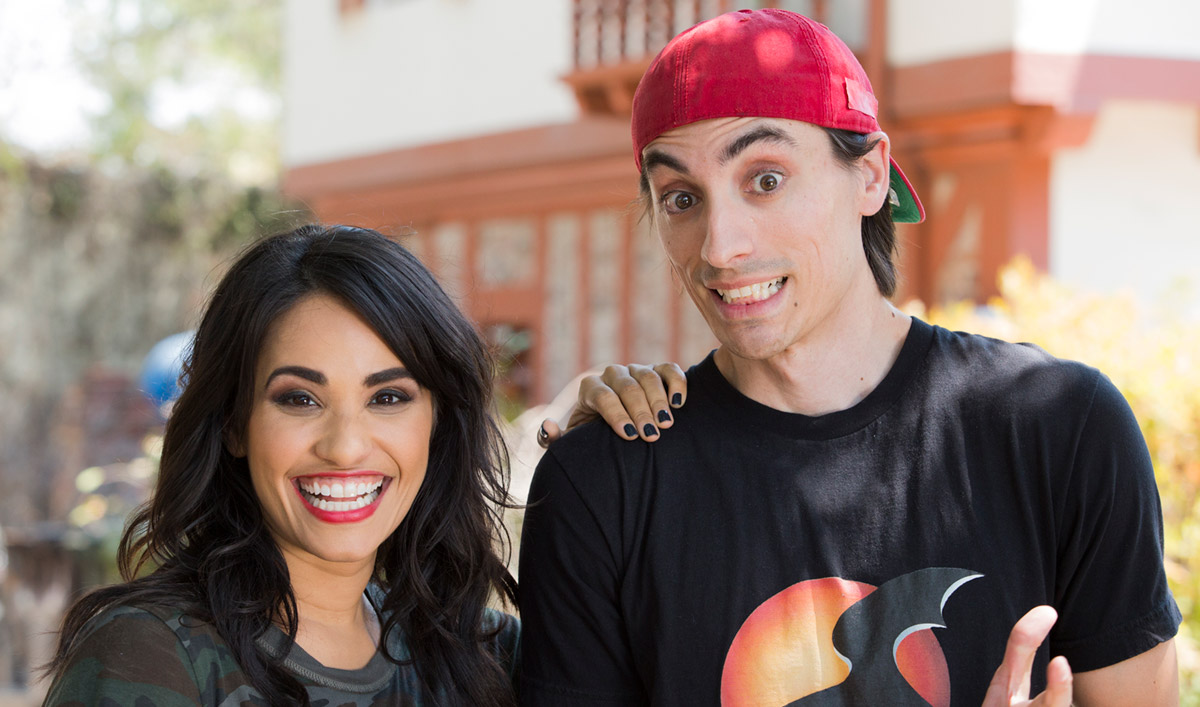 The team behind Ninjak vs. the Valiant Universe — co-directors Aaron Schoenke (pictured above) and Sean Schoenke, Valiant CEO and CCO Dinesh Shamdasani  and Associate Director of Digital Media and Development Joshua Johns — discuss teaching Tiffany to be a ninja and why Ninjak is the perfect character for a new digital series.
Q: What was it like having Tiffany on set? Were you excited to give fans a first real look at the series?
Aaron Schoenke: It was a blast. I've been friends with Tiffany for a while. It was a lot of fun. I got her involved with the stunts and she's always a blast. It was really cool to show a little peek at what we were doing.
Q: How did Tiffany do for a beginner? Think she has a career in being a ninja?
AS: [Laughs] Quite possibly. She had a lot of fun and was very vigorous towards it, so that's the main thing. You don't want to get frustrated. You want to have fun. I think she had a good attitude towards it.
Joshua Johns: We also got to see Alvin [Hsing] – our stunt coordinator and our fight choreographer for the series — work. When he's working on set with us, he's working with so many professionals and so many people who have been in fights before. Getting to train Tiffany from the ground up afforded us an opportunity to watch Alvin work and watch him take her from Step 1 to where they got to. Usually we see Alvin at Step 100. So, I actually enjoyed seeing him take it down a few notches to a beginner's level so we could see the foundation of how he builds such incredible fights and stunts for the project.
Q: The character of Ninjak has been around for a while. How did you decide to make it into its own series?
Dinesh Shamdasani: We always wanted this project to be a large project that ran the scope of the Valiant Universe, and Ninjak is very well-suited to touch on the different aspects of the Valiant Universe. He's squarely in the espionage side of our universe, but he deals tremendously with the supernatural elements, crossing to the dead side and having relationships with Shadowman. He's also part of our super team, Unity. There were a number of built-in relationships based on the comic books that we could mine here and allow us to organically bring in many elements of the universe onto the show – some of which we'll be announcing at New York Comic-Con but many of which we'll be keeping secret until the episodes air.
Q: What can you tell us about the series itself?
JJ: You've got to check out New York Comic-Con and our big panel announcement at 2:45PM on Saturday, October 8 in room 1A21. All the information is on Valiant's social media and website and we'll have a lot there that we can discuss further.
AS: The show provides a lot of good superhero action but also strong narrative to go along with it that emphasizes the emotional backstory of the characters for the fights. It'll have similar elements like we did with Super Power Beat Down but obviously a heightened story where fans will get familiar with these characters.
DS: I'm a huge fan of Super Power Beat Down and they do such tremendous work, but I think they're being a little modest here. They've really stepped their game up. This is not just something they've never done before. This is something no one has done in this space before. The level of choreography, the quality of the action and the effects, the depth of the storytelling and even the scope – I think we counted 15 locations in the first episode alone.
Q: What are the challenges of doing an action series on a small budget?
AS: At the base of everything is making great art and being highly creative. So, regardless if the budget is big or small, you're still always able to make great art. That's at the center of it, and I think these characters and the story allow for it.
Sean Schoenke: Aaron and I really have a lot of creative vision in what we do. We can see a lot of shortcuts where we can streamline and get to the core of what needs to be seen in every frame and picture. We're able to move at a faster pace with a lesser budget. I think that's what it's come to for talented people who have a vision. They can quickly put it together, and I'm really looking forward to more people like us rising up in the future.
Q: For those who haven't seen Super Power Beat Down, how did that idea come about? Have you been surprised with how it's grown?
AS: My dad and I… came up with the idea for Super Power Beat Down slightly based off the show Deadliest Warrior. A lot of fans were always talking about superhero versus superhero and we thought it would be an interesting idea for a show.
SS: It's a surprise that it's turned into all this, and it's really a great thing. It's been great to see the response. My focus is always just to be making good art. That's how I approach everything that I do.
Q: What are some of your favorite battles from the past?
AS: We always take two different characters and put them together in live action and have fans vote for who they think would win. Some of my favorites are Batman versus Darth Vader and the Joker versus Deadpool.
SS: They're all great. Every one of them has a specific moment that is awesome. They're all my favorites because each one was a growing step [that led] to the next step to where we're at now.
DS: They're being modest again! Batman versus Darth Vader is mind-blowing. It's phenomenal and it's something that we show to people internally and externally to explain to them the kind of things these guys can do. I highly recommend to anyone who hasn't seen Beat Down to go watch that.
Q: Do you think Ninjak will eventually become a participant on that show?
AS: We hope that after the series, Ninjak and the Valiant characters are talked about in such high regard and popularity as characters such as Wolverine. We feel like the series is definitely going to give it a big push.
Q: Superhero culture is so big today. Why do you think heroes have such appeal?
DS: [Superheroes] exhibit the traits of the hero's journey in our times and in that way they teach us about ourselves. They teach us about life in a way that no other genre right now can. It doesn't matter what you're interested in, there's something there for you. It's the community aspect. The rise of nerd culture is cool now.
SS: I think it's grown a lot because of the digital era that we're in. It's allowed more people to have access to creating and doing their own version. It's popping up everywhere.
Q: What does it mean to have shows like Geeking Out to celebrate this culture?
DS: Geeking Out is fantastic. It's run by people who are legitimately fans. For me, I've not seen that before. To see [Tiffany] on set, understanding what's happening, being a genuine fan of everything and understanding the references is great because all of us geeks have grown up having the information fed to us by people who didn't respect the medium. To have a place that respects the medium is the best thing.
SS: It's a good time to be involved in projects like this where all these different people can come together and share a moment like this.
Q: What are you most excited for fans to know about this digital series?
SS: I want fans to feel like they're at the beginning of a new era. Something is changing and you can feel the energy and the buzz in the room. It's a new time where fans that have been making fan films are now the people taking over. I think fans are going to be really delighted to see what we have in store for them.
Read a Q&A with Matt Senreich and Zeb Wells, the co-creators of SuperMansion.
Geeking Out airs Sundays at Midnight/11c. Watch full episodes anytime on amc.com or the AMC apps.
Read More