Q&A
Geeking Out Q&A — Jim Fletcher (Executive Director, DC Collectibles)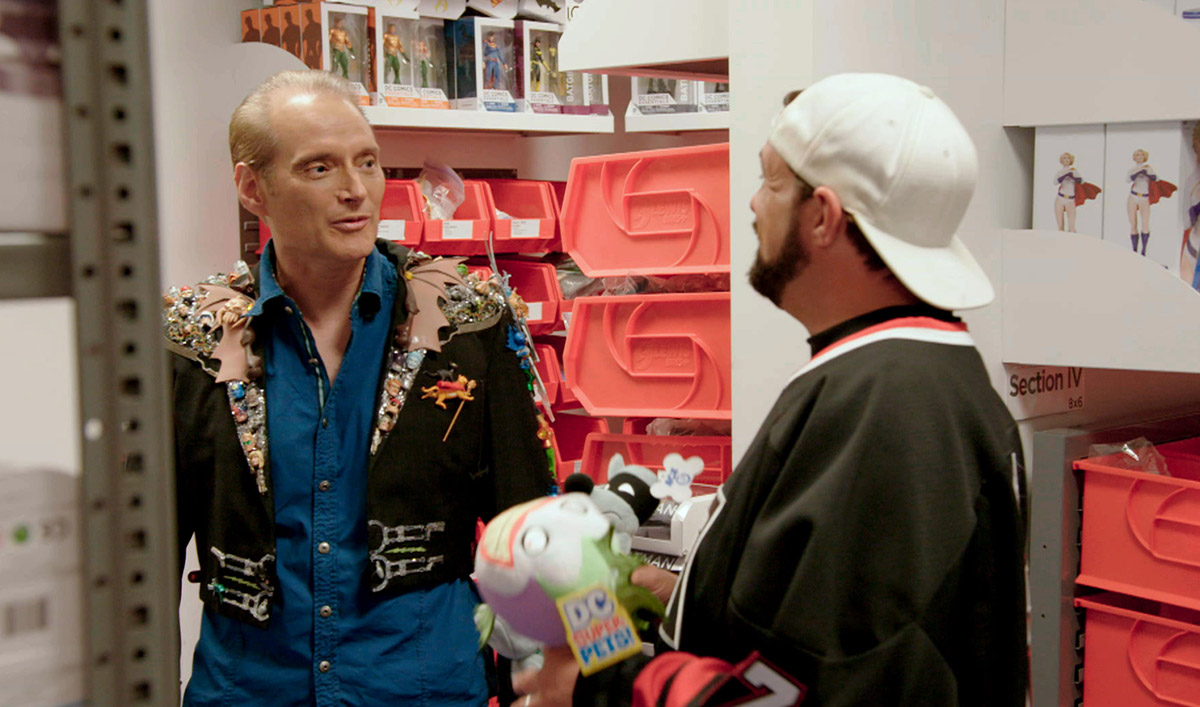 Jim Fletcher, executive director of DC Collectibles, discusses Kevin's childlike wonder in the DC "toy graveyard," how he turned his love of toys into a career, and the secret to making a toy jacket. (Hint: It involves lots of hot glue.)
Q: What sort of toys were you into as a kid?
A: I had a lot of toys, and I was an avid comic book reader. I still am. I remember spending hours reading comics and tracing other illustrators' work. I still have a lot of Jack Kirby tracings I did as a kid, which will never see the light of day. I played with a lot of G.I. Joes – which I admit I blew up with firecrackers – and Matchbox cars, and argued about comic book characters with my friends.
Q: Did you ever imagine you could turn your love for toys into a career?
A: I didn't even know this kind of job existed growing up. It's hard to believe it's actually a job because the stuff I get to do is so great. I didn't even really know that much about the toy industry. My first big break was for a company called Replay, which isn't around anymore. [I did] a whole bunch of toy development at a toy fair and I had to coordinate illustrations, get a bunch of models made, art direct. It was a real big change from the kind of work I had been doing before. It was really exciting, and I realized I liked it very much because there are so many different components you have to pull together to make a toy line work. There are different challenges every day from the production to the art direction. It was an exciting challenge to jump into and I've been in it ever since. I've been here about 12 years now at DC.
Q: Where did you get that awesome jacket you wore in the episode?
A: [Laughs] It's made with a lot of hot glue! I made a huge mess in my living room and, luckily, my wife was traveling so I got to take up the whole apartment. Basically, it's a jacket I found at a thrift store, and I remember thinking I needed something cool to wear for the show. I wanted something fun to wear that would also highlight all the toys that DC Collectibles makes, so the whole jacket is made out of DC Collectibles, some glitter and a lot of burnt fingertips. When stuff fails our own internal quality control, we pull all the heads off the toys and destroy them to make sure nobody can do anything with them. These heads came in very handy for me when I had to construct the suit. I wasn't sure it was going to work. Some of the fingers on it are still posable!
Q: What was it like seeing Kevin at DC Collectibles? Was he literally like a kid in a toy store?
A: We have brought kids through and it was a similar reaction from Kevin. I think dragging him out of the toy graveyard was the hardest part. That's where we store hundreds of past and current products, and there are so many things to look at. He has this unbridled enthusiasm and sense of wonder for our toys and statues that make the hard work that our team puts into everything we do worthwhile. Watching his eyes pop out in excitement was the same sense of excitement that we get when stuff comes in. Just seeing him in every room and touching everything – I might as well have been walking around with a 10-year old!
Q: What was the coolest thing you showed Kevin? What blew his mind the most?
A: I think doing the unboxing of the brass Batman really blew him away. I know he didn't see that coming. The whole procedure of putting on the white gloves and obviously getting to take it back with him – that was a really exciting thing.
Q: What's one of your favorite pieces? Anything that didn't make it on the show?
A: The things that we really focused on [on the show] are some of the most exciting things for me – the brass statue we did, the Batman animated series figures we do which include the newest ones of Harvey Bullock, the Ventriloquist, Scarface, Talia al Ghul and The Joker. I think the only thing that didn't get on the show that I was excited about was our Bombshell statue line. Those are doing so well for us and are our best-selling statue line.
Q: How do you decide which pieces get made?
A: It varies by product. For a movie, TV show or video game coming out, that's very timely and we have to make sure we're within the window. The Arrow action figure line is a good example of that. It was interesting because nobody knew what to do with it when the show first came out. Arrow is not exactly a household name, but we threw it on the schedule the minute we heard about the show, and we just ran with it. That line has done really well for us. Basically, we have an entire room dedicated to our brainstorming. Every year, the team presents new product ideas and we pitch those out and see how everybody feels. We also look at the previous year to see what items have sold and we decide to continue the line or not. The pitching of the new ideas is where it gets interesting because everyone's got their own idea of what they think makes a good toy. We're trying to find the space to live where no one else is.
Q: What have you learned about which collectibles pop and which don't work?
A: We look at character selection. The same popular characters sell year after year with predictability, but it's when you go down deeper into the selection process for what you think will work or not. When we get to do something like Bombshells, it's neat because we've gotten pretty deep into the character selection and haven't seen huge dips in sales because the line itself is so strong. Similarly, with the Batman animated series, we have a lot of characters and we don't see huge swings. Obviously, someone like Joker is going to sell better than the Ventriloquist and Scarface, but you don't want to always do the top 10 characters all the time and leave people bored. We get sales reports back from our distributors, we go on review sites, we have our own Facebook page to read what people have to say, we go to conventions and toy fairs. We get as much feedback as we can from different sources, mix it all up in a pot and see what we think makes sense going forward.
Q: Have there been any collectibles that surprised you, either by how well they did or that they didn't succeed?
A: We tried to do a Jack Kirby line at one point for New Gods. I remember telling the business team at the time, "If this doesn't do well, I'll eat my shoes." And my shoes actually didn't taste too good. [Laughs] It just didn't perform how we hoped. On the other hand, we have stuff like Bombshells. We had no idea how it would do, and out of the blue, it's become our No. 1 line. Batman Black and White is our longest-running statue line and that started out pretty weak, sales-wise. It's 10 years old, which is a really long time for a toy line to exist. Luckily, over the years, we've had more hits than nots. Not everything is a hit, even when you put some of your best characters in there.
Q: Comic book culture is so dominant today. How, if at all, has that that changed collectors' behavior?
A: With all that's going on, there is definitely more of an appetite. I see more and more of our licensees put out stuff similar to what we're doing, and they're all doing well. The appetite is definitely at a level I've never seen before. That's good for us and anybody working with these properties. Kevin even said during an interview that it seems we're in a golden age of collectibles. As far as buying habits go, the biggest change I've seen is that there are probably more women interested in this stuff than I've ever seen before. When I was growing up and going to comic book conventions, it was just a bunch of guys with comic book boxes. That's changed a huge amount over the years. Some people really like to keep figures in the box, but we've really been playing with posing. A couple years ago, our stuff was not as highly articulated. It's really fun to get in there and make sure they can pose.
Q: Having done this for so many years, does your house resemble the toy graveyard at all?
A: [Laughs] It's hard to hold onto everything. On top of the stuff we do here, I also collect a lot of other things, like robots and Japanese toys. My house is not overrun, but I have a section of the place that's overrun. I wish it was as organized as the toy graveyard. We took a long time getting that set up.
Read a Q&A with Geeking Out field correspondent Tiffany Smith.
Geeking Out airs Sundays at Midnight/11c. Watch full episodes anytime on amc.com or the AMC apps.
Read More