Q&A
Geeking Out Q&A — Tiffany Smith (Field Correspondent)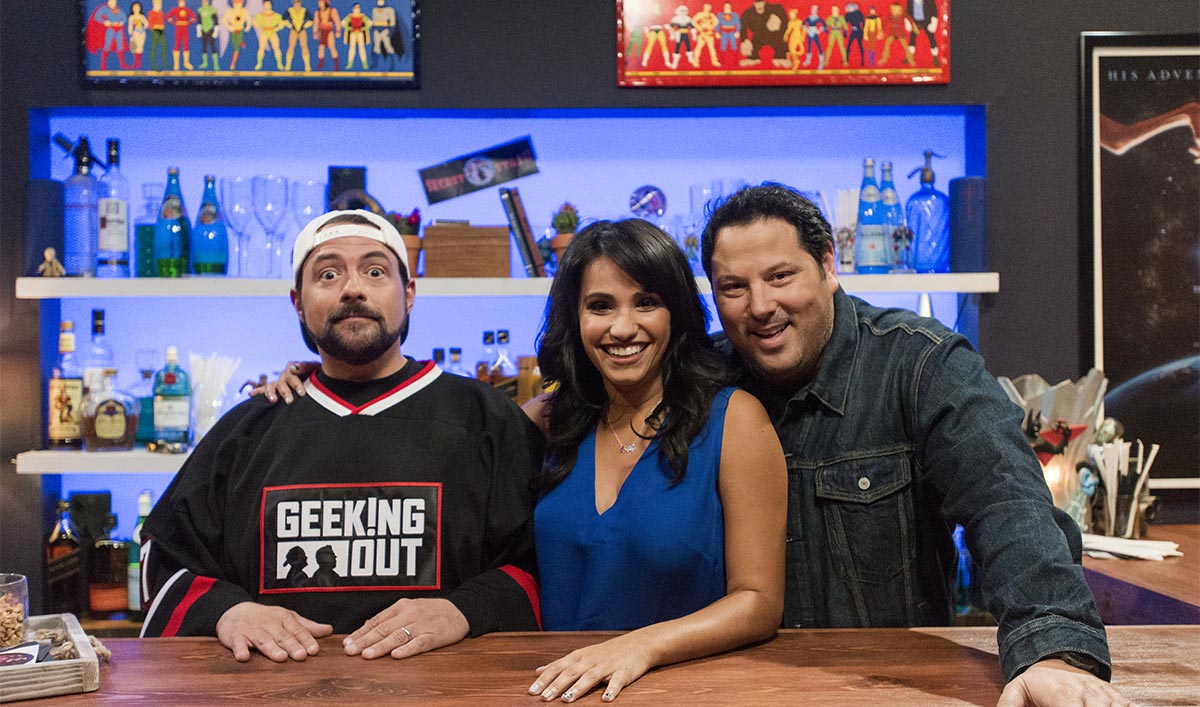 Tiffany Smith, Geeking Out's field correspondent, talks about why it's always a blast hanging with Kevin and Greg, the comic book character she first fell in love with, and spending a day surrounded by fake dead bodies.
Q: How did your role on Geeking Out come about? What was the process of getting the job?
A: I've been "auditioning" for Kevin for a really long time. [Laughs] I've interviewed him multiple times throughout the years. After the last time [we spoke], I thought it would be really cool to work with him. Literally, the next day I got an email from the showrunner about a show with Kevin Smith and Greg Grunberg. We sat and talked about nerd stuff for two hours and at the end of it, I was like, "I will do whatever I can to make being a part of this show work!"
Q: What's it been like working with Kevin and Greg? How do you think your perspective complements or differs from theirs?
A: They have a very similar type of audience that they bring in, but there are females that are geeks in this industry. There are moments when it comes to comic book stuff like history and characters that Kevin and I have a lot in common. Greg will sometimes have more perspective as an actor, and Kevin will bring in a director's perspective. For me, I'm just a fan, and I have very high energy when it comes to this type of content. Kevin and Greg have known each other for a really long time, so they have this "bro BFF" vibe going and it's fun for me to jump in and be like "What the f— are you guys talking about?!" Sometimes it feels like I'm a connector for the audience to come into that friendship a little more.
Q: Do you guys "geek out" even when the cameras aren't rolling?
A: Yeah! We are really candid on the show, but we talk off camera about the things we're excited about. Everything that happens on camera is the same thing that happens off camera. It's cool because I would say everything we talk about, we geek out about.
Q: When did you first discover a love for nerd culture? What's the first thing you remember geeking out about?
A: Both of my parents were into the comic book world. I remember my sister running around in her little Wonder Woman underwear and my mom – who was a teacher – dressing up as Wonder Woman on Halloween. It's always been a part of my life and it's always at the forefront for me. I joke sometimes about how I think my dad always wanted a boy, so he kind of pushed all the things that may be looked at as "boy" stuff. I was always outside playing in the dirt. I played with Barbie dolls, but I also played with actions figures. What really sucked me in was reading an X-Men comic book and seeing Storm. You want to see a character you can relate to.
Q: For Episode 4, you visited Dapper Cadaver to see how they make dead bodies for TV. Were you creeped out at all?
A: When I first walked in, it definitely had a high creep factor. [Laughs] I hate going in haunted houses because I get very scared. The shop is like that – it was really creepy! After talking to BJ Winslow, the co-owner of the shop, about his passion and how much work goes into it, you start to see things in a different light and way more from an artistic perspective. One of the things I love about the field work we're getting to do is showing different aspects of the entertainment industry. I feel like I got welcomed into this other part of geek culture that I didn't know tons about. I did ask if anything has been haunted. They've had a couple of pieces come through that have been creepy and when that happens, they try to get them out of the shop as fast as they can. BJ mentioned one monkey head they had and everyone who would see it had nightmares about it.
Q: What was the reaction like in the room when Kevin and Greg saw the cadaver you had made?
A: Bringing the body in was really fun because I had no idea how they would react. Greg was off-camera and I was like, "Don't look! I want you guys to react as soon as we see it." Then, the body comes on set and Kevin just can't stop with the body part jokes. It was one of those things that happen when I'm hanging out with my guy friends.
Q: You're also an actress. Would you rather play dead or have Dapper Cadaver make your corpse?
A: Oh, man, that's a hard one. Some of the blood they make has sweet stuff in it and they can't have an actor laying in it for hours because it will attract ants. So, they'll use what looks like a vinyl piece of plastic as blood spatter on the ground. I got next to one and pretended like I was dead. [Laughs] I've tried playing dead and I've been killed before in a horror film. At this point, I think I would want to do the body mold and see how crazy it would look because there's something so strange about seeing a duplicate of yourself.
Q: Do you have a dream field assignment you're hoping for?
A: I think it's got to be the Star Wars set. To get to talk to everybody who created Kylo Ren's lightsaber or whatever new weaponry we're going to see in the next [movie] would be pretty freaking cool. I've already started pitching because Star Wars Land is opening. I think getting to experience the Justice League for the first time – and if there's any way to be on set the day they shoot them all together – would be pretty awesome.
Q: Why do you think this section of pop culture has become so dominant in the last several years?
A: The thing with comic books is there's always something that's a little bit off about these characters that makes them feel like an outsider, and I think everybody can relate to that. Figuring out how to make the thing that's quirky and different about you, your superpower, is so easy for people to connect to. You want to escape and you get to experience this world you would never experience before. There are incredible actors and directors that want to be part of these projects now and having all those pieces come together is what makes it exciting for everybody right now. There is something for everybody.
Q: What's your best Comic-Con story?
A: The coolest thing about Comic-Con is you get to interview people you've admired for so long and it's like summer camp. Everyone's there to celebrate everything they're working on. I remember being at a party at Nerd HQ with Grant Morrison and interviewing him the next day. He's one of the best comic book writers out there and getting to chat with him was so incredible. I always joke that Comic-Con is the best and worst week of my life because it's non-stop. You wake up at 5 a.m. and interview all day, but you still dance and hang out. I remember walking down the street and Bruce Timm – the guy who created the most iconic version for me of Batman and who created Harley Quinn – saying "hey" to me on the street. That's what Comic-Con is all about.
Read an interview with Geeking Out co-host Greg Grunberg.
Geeking Out airs Sundays at Midnight/11c. Watch full episodes anytime on amc.com or the AMC apps.
Read More