Q&A
Geeking Out Q&A – Alan Tudyk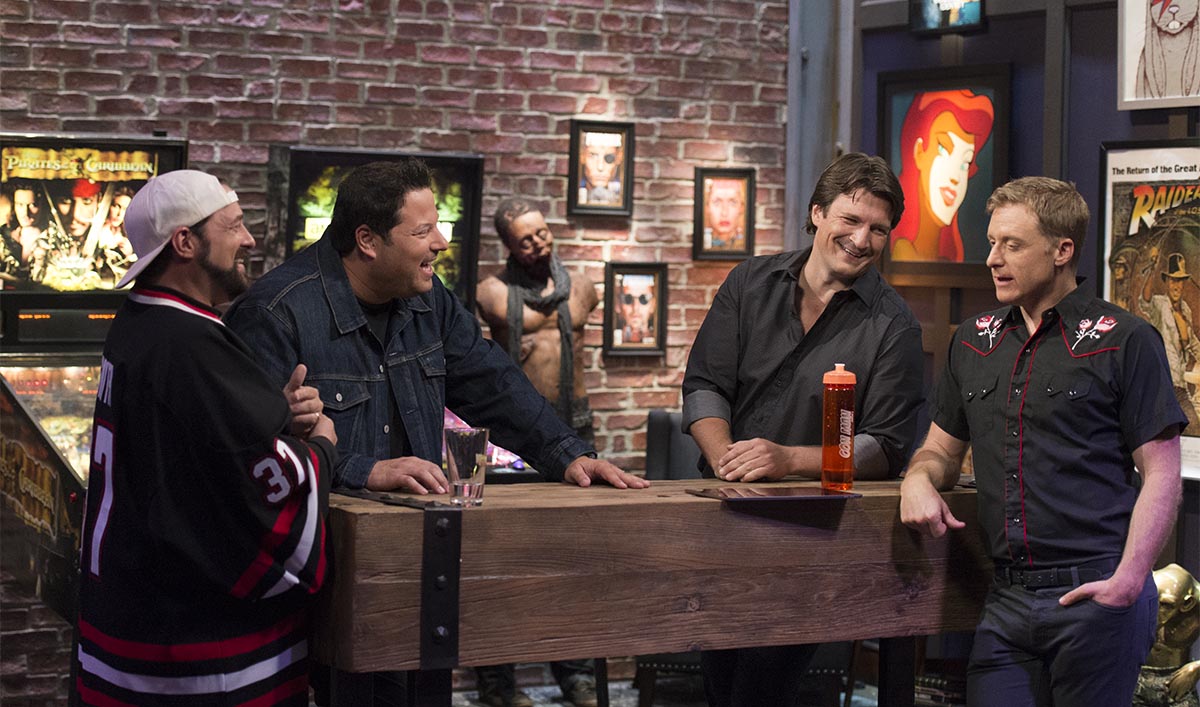 Actor Alan Tudyk discusses the passionate fans who crowdfunded his web series Con Man, his new iOS game, and why he was so happy to get to play a robot in the new Star Wars movie Rogue One. 
Q: What was it like doing Geeking Out? Do you have any personal history with Kevin or Greg?
A: I met Kevin three times before. At a Comic-Con about three years ago, he, Aisha Tyler and I were doing a three-person commentary about our experience with Comic-Con. He was amazing, Aisha was amazing and I was just the worst guest ever. They both have histories of being hosts and are quite comfortable in front of a camera, and I was filling in as the sidekick with nothing to say. Our camaraderie has grown over the years and I'm always just blown away talking to him, especially about directing. I admire him so much.
Q: What's been the thing that's most surprised you through the years about how huge and passionate the nerd fandom is?
A: It's interesting to meet newer fans who were exposed to it from their parents – the original fans. So, I'm meeting 20-year olds who were too young to watch [Firefly] when it came out but are now as big of a fan as their folks who beam with pride at their children's taste in sci-fi fare. [Laughs]
Q: Speaking of that passion, your web series Con Man was crowdfunded and broke all sorts of records. Were you shocked by that? What does it mean to you?
A: We shopped it around for almost two years prior to our decision to crowdfund, so seeing it funded was overwhelming. When you crowdfund – because it's a relatively new way of getting a project made – there are plenty of consultants who will fill you with doubt about the potential of your project being accepted, because they don't know either. They're guessing and are borrowing from a very limited history as to what works and what doesn't. We were nervous and we didn't want to introduce people to Con Man in a way that was confusing or insulting. Then, to see it supported and embraced by the fans that are at the heart of the show meant even more.
Q: What can you tell us about Season 2 of Con Man? 
A: It follows the story from Season 1, which ended with Nathan Fillion's character, Jack Moore, securing the rights to Spectrum and looking to make the movie. Wray was not happy. He felt that doing more sci-fi would keep him out of what he considered legitimate acting. In Season 2, Jack Moore's career hits a wall. He loses a lot of jobs to Australians this season and he needs Spectrum. His success is slipping and he needs to go backwards to go forwards. Wray is still pursuing other work and is up for a job in a procedural television show called Doctor Cop Lawyer, which he is chasing the entire season. There's also a musical with Lou Ferrigno — playing himself — that he adapted from the book Of Mice and Men called "I'm With Stupid." Leslie Jordan is in it, Nolan North, Tyler Labine… It's a mix of people from the sci-fi world, plus very funny comedic actors. We had a lot of people we could not bring on this season because of the nature of [scheduling] the show. Stan Lee appears in one of the episodes. That was exciting for everybody.
Q: You and Nathan have also developed a companion app this season. What does it do?
A: The app is called Con Man: The Game. The former stars of Spectrum are in the game. You, as a player, are building your own con and you start out small and need to get booths. Wray – my character – is the first celebrity you get and he's there to help draw fans. As it gets bigger, you can draw in other VIPs. One element that's different from other sim apps is aliens come down and start to burn up your booths. They're aliens from the Spectrum show and you have to fight them with superfans. People are vomiting from the con crud – which a lot of people know about – and you have to heal them before they infect the whole con. Bathrooms overflow and you have fans running around holding it in, you have to crush rats from your overflowing trash cans… Like the show, it's meant to be funny and it becomes a bigger game beyond just setting it up and letting fans wander about. You have to have a strategy. We're releasing it August 24th and we can't wait.
Q: Are you ever surprised at how far and wide content is able to spread these days?
A: Absolutely. It's great to have an idea and a story you like telling and have all of these venues with which to fill it out. We have a book we're writing right now and we've been writing comics that tell the story that leads up to the book. I love the meta nature of the sci-fi world. I've spent years being introduced to different versions of Firefly.
Q: You've got a role in the new Star Wars movie, Rogue One. Is that the ultimate fanboy dream come true?
A: To call it a dream come true doesn't do it justice. It's always been there since I was a kid and the stories were amazing. I can't wait for people to see this one. It's a standalone movie that tells a story just prior to the ones with Luke Skywalker and Han Solo. All of the tech within this movie resembles what was in the original movies and you're getting flashbacks while you're in the world. The design is somewhere between badass and beautiful.
Q: Was it difficult playing a robot? Were you bummed the audience wouldn't actually get to see you in the role?
A: In the Star Wars universe, droids have such a great history as far as C-3PO and R2-D2. I knew I was not going to be a character relegated to the background as a gimmick or anonymous. You know who was involved in bringing the other droids you love to life. Even in the last movie, BB-8 was a character I loved seeing and it didn't even speak. Chewbacca is another great character. We couldn't understand him, but everybody loves Chewbacca. So, I knew I was entering a world where droids are respected. I did motion capture for a robot in I, Robot – Sunny – and a lot of people don't know that because it wasn't the same climate of reverence for robots. I'm not at all worried about how people will receive K-2SO. He's one of my favorite characters I've ever played.
Q: Do you think it's possible for  your Con Man character Wray to land a big movie like Star Wars on the show?
A: I wouldn't want Wray to experience success in the sci-fi world because it would change his mind about the sci-fi world. He doesn't respect it, so he shouldn't succeed within it. [Laughs]
Read an interview with Geeking Out host, Greg Grunberg, here.
Geeking Out airs Sundays at Midnight/11c.
Read More