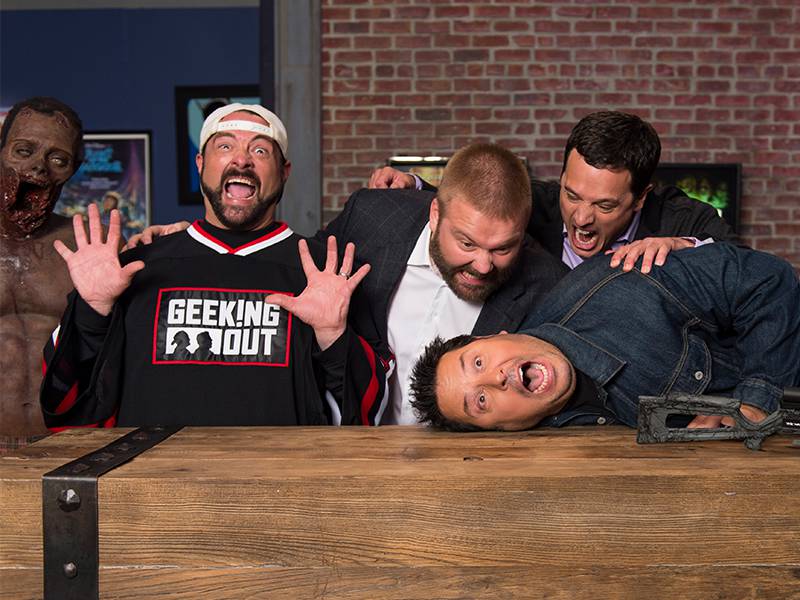 Season 1, Episode 9
Robert Kirkman / David Alpert / Greg Nicotero / Kim Dickens
Kevin and Greg interview the creative minds behind The Walking Dead. Later, Tiffany and Greg talk with Kim Dickens about Fear the Walking Dead.
Show Full Recap
Geeking Out is not currently in season.
---
Full Recap
Kevin, Greg and Tiffany share how excited they are to do a full episode dedicated to the world of The Walking Dead. "What I love is the idea that we now have a zombie TV show," Kevin says. "Now you can tune in eight times a season and watch something that's better than most zombie movies you ever saw. And I'm proud of it, of course, because it comes from a comic book; it comes from a comic book mind and a comic book creator."
In the fan cave, Kevin and Greg introduce Robert Kirkman and David Alpert, the creators of The Walking Dead. Kevin says that Robert is an inspiration to comic fans everywhere, having grown up reading comics since he was a teenager, writing comics, and eventually becoming a partner at Image Comics. Kirkman jokes that he used to dream about working at Image Comics and now that he's living it, he laments getting calls from Todd McFarlane. "I highly recommend anyone out there who's trying to do something, just trip and fall and stumble and do terrible things, but keep moving forward. You'll eventually get it," Kirkman says. Greg commends Kirkman on how well he's been able to keep the momentum going on The Walking Dead television series for so many seasons, when many other shows fall into a slump. Kirkman commends the "comic book mentality" of the show, which lends itself well to serialized television.
Later, Greg asks Kirkman for some secrets about the new season of The Walking Dead. "Oh great, well, Michonne dies, killed by Negan. It's a big deal," Kirkman says, before revealing he's kidding. Kevin and Greg explode with disbelief. "My heart stopped," Kevin says, remarking that he thought Kirkman was having a stroke. "He's literally just telling us!" exclaims Kevin. Kirkman divulges that he's been telling people different names everywhere he goes: "It's been a long summer." Kevin brings up a rumor circulating online that if the show ends, Kirkman will end the comic around the same time, but Kirkman denies it. He says he wants the comic to keep going far beyond the show, so he won't tell anyone how he wants to end it. That way, it doesn't end up on television before he can put it in his comic.
Greg turns the conversation to Fear the Walking Dead. Greg appreciates that the show deals with how people reacted in the early days of the apocalypse and also answers questions like: Why wouldn't all the survivors just get on a boat? Greg then asks about Kirkman and Alpert's upcoming docu-series, Heroes and Villains, which digs deep into comic book history and culture. "It's taking the creators and turning them into the rock stars they've always been for us," Kevin says. Kevin asks Kirkman which medium he would choose to create in if he could only choose one, and Kirkman answers with "comics" before the question is even over.
Later, Kevin asks Tiffany and Greg how they would prepare for the zombie apocalypse. Kevin says he was raised Catholic so he's been worshipping the undead his whole life. Greg says he played out the apocalypse while acting in a movie The End of the World, so he was able to think a lot about the science of what would go into his bunker. Tiffany says she feels prepared with her earthquake backpack and she knows whose house is safe and has weapons. "Also I'd probably find Brad Pitt because he's really good at killing zombies in World War Z," she says. "Oh, I thought you meant 'I'd find Brad Pitt because he'd probably be a zombie and I'd put chains around him and he'd be mine'," Kevin says.
Next, Greg and Tiffany chat with Kim Dickens of Fear the Walking Dead. Dickens says that after watching the Season 2 Finale, some fans might feel excited and inspired and some fans might feel a little upset. Greg asks if Deadwood is coming back, and Dickens says, "It's what they say." She says she's seen a script of some of the scenes and Greg and Tiffany get excited. Greg moves back to Fear the Walking Dead and remarks that he loves how the series focuses on a family surviving the start of the apocalypse. He says he relates to Dickens's character, Madison, so strongly. "What's been really exciting about this show is we get to play pre-apocalyptic in your day-to-day problems and nightmares, and all of a sudden things start to unravel." Tiffany asks Kim if she's ever wondered how her character might die. "As an actor, you keep moving anyway. You just enjoy it while you can. You can't really fear anything," Dickens says.
Sitting down with Greg Nicotero, director and special effects makeup guru on The Walking Dead, Kevin asks if viewers will be mad at the upcoming premiere of Season 7. Nicotero says it was the hardest episode he's ever had to film. "I never expected, as the director, to be as emotionally affected by dragging my actors to their deepest, darkest places, but it was rough," he says. Nicotero says one of the biggest struggles of the Season 7 premiere is that viewers find out who dies right away, and that's all the viewers are thinking about -- but there's so much more that will happen in the episode that is "more heartbreaking than that moment, that by the time the episode is over, it's almost too much. It's that intense." Nicotero says his first job in special effects was with George Romero on Day of the Dead, and he created an effects coordinator position that hadn't really existed prior. Kevin asks Nicotero what some of the Easter eggs are in The Walking Dead, and Nicotero points out the "tribute walkers" from show that reference other films like Swamp Thing. Finally, Kevin compliments Nicotero's work: "Disney calls them Imagineers, but I think we can call you an Imagineer," Kevin says.