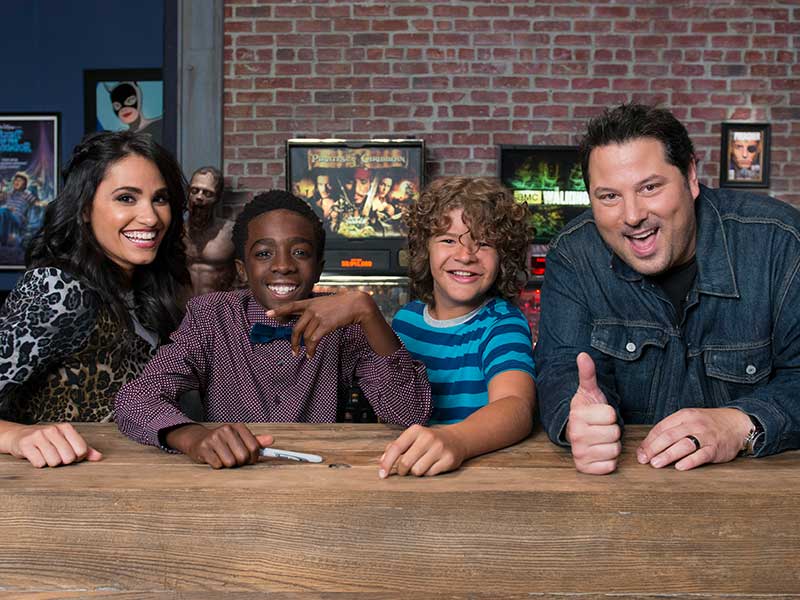 Season 1, Episode 7
Bryan Cranston / Stranger Things / McFarlane Toys
Greg visits Bryan Cranston. Later, Tiffany and Greg talk to the Stranger Things kids and Tiffany gets a tour of McFarlane Toys.
Show Full Recap
Geeking Out is not currently in season.
---
Full Recap
In the fan cave, Tiffany talks about visiting Todd McFarlane at his studio to learn about Image Comics, McFarlane Toys and a possible new Spawn movie. Plus, Greg shares how he and Tiffany interviewed some of the kids from Stranger Things. "These kids are just what you see on the screen," Greg says. He also hypes up his trip to Stoopid Buddy Stoodios to meet Bryan Cranston and see how the show SuperMansion gets made.
At Stoopid Buddy Stoodios, Greg meets up with Bryan Cranston. "So you go from cooking meth to cooking up amazing animation," Greg says. Cranston gives Greg a tour of the studio and takes him to the puppet department, where all of the puppets are made. He meets Matt Senreich and Zeb Wells, the creators of SuperMansion. "I feel like I'm in a secret lab somewhere," Greg says. Wells gives Greg a puppet of himself in honor of his visit... with some very well-endowed features.
Cranston talks about how he used to play with sets and figures as a kid, and now he's doing much of the same as an executive producer of SuperMansion. "I think the best actors are the ones who can tap back into their childhood," Cranston says while describing his work on the show. Cranston says he would love to play a villain that's never been done before, like Mr. Sinister from The X-Men. On the set, Cranston and Greg create a short animation clip with their puppets.
Back at the fan cave, Greg talks with Kevin and Tiffany about Cranston as Mr. Sinister. They share their favorite villains in media. Kevin says the villain that changed his life was the shark in Jaws. Despite growing up in an ocean-side town, he's never been in the ocean after watching the movie.
Later, Tiffany and Greg meet with Caleb McLaughlin and Gaten Matarazzo, who play Lucas and Dustin on the show Stranger Things. The kids talk about how they didn't think they were going to be so huge. Greg brings up the character people are talking about the most: Barb. Dustin and Caleb don't give into the fan theories about her survival. "Her body was ripped apart!" Caleb says.
Gaten has a theory that Will has powers like Eleven and the monster was attracted to Will's secret power. "Maybe Will and Eleven will have a power face-off like Anakin and Obi-Wan!" Gaten says. Caleb wonders if Gaten's theory could be true: "So I'd advise you to stop talking." Greg asks the kids if there's anything on the set that scared them, and Gaten remembers that in Episode 8, when the kids are walking down the hallway infested with growth, that it actually looks like that in real life, and he got butterflies playing hide and seek on that set because it was so dark and scary. Suddenly the lights of the set flicker, and Tiffany, Greg, Gaten and Caleb look like they're stuck in the Upside Down. Greg coughs up a (fake) slug and rushes out to the bathroom.
Tiffany visits McFarlane Toys in Tempe, Ariz. She meets with Todd McFarlane, who is holding Negan's bat, Lucille, from The Walking Dead. McFarlane gives Tiffany a tour of the studio and shows off some of their figures. He shows her a figure whose teeth are actual human teeth from a dentist's extractions.
Tiffany asks how McFarlane broke off from DC and Marvel to create Image. McFarlane says that Image is the third biggest comic company, but their stories are a little "more sophisticated" for adults. Tiffany asks if there's going to be a new Spawn movie. "The simple answer is yes," McFarlane says, to Tiffany's immense excitement. McFarlane continues his tour and shows Tiffany his library of set pieces. "I think I'm gonna stay here," Tiffany says.
Back at the fan cave, Kevin, Greg and Tiffany continue to gush about Todd McFarlane. "That guy's an entreprenerd," Greg says.