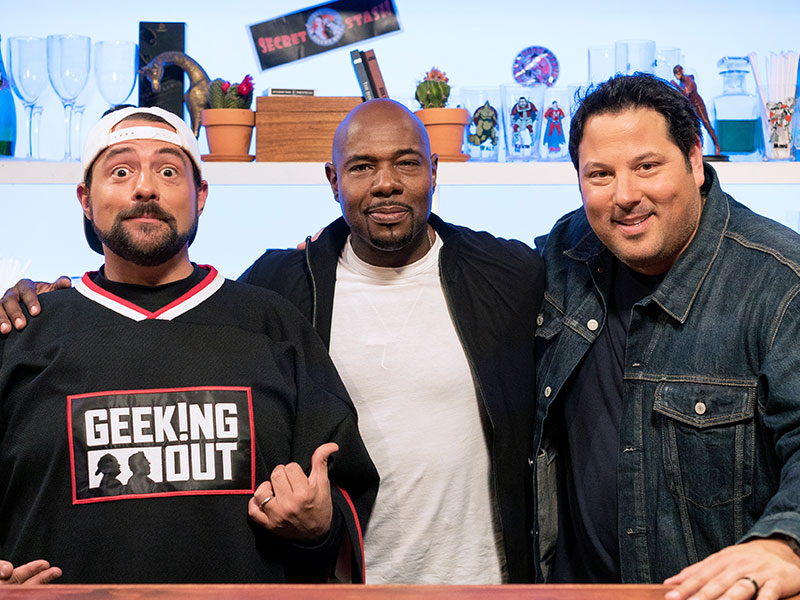 Season 1, Episode 6
Antoine Fuqua / DC Toys / Blizzard Entertainment
Kevin tours DC Collectibles toys. Later, Kevin and Greg interview Antoine Fuqua, and Tiffany explores the world of video games at Blizzard Entertainment.
Show Full Recap
Geeking Out is not currently in season.
---
Full Recap
At the fan cave, Kevin Smith tells Greg Grunberg and Tiffany Smith about his trip to DC Collectibles. Greg talks about how he used to collect lunch boxes. Tiffany shares how she used to collect She-Ra dolls... and rocks. "My childhood wasn't as geeky as I thought it was," Kevin says after Tiffany admits she even had a rock tumbler to crush them for jewelry.
At DC Collectibles, Kevin introduces Jim Fletcher, the company's executive director. "Which means glorified fan boy who gets to play with all the best toys," Kevin clarifies. They tour the Action Figure Archive, a.k.a. the Toy Graveyard. Kevin checks out toys new and old, including an Alfred E. Neuman figure, Spy vs. Spy figures, a Helmet of Nabu replica and more.
Later, Fletcher brings Kevin into "the Batman room." Taking in the room full of figures and buildings from Batman: The Animated Series television show, Kevin can't help but say, "This is the room I dreamed about." Fletcher pulls down a replica of the Batwing. "If your parents love you, they're buying this," Kevin says. Then, Fletcher moves onto an engraved wooden box. Inside is a $5,000 brass Batman statue -- and Fletcher says Kevin can take it home. "It's your own Excalibur," Fletcher says. Kevin exclaims, "It really is!"
Kevin brings the brass Batman back to the fan cave to show off to Greg and Tiffany. "You could kill a human being with this," Kevin remarks of the 35-pound statue.
Later, Kevin, Greg and Tiffany geek out over their favorite childhood toys. Kevin says his was the AT-AT Walker from Star Wars, while Greg says his is an Asteroids game kiosk he bought himself as an adult. Tiffany says she has a replica of Anakin Skywalker's lightsaber in a baseball bat shadow box, defending Anakin's character in the Clone Wars television series. She says it hangs right in her living room. "I embrace my geek!" she says as Greg gives her a high five.
Antoine Fuqua joins Kevin and Greg in the fan cave. The director of Training Day, Southpaw and the upcoming The Magnificent Seven talks about how all of his movies fall into the Western genre. He says he grew up watching cowboy movies, connecting with his grandmother over their shared love of the genre. Kevin asks how he prepared directing a cast with Denzel Washington, Ethan Hawke and so many others to live in the Old West. "First of all, it was hot as hell. It was 110 degrees. You've got 200 horses or whatever everywhere. It smells like horse sh-t. You are in the west." He shares a story about working with Denzel back on Training Day and how nervous he was about screwing it up. "What do you geek out about?" Greg asks. Fuqua says he loves Speedracer, Godzilla, and he's a big-time comedy fan. "The guy who won Denzel his Oscar, your go-to movie is Step Brothers? That gives me hope," Kevin says.
Later, Tiffany visits Blizzard Entertainment, the video game company behind World of Warcraft, Overwatch and more. She works with the Blizzard sound designers to create interesting sounds for spells, monsters and more. She meets Justin Dye, the writer of Heroes of the Storm. He has Tiffany voice one of the game's villains. In the recording studio, the sound designers transform her voice into that of a formidable monster. "That is so cool," she says when she hears her character speak.
Back at the fan cave, Tiffany tells Kevin and Greg that she geeks out over World of Warcraft and video games like these, so voicing her own character in a video game was a dream come true.