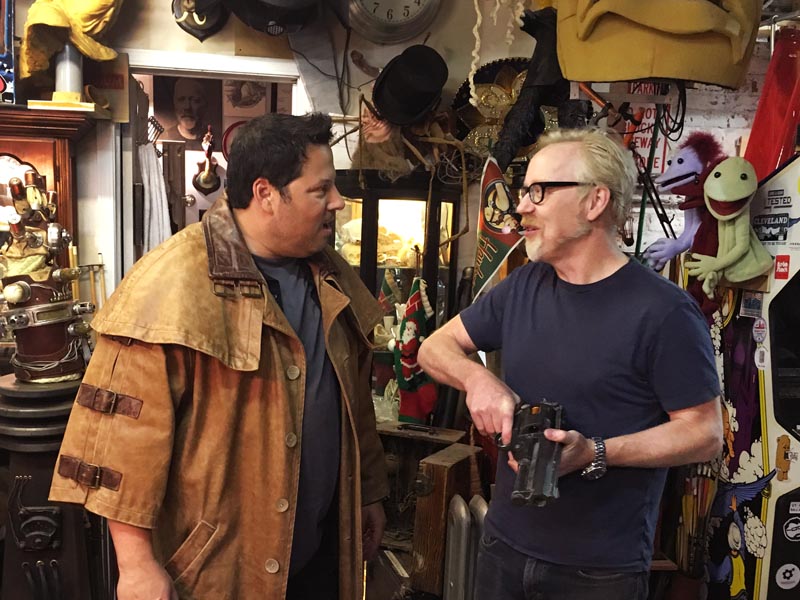 Season 1, Episode 5
Adam Savage / The Flash / Star Trek 50th
Greg builds a prop replica with Adam Savage. Later Kevin directs The Flash, and Tiffany, Greg and Kevin discuss Star Trek's 50th Anniversary.
Show Full Recap
Geeking Out is not currently in season.
---
Full Recap
In the fan cave, Greg tells Kevin about his visit to Adam Savage's prop house. They gush about the memorable props they own or would love to own. "If I could have any prop in movie history, it would be the Ark of the Covenant from Raiders of the Lost Ark," Kevin says. Greg says he owns a replica of the Willie Wonka golden ticket -- one of the most iconic props in movie history. Kevin asks Greg if he was able to take anything from the set of Star Wars: Episode VII - The Force Awakens. Greg only somewhat convincingly says he did not -- but he did get to make a Force Awakens prop with the MythBuster himself, Adam Savage. Greg walks into Adam Savage's Cave of Wonders to be greeted by a treasure trove of television and movie props. Adam tells Greg the first prop he wanted to make was the Mission Impossible detonator box when he was 9 years old. Then, he shows Greg the replica he made of the Blade Runner pistol. "This is so beautiful. This is art," Greg gushes while handling the real weight of the gun. Adam shows Greg the many different models of the C-3PO costume he owns, including one of the only gold-plated models in the world. Greg asks if someone could wear the costume, and Adam laughs: "I put on the helmet and almost got heat exhaustion just from the helmet... It's a torture device." Adam shows Greg how to create Rey's staff from The Force Awakens step-by-step. Using a pole and some rubber pieces, a dust of black and silver spray paint, rusty wash, a spritz of isopropyl alcohol, a coat of Barnard clay and some belts, Greg sees the prop come to life. "Geeking out with you has been the highlight of my Geeking Out experience so far," Greg says. Greg shows the staff to Kevin in the fan cave, who busts out some martial arts moves before twisting his arm. Later, Greg shares how when his character was killed in Hollow Man, the team created a replica of his bust. When Greg pulls it out, Kevin dares him to kiss it. Kevin shares how he got to direct an episode of The CW's The Flash last season and took a camera crew with him to document the experience. In Vancouver, Kevin gives a tour of Barry Allen's forensic lab in which Barry is hit by lightning and becomes the Flash. Interviewing Grant Gustin, who plays Barry Allen, Kevin says, "There's no one who intuits a character like you do." Gustin talks about how putting on the suit helps him feel like a rock star with the fans. Candice Patton, who plays Barry's childhood best friend and love interest, Iris West, talks about exploring different universes and timelines like Earth-2. She tells Kevin she hopes that one day she'll get a superhero suit of her own as the show explores alternate universes. At the wrap of the The Flash episode, Kevin thanks the hard working crew who bring the story to life. Back in the fan cave with Greg, Kevin talks more about "zlooping" -- the word used to describe how Grant Gustin portrays Barry's speed by jumping into a running position and then walking out of frame. Greg then "zloops" around the fan cave. Sitting down with field correspondent Tiffany Smith, Kevin and Greg discuss the 50th anniversary of Star Trek. Tiffany talks about how the upcoming series Star Trek: Discovery, helmed by Bryan Fuller, will have a female captain. Greg says Star Trek has always been very progressive, hosting the first interracial kiss seen on television. "Star Trek, I feel, also created the original fandom," Kevin says. "You don't really hear about comic book conventions or sci-fi conventions prior to Star Trek." Tiffany, Greg and Kevin argue over the best ship captain and sign off with the Vulcan salute.