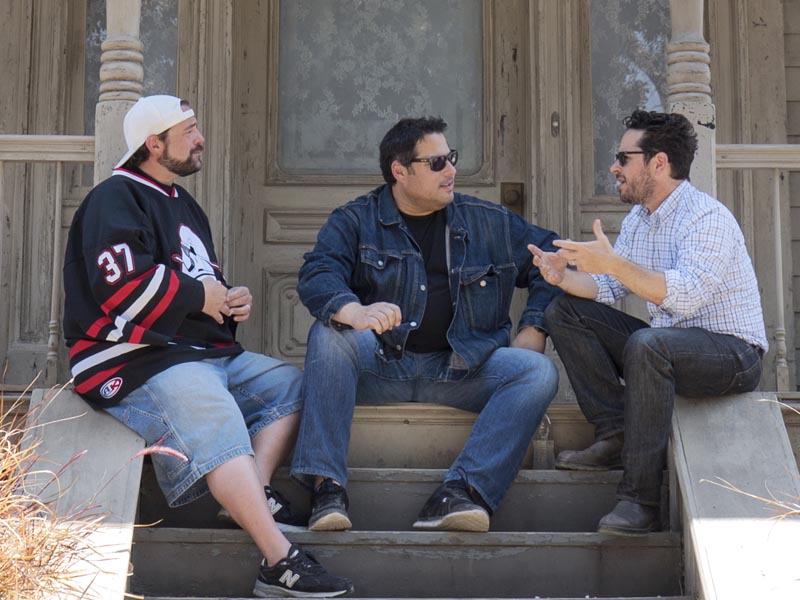 Season 1, Episode 2
Nathan Fillion / Alan Tudyk / J.J. Abrams
Kevin and Greg talk with Nathan Fillion and Alan Tudyk about their current and past projects. They later interview J.J. Abrams at Universal Studios.
Show Full Recap
Geeking Out is not currently in season.
---
Full Recap
Greg Grunberg tells Kevin Smith that interviewing his childhood friend, J.J. Abrams, was one of the hardest interviews he's ever done. "That should make it the easiest interview of your life!" Kevin says.
Kevin and Greg drive a golf cart through the famous Universal backlot and check out film and television sets: Wisteria Lane, Bates Motel and the Psycho house, where J.J. Abrams is waiting on the house's front steps. J.J. talks about how he befriended Greg when they were 5 years old. He shares how when he was working on the Star Wars set with Carrie Fisher, Harrison Ford, Anthony Daniels and other famous faces, and then he would turn to Greg and say, "What are you doing here?" J.J. says he feels lucky to work with people he cares about, who care about the project.
"You've aggregated fandom into a career," Kevin says to J.J. "What's the one thing that got you to be the modern-day Spielberg?" J.J. says that if you love something enough and it's something you have to do, that's your destiny -- but he doesn't disregard how much luck was involved in his career. Kevin asks about how when J.J. was 16, he was given the opportunity to repair Steven Spielberg's super 8 movies from when he was a teenager; then, when he later met Spielberg while working on adapting a movie, Spielberg remembered the work J.J had done on his films.
Back at the fandom den, Kevin and Greg can't say enough good things about J.J. "I don't think we've seen his best yet," Greg says.
Later, Kevin and Greg introduce Nathan Fillion and Alan Tudyk, of Firefly and Con Man fame. Alan explains how the premise of Con Man takes place in the world of conventions and drops big names that will appear on the new season: Stan Lee and Lou Ferrigno. Kevin also brings up the show's new companion app, in which players can build their own convention. Kevin's likeness also appears as a security guard character in the game.
"I think we've all been in Star Wars. Oh wait…" Greg says as he turns toward a pouting Fillion. Tudyk explains a little more about his role as a seven foot tall droid in the upcoming Star Wars movie Rogue One. Alan shares a story of when he met Anthony Daniels, the man behind the iconic C-3PO. Daniels asked Alan if his droid is a costume or CGI. When Alan says he is acting in CGI, Daniels said, "Well, you're sh--."
Kevin asks Nathan about his Canadian roots, and how it didn't take too long for him to wind up on the soap opera One Life to Live. He said he was on the show for three years, and it's the best acting training. He teaches Greg and Kevin a trick about contemplating leaving the stove on. "I'll never forget the day I learned that, and I never stopped using it since." Alan says, "If we go back to Firefly, are we going to see that moment?" Nathan nods emphatically.
Kevin and Greg break down their Geek Critique of this season's summer movies. Greg explains how he loved Justin Lin's Star Trek. Kevin says this is the summer of Civil War. "That was the only movie this summer that could have disappointed me, because my expectations were so high - and they delivered." However, Kevin admits this was the year of DC movie made their mark, even though Greg was disappointed with Suicide Squad.