Press
AMC Returns to the Table for a Second Season of the Arm-Wrestling Series Game of Arms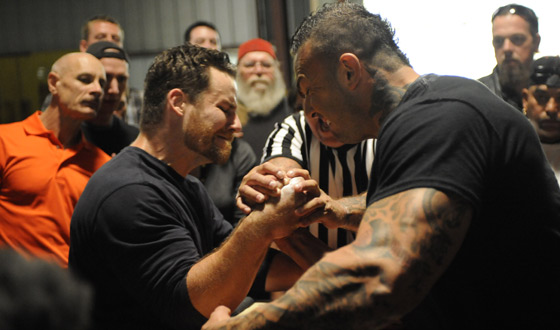 AMC announced today that it has ordered a second season of its unscripted arm-wrestling series, Game of Arms, which premiered last February with 1 million viewers, delivering the network's highest weeknight original series premiere. The network has ordered 10 one-hour episodes of the series, which goes inside the raw, highly-competitive world of underground arm-wrestling. The competition series follows members of various regional arm wrestling clubs, as they hit the road each week to compete in intense matches, often sacrificing their jobs, health, and even relationships in pursuit of victory.

"With its cinematic look, raw intensity, and fascinating view of a little-known subculture, Game of Arms has become a defining unscripted series for AMC." said Eliot Goldberg, AMC's Senior Vice President of Unscripted Programming. "Undertow Films delivered a visually stunning first season and we are thrilled to continue to explore these fascinating characters and rivalries in Season 2."
Game of Arms is executive produced by Matt Renner and Ethan Prochnik, Emmy Award-winning producers of Deadliest Catch, and their partner, Dan Ilani, through their shingle, Undertow Films. The project is overseen for the network by unscripted programming executives Eliot Goldberg, Marco Bresaz, and Andrea Beckerman.
The Game of Arms pick-up follows on the heels of the network's recently announced order for three additional unscripted series slated for 2015: All-Star Celebrity Bowling, adapted from Chris Hardwick's hit web series features two new celebrity casts facing off each week in a fun-filled bowling match for charity; the untitled Billy Corgan wrestling docu-drama which follows Corgan in his latest undertaking as creative director of Resistance Pro, a Chicago-based wrestling league; and Visionaries, (working title) which follows the employees of Vision Scenery as they design and construct Hollywood sets, props and models for commercials, TV, music videos, films and other productions. The network recently premiered its newest unscripted series, 4th and Loud, which airs Tuesdays at 10/9c, and follows the inaugural season of the LA KISS Arena Football League team, featuring co-owners Paul Stanley and Gene Simmons, of KISS fame
Learn more about the world of arm-wrestling with AMC's Game of Arms Infographic.
Read More