Unscripted
Game of Arms Q&A – Travis Bagent (Erie Wrecking Crew)
Throughout Game of Arms, no contestant has drawn more attention – or more controversy – than Travis Bagent, the super-heavyweight sometimes known as "The Mouth of the South." Bagent reflects on his experience arm wrestling over the course of the show's first season.
Q: With the season at a close, have you been able to measure how the show has impacted arm wrestling's popularity in the States?
Q: I think it tripled the number of people who show up to watch tournaments from the time the first commercial came out. Hundreds of beginners are also coming up to compete. That population change has been unbelievable.
Q: What about you? Has life changed much?
A: It couldn't have gone any better for me. I can't go into any small town without causing some kind of buzz – doesn't matter if I'm sitting down to eat, getting gas, whatever. It's been crazy how often I get recognized.
A: You're a divisive guy, though. Does it matter if people are tuning in to see you lose?
A: My dream is that everyone is on my side, but I understand the reality. If I can get even half of them on the fence, then I'm happy. The initial reaction wasn't positive, I'll tell you that. When episode three popped on, I'd say 85% of Facebook posts were saying I was unsportsmanlike or just a prick. One guy was like, "I hope he dies!" But later, I think I got it to a 55% approval rate. [Laughs]
Q: Who do you think has the most potential coming out of the show?
A: Everyone has an eye on Ethan Fritsche. He's a great dude. His character and skills have been amazing. I see a bright future for that young man. I also think Luke Kindt is right there. I'm a Kindt fan, but that being said, I don't know if both of them can have potential because they'll be crashing heads for the next ten years.
Q: What about someone who might need to consider hanging it up?
A There's a glaring light shining on Nick Zinna. If I hurt both arms in a year's time, I think I'd consider quitting.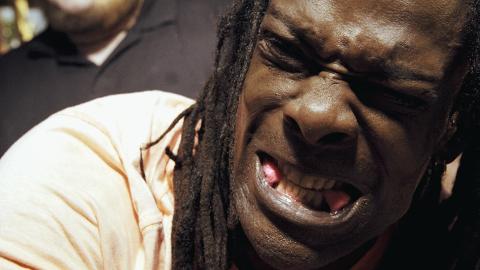 Q: Speaking of… You went 36 rounds with Dave Chaffee in the finale. Most pulls only last a few seconds. That was hard to watch — neither of you were about to give in.
A: Chaffee is a bad dude. Going that long is devastating on the central nervous system. It took me ten days to recover. It was as bad a soreness as I've ever had in my life.
Q: What do you think would have happened if you had kept going?
A: I think we could've gone for a long time. I would love to tell you I would've worn him out. But on that day, he had the best right and I had the best left in North America. And the second-best right-hand. [Laughs]
Vote for your favorite arm wrestler in this virtual Game of Arms tournament.
Read More