Unscripted
Game of Arms Q&A – Mike Ayello (New York City Arms Control)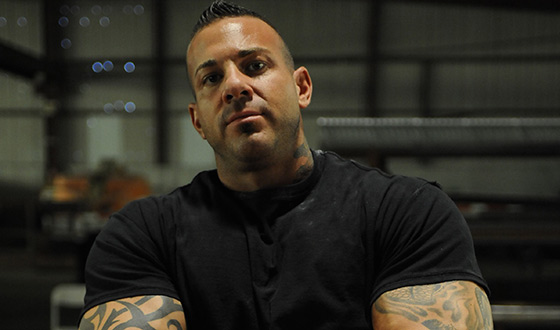 Bouncer-turned-cop-turned-firefighter Mike Ayello represents a sizable problem for anyone opposite him at the table. At 6'5" and 265 lb, he's one of New York City's most intimidating pullers. See if Ayello can help NYC Arms Control take out the Erie Wrecking Crew on tonight's Game of Arms, premiering at 10/9c on AMC.
Q: What got you into firefighting? Was it something you grew up wanting to do?
I was a New York City police officer before I was a firefighter. One day, I was walking my beat in a blizzard. It was f—ing freezing out and I was passing by the fire house. Their door was open and someone said, "Dude, are you nuts? Come inside. It's two degrees out." I sit down and they're having filet mignon. I thought, "I'm on the wrong job."
Q: Do you think being a firefighter helps your arm wrestling game?
A: Absolutely. I'm in a ladder company. The Jaws of Life weighs 80 lb and I'm carrying it with one hand. The gear on my back weighs 70 lb. Everything all day is about hands and wrist. You're climbing a ladder with your tools in one hand and holding on with the other.
Q: It's dangerous work. Have you ever been in a bad spot?
A: Lots of times you come out of fires and go, "Holy s–t, how did we live through that?" When you're crawling through a basement and the place is on fire, you think, "The f–k am I doing?" But with your oxygen and protective clothing, it's more adrenaline than fear. I've been doing it eight years.
Q: You bounced, too, right?
A: Oh, yeah. All over the city and the Hamptons. I've been at really nice clubs and at really bad bars with guys pulling guns and razors. That's how I got into arm wrestling. We'd wrestle in our free time against each other at 4AM. I thought, "Let me Google this and see how you get involved." I started practicing, went to the amateurs, and turned pro.
Q: We see guys trying to get comfortable with their grip prior to the start of a match. What's going on in those moments?
A: I try to go as high as possible on the grip, go over the thumb as much as possible until the ref says, "Hey, give the guy his thumb back." Some refs are too quick with saying "go" before you're ready. Other refs, you move and they'll call a foul. If you don't establish a good set-up at the beginning, you'll never feel comfortable.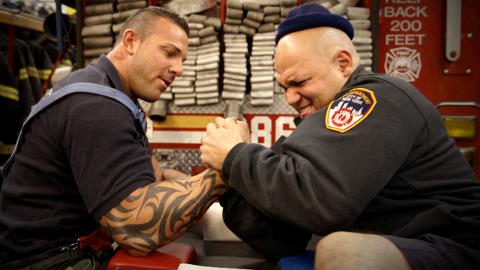 Q: You're now five years into your pro career. What do you think you need to improve upon?
A: I think it takes five to ten years to find your niche. I've always had power and now I'm finding technique. Within the next year or two, I think I'll be where I need to be. I had never really trained for arm wrestling before. I used to go to the gym and try to be a mutant. Now I go and do a half-hour of pulley work, hammer curls, grip stuff.
Q: You were on the small side in high school, though…
A: I graduated at 165 lb. My brother was a jacked-up bodybuilder. He was like, "Dude, you're killing me." I was wearing turtlenecks on the beach. I ate 8,000 calories a day and started growing.
Click here for more Game of Arms video.
Read More