Unscripted
Game of Arms Q&A – Allen Fisher (Sacramento Arm Benders)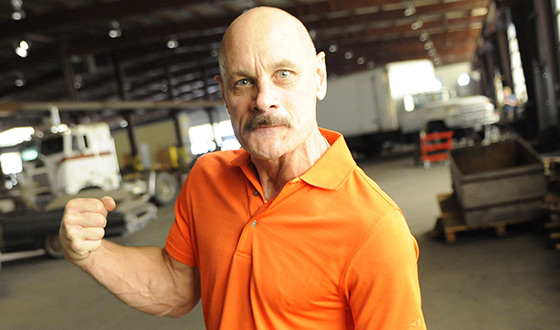 The average career of an NFL athlete spans just six years: Allen Fisher has been at the top of his sport for 34. Since turning pro in 1980, the 58-year-old has pulled thousands of matches, making him one of the most seasoned athletes on any team. Watch him compete on tonight's Game of Arms, premiering at 10/9c on AMC.
Q: It's practically unheard of for an athlete in any sport to go for as long as you have in arm wrestling. What's the secret?
A: Staying intact. I've never had some of the surgeries these guys have had. My diet is strict compared to most. I try to get nutrition not from supplements but mainly good, whole foods. Some people say it's 70% diet, 30% training. For me, it's more like 80/20. I also listen to my body. A lot of guys will push through pain, but I believe more in controlled pain. I would rather lose than be in a position where I'm in pain on the losing side. It's just one match.
Q: What about training? On the show, we see you gripping the steering wheel while driving. It seems like you'll use anything that's around to get a workout in.
A: Part of it is that I have to fidget with something or I can't pay attention. We just had a family meeting and I was taking a phone charger and tearing it apart. I've bent steering wheels in cars. I've broken gear shifters. I've broken the throttle on motorcycles from gripping. Right now I'm taking popsicle sticks and seeing if I can twist them with just my thumb and index finger.
Q: I think the takeaway here is not to hand you any small animals.
A: Well, I used to work with window glass, which is very thin, so I know when to be careful.
Q: Your wife was also a professional arm wrestler. Is that how you two met?
A: That's an interesting story. They used to show what they'd call "wrist wrestling" on ABC's Wide World of Sports in the '80s. It was in Petaluma, California, which became famous when Charles Schultz drew strips of Snoopy winning an arm wrestling competition in the town. We were in the same tournament but weren't dating at the time. I was just coaching her while she was onstage. And on TV, [broadcaster] Lynn Swann says, "That's Allen Fisher, Carolyn's fiancé." She didn't even want anything to do with me! We found this out about a year ago, when the producers put my matches on a DVD.
Q: Obviously, she warmed up to you…
A: We met a few months later. I had moved on from partying and converted to Christianity. Just before I got to the table, she said, "I'll pray for you." You'll pray for me? I'm arm wrestling! But we figured God brought us together. We got married 11 days later. It's been 29 years.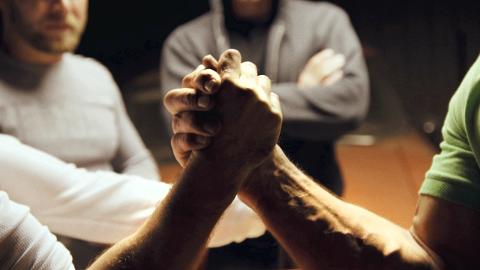 Q: Not many people realize the Stallone movie, Over the Top, had an actual competitive tournament going on during the filming of the movie. You were in it, right?
A: It was one of the biggest that ever took place. People couldn't even get in to watch. I won the middleweight division. It lasted something like 21 hours total. Menahem Golan, who directed the movie, asked me a couple of times to act in it. It wasn't a money thing, but we could never come to terms. I wouldn't film on a Sunday. The church I was attending at the time, I thought it was the right thing. I told him I couldn't do it. If I had, I never would've won one of the best competitions in history. [crackling sound]
Q: You're still working on those popsicle sticks, huh?
A: My wife is going to buy me a whole can full of them.
Click here to watch more Game of Arms video.
Read More