Press
Screen Crush Checks Out Episode 5; Rob Bigwood Celebrated for Vegan Diet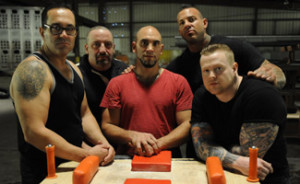 This week, Screen Crush has a clip and photos from Episode 5. Plus, Rob Bigwood, a Game of Arms competitor, is celebrated for being a vegan. Read on for more:
• Screen Crush, previewing Season 1, Episode 5, "Welcome to the Slaughterhouse," observes that AMC has "gone arms-deep into the world of reality competition."
• Ecorazzi features Rob Bigwood's status as the only vegan competitor on Game of Arms, saying his diet is "no disadvantage."
• According to Broadway World, the New York Arm Wrestling Association expects 2014 to be the "biggest competition year" in its history, citing increased interest since Game of Arms has aired.
To stay up-to-date with all the latest Game of Arms news, sign up for the Game of Arms Weekly.
Read More