Press
Maxim Defeated by Game of Arms Wrestlers; NYC Arms Control Visits Fox & Friends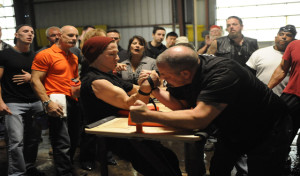 This week, a Game of Arms team beats up on Maxim. Plus, Zap2it shows off photos from this week's episode. Read on for more:
• Maxim gets "severely beaten" in arm wrestling by the New York City Arms Control, one of the teams from Game of Arms.
• Fox and Friends, visited by members of New York City's Arms Control, calls competitive arm wrestling à la Game of Arms "the new fight club."
• Zap2it shows off some photos from Season 1, Episode 4, "Bloodlines," which features Rob Bigwood versus Chop Bertrand.
• One member of the Baton Rouge Roughnecks, interviewed by 225BatonRouge.com, gives credit to Game of Arms because "you have all these people who know nothing about arm wrestling that are interested in it now."
To stay up-to-date with all the latest Game of Arms news, sign up for the Game of Arms Weekly.
Read More