Unscripted
Game of Arms Q&A – Matt "Chop" Bertrand (Baton Rouge Roughnecks)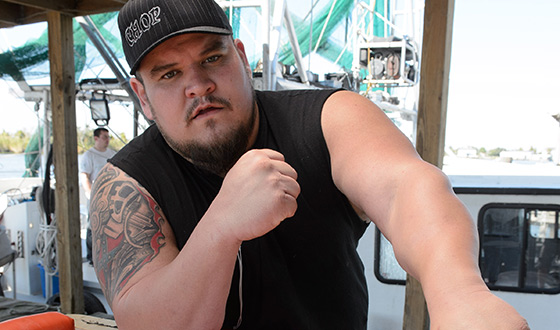 Super-heavyweight Louisiana native Chop Bertrand talks shrimping and being a left-handed competitor going against right-handed legends prior to his Roughnecks meeting the Kansas City Rolling Thunder.
Q: You're left-handed. How do you cope with having to go up against right-handers in the sport?
A: Well, I wrestle using both. I've finished as high as sixth in national competition with my right, but tournaments usually have left-handed divisions. My left is definitely stronger. I went three years undefeated on that side. In high school, even against guys five to six years older, I never came close to losing with my left.
Q: A lot of Louisiana wrestlers work highly physical jobs. It seems like that could be a problem if you're trying to recover or prepare for a tournament and want to stay fresh.
A: It's hard. Down south, we have so much raw power. Everyone has manual jobs. You get farm boys, offshore workers — I think I got my strength from oil work, but when you get back from a tournament and have to go in to your job, you wake up regretting life. Everything hurts. The muscle pains can stick with you for a long time. It takes me about a week to recover from wrestling.
Q: Do you do anything to speed it up?
A: Some people ice down. I'll do that if it gets real intense, but that's less than half the time. It's not badminton or water polo, that's for sure.
Q: That's probably a common misconception — that arm wrestling is a sport that only involves your arm.
A: Definitely. You're straining. Your legs are straightening out, your chest is working, you're pushing off with your foot. It makes you hurt in places you didn't think had muscles.
Q: What do you watch out for when facing smaller guys?
A: The only real problem is that they're faster. Luckily, I'm one of the fastest heavyweights on the circuit. It's a misconception that smaller guys are at a disadvantage. Even though they may not be as strong, they can put up a fight. I've seen lightweights upset heavyweights all the time. They're not waiting on anything. Some of them, you get surprised how strong they can be. Underestimating them is a huge mistake.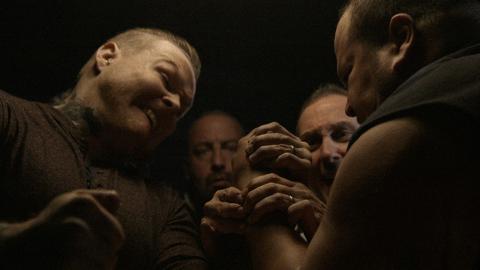 Q: Do you have any pre-match rituals or superstitions? Anything to relax you?
A: Superstitions? I do have a lucky hat and shoes I wear to tournaments. Other than that, I guess I'm strange in that I don't really warm up. I just sit down, drink a beer, and try to conserve energy. I motivate myself mentally instead of physically. It's worked for me. I've won two national titles.
Q: A lot of wrestlers seem to find fault with the referees, accusing them of making controversial calls. Has a ref ever cost you a match?
A: You know, being a referee is a hard job. Everything happens so fast, but when the call makes the difference between a win or loss, it lays heavy on you. I'll get a little upset. But five minutes later, I'll… forget about it.
Click here for more Game of Arms video.
Read More