Unscripted
Game of Arms Q&A – Travis Bagent (Erie Wrecking Crew)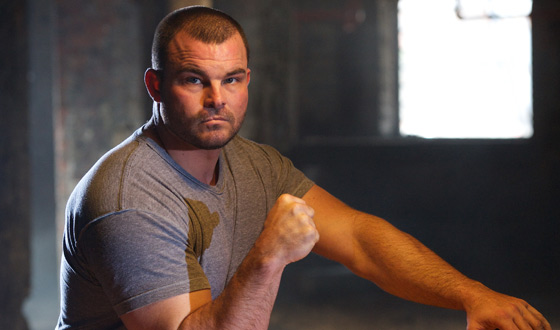 It's difficult to imagine a room where Travis Bagent doesn't make his presence known. Considered one of the best arm wrestlers of his generation, Bagent isn't shy about his abilities. See if Bagent can back up his bravado on Tuesday's Game of Arms, airing at 10/9c on AMC.
Q: You had what some might consider a rough upbringing in a trailer with no running water. How did that influence the person you are now?
A: I think it opened my eyes at an early age that I wanted something different. I wanted to try to get away from that environment as fast as possible. Two or three days of the week, I was looking for somewhere to spend the night to get away from it. A normal house seemed like paradise, with the basic amenities we take for granted. My mom was open to me having a hot shower every night if possible.
Q: You played three sports in high school. Was that your escape?
A: Well, we moved to some public housing when I was in ninth grade, and everything started getting better. I could bring my friends to my house — that was unheard of when I was younger. I met my wife at that time, too.
Q: Women tend to like guys who shower…
A: Exactly, right. [Laughs] I think building confidence is important, however you do it. For me it was athletics. I ended up getting a baseball scholarship to a B2 local school. I was a pitcher throwing 84 to 86 miles per hour, and for a left-hander, you can make a living if you're getting up to 88 or 91. But my horsepower never showed up. With baseball over, I still wanted to compete, so I started arm wrestling a lot. I got to travel all over the world, wrestled in 40 different countries, went through a couple different passports, and made enough to call it a job.
Q: You're heavily involved in CrossFit, both as a trainer and an announcer for the televised competitions. Do you think it helps your arm wrestling game?
A: No doubt. In the past, I would not be able to extend workouts over a long period of time. I'd shut down right after a match. I see a lot of problems with over-specializing in arm wrestling. It's brutal on joints and tendons. CrossFit allows me to take time off of specialized wrestling practice, but I don't lose a whole lot of strength. I can only attribute that to brutal CrossFit workouts. If you put yourself in adverse situations on a daily basis, which is what CrossFit does, the rest of the day is never as hard. I live the lifestyle.
Q: So you eat a Paleo diet?
A: Not so much. More a Burger King diet. I need to work on that.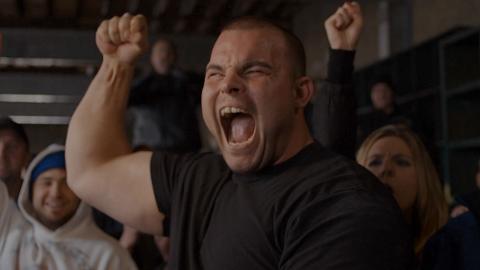 Q: You project confidence at the table, and you're a big trash-talker. Was there any defining moment where you realized this could work to your advantage?
A: My wife played a big part in that. She was the first to give me a boost of confidence. She smiled more when I scored 20 points in a basketball game than when I fouled out. What she saw in me — how happy I was or how disappointed — affected me. The trash talking? I think at first the fear of losing causes you to act out. For me, that was psyching myself up. It's not to affect someone else. If it pisses you off and you're not focused, great. If it doesn't, no big deal.
Q: Fans seem to respond to that, though.
A: If I tell you I'll do something amazing and don't, you'll forget in two weeks. But if it happens, it's something most people will remember forever.
Q: Has anyone gotten in your head?
A: Yes. Tom Nelson, his approach, getting himself fired up – for some reason, it irritates the sh-t out of me. I have to have some kind of respect he could put me in that frame of mind.
Click here to watch more Game of Arms video.
Read More