Unscripted
Game of Arms Q&A – Rob Bigwood (New York City Arms Control)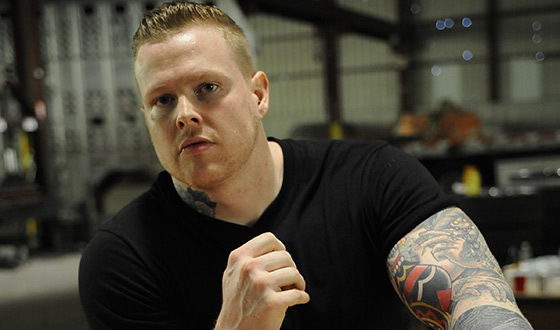 Rob Bigwood doesn't look like your average vegan: the 235 lb plant-based competitor can outmuscle opponents still digesting their pre-bout steaks. Catch Rob and the New York City Arms Control when they head to Kansas City to face the Rolling Thunder on Tuesday's Game of Arms, airing at 10/9c on AMC.
Q: When you made the decision to go vegan, were you worried it might impact your strength?
A: I was wrestling for years before I went vegetarian, and then vegan. I was actually going to give up arm wrestling because I really thought I'd become weak and didn't want to go through that. But when I gave up meat, I realized I was just as strong. I entered a New York tournament, the Big Apple Grapple, and placed second behind Travis Bagent. I think I placed with both arms. I beat some good guys. I knew before, but that was when I could prove it.
Q: Do you think there's a psychological component to it – some kind of meat propaganda you had to overcome?
A: It's such a huge misconception. I get just as much protein as anyone does. There's a ton of protein in beans, nuts, grains, oats. I don't need chicken when I can have a plate of tofu.
Q: So what do you eat?
A: In the morning, usually oatmeal with some nuts, or a banana and peanut butter shake. If I'm sore from training, I'll add some vegan protein. I'll drink almond or hemp milk. Lunch is a salad with tofu, sunflower seeds, nuts, vegetables. Same with dinner. But I'm kind of spoiled because there are so many great vegan places in New York.
Q: Did you get any eye-rolls when you made the switch?
A: Yeah. People thought it wouldn't last, that it was a phase. Look, I was not a light meat eater. If I didn't have bacon or sausage, it wasn't breakfast. Every meal had to have meat in it. But my wife and I started at the same time. She's been a great support system.
Q: Your wife seems like she really enjoys the sport, which is not always a given…
A: She loves it. She's always pushing me. She actually made me compete at that New York tournament. She's overconfident, and I'm a little under-confident, so it levels out. She knows all the athletes. She can name more of them than she could in any other sport.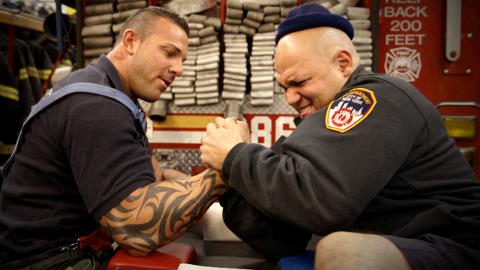 Q: You had elbow surgery a few years back. How has it impacted your abilities?
A: It's my right arm, but my left is my dominant. Honestly, the surgeons said I should never wrestle with my right again, but try telling an arm wrestler that. What's funny is when they went in, the way the tendon wraps around my elbow might be better for competing. My surgeon had never seen anything like it. Only in medical school in some anatomy book. They had to cut through my triceps to get to it. It's definitely not as good as it used to be.
Q: It's covered in tattoos, though. You're one of the most inked guys on the show.
A: I got my first when I was 18 in South Jersey. It was a terrible, ugly tribal band with my last name in it. I was an idiot. I ended up getting a phoenix on my right shoulder, and then I moved to New York and got some great work done. I'm working on my left thigh now. When I was young, I would draw. I love art and appreciate all different types of art. I look at tattooing as collecting and admiring artists I like.
Click here for more Game of Arms video.
Read More