Unscripted
Game of Arms Q&A – Kevin Nelson (New York City Arms Control)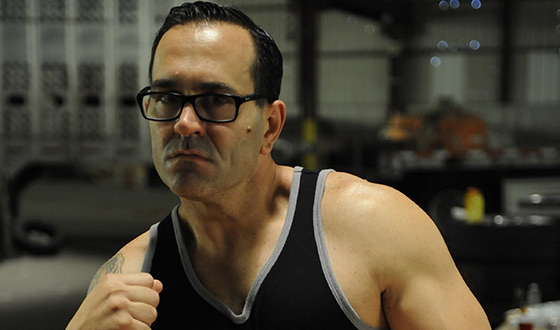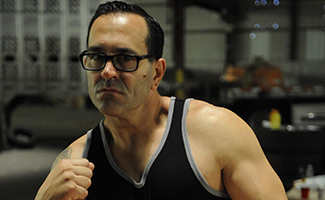 Arm wrestler and graphic designer Kevin Nelson talks comparisons to Clark Kent, betting on himself — literally — and more. Nelson takes to the table on Tuesday's Game of Arms, airing at 10/9c on AMC.
Q: You've got a pretty epic tattoo on your back of two dragons arm wrestling. How did you come up with that?
A: That's something I designed when I got into arm wrestling. As a kid, I was always into fantasy-type art. Dragons are significant in representing inner strength. In defeating a dragon, it's about defeating whatever's in your way. The design of the two dragons arm wrestling was to represent your strength in a battle against someone else.
Q: Do outside stresses distract you while arm wrestling, or is arm wrestling a distraction from the stress?
A: For me, I use arm wrestling as a vehicle to develop my human potential. I do best when my back is against the wall; when I need to win. I don't do as well if everything is going right. I believe we all have that caveman DNA, when we can't just accept working every day and need an outlet. Otherwise you internalize everything and explode.
Q: When did you feel your back was against the wall?
A: When I would enter a tournament and put up my own money. It didn't matter if times were rough. I still had to, and it's my money I'm losing, so I have to win. I think I do better under that kind of situation. If someone else puts it up? Then I might not do as well. It's like, so what, I lost someone else's money. But when you need to a pay a bill, or the money is for my children or my home, I can't lose.
Q: How does that change your thinking?
A: You try to tap in to that feeling of, your kid is trapped under a car and one way or another, you are going to get him out from underneath it.
Q: People have speculated you wear glasses to psyche out opponents — to make them think you're weaker than you are.
A: I wear glasses to see, but I do intentionally wear them up to the point where I'm at the table because I feel it's like a switch. It's almost time to go to work. I take them off and I have to rev it up. It might work the way you described, but I'm not intentionally doing that to people.
Q: So it's more of a Clark Kent/Superman thing.
A: Yeah. I've been called Clark Kent. People have yelled that out from the crowd.
Q: Athletes use a lot of makeshift equipment. What's your favorite?
A: I have a pulley system attached to a table. It's the closest thing to having someone pulling your arm. You can use different handles, some for grip strength. The thing is not pretty. It's an old cable, old pulley, rusty metal, but I like it raw. This is more for farm-boy strength.
Q: You're a graphic designer by trade…
A: We do designs for the pharmaceutical companies, big insurance companies, anything promotional. I actually used to design albums for the music industry, but that's going away. I did 50 Cent when he was still making cassettes, Rihanna, people just starting out.
Q: Do your co-workers know about the sport?
A: Everybody knows now. There's Game of Arms stuff posted all over the place! People seem proud of it. Before, you got a lot of people going, "Oh, you do that? That's kind of weird." At work, I'm all dressed up, and then someone sees a picture of me with a tank top on making an angry face.
Click here to watch more Game of Arms video.
Read More