Unscripted
Game of Arms Q&A – Bill Logsdon (Kansas City Rolling Thunder)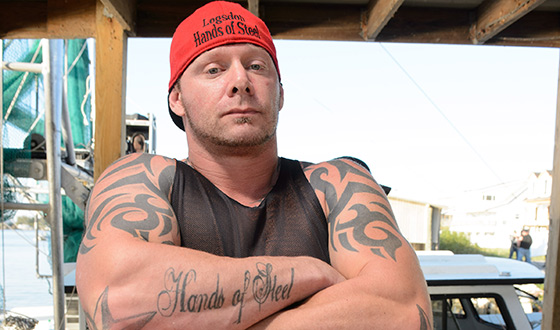 Missouri's Bill Logsdon credits drywall installation and bow-hunting for his success in arm wrestling. Catch Logsdon in action against the Sacramento Arm Benders on tonight's Game of Arms, airing at 10/9c on AMC.
Q: There must be a story behind the nickname, "Hands of Steel."
A: At the Arnold Classic one year, all of us were after-pulling when the competition was over, just messing around on the table. Someone tried to top-roll me, going over my fingers and bending my wrist, but I just stopped it. And the guy said, "He's got hands of steel." The other reason is, I've done drywall since I was 17. My right hand and wrist are like iron from running pans and knives. For the first few years of my career, I never even went to the gym.
Q: So wrestlers pull more after tournaments, just for fun?
A: It's real common. A lot of people use it as practice. Sometimes you only get two matches in a tournament, and you want more. Everyone from the best guy to the worst will do it. You can actually learn someone's technique — where they're vulnerable — and use it to take advantage the next time you wrestle them.
Q: Do you flip any kind of switch when you get to the table?
A: Absolutely. Some of my bigger matches, I'll train 12 weeks. There's definitely more focus. I'm usually laid back and easygoing, but when it's time to throw down, I go into a different mode. Everything slows down. You've got a split second to experience everything you've trained weeks for. I take big matches very, very seriously. For me, I'm better with more pressure. All my finishes are at the bigger events.
Q: You bow hunt a lot. Do you think that's helped your strength and leverage at the table?
A: I've been shooting a bow and arrow since I was 14. I didn't know it at the time, but I was really training for a career in arm wrestling. The muscles in the back while drawing the bow give you back pressure for a match. By the time I competed at 24, I had built up a lot of those muscles. Back pressure is so important. If I can pull you to my side of the table, it makes me stronger. That all comes from shooting the bow early on.
Q: You're on the same team as Andrew "Cobra" Rhodes, who's been around for decades. At this stage in your career, can you still pick up pointers or learn from a guy like that?
A: Actually, I'm usually the one giving advice, even with Cobra. He's been at it for ages, but I can watch him pull one match and see him do something wrong. He would've beaten Chop Bertrand [in Episode 2] if he had done a high hook.
I analyze the sport differently than most people. I'm not the most physically gifted, so I have to look at angles and technique. I'm better at a super match, like in the show, than a tournament. You can get beat, make adjustments, and come back to win. I was down 0-2 against Jerry Avanti [in Episode 2] but came back and won three in a row.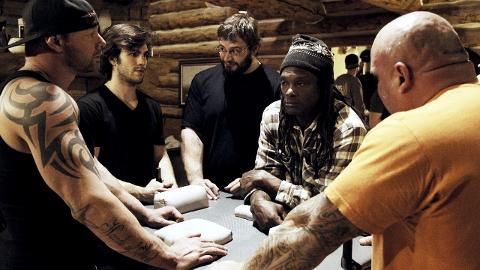 Q: What was your first match like?
A: It was at a bar called the Blue Ox. My whole life, my buddies had been picking out the biggest guys in those places for me. I walked in and there were 23 people there for the event in the 200 lb class. The first guy I ever met was Don Fritsche, [competitor Ethan Fritsche's father]. He said, "Let me see what you got." We gripped up and he said, "Real good. Strong, huge hands. You'll do fine." I wound up taking third place.
Q: When did you start building your own training equipment?
A: I grew up in a welding shop. I was also a machinist. It's just one of those things where if I can think it up, I can build it. I've never been wealthy, so I learned to work with what I had. For arm wrestling, it's a different animal. There's no place to go buy this stuff. No one made it or sold it.
Q: So when you make something like that, do you want to keep it a secret?
A: It was, until this show. [Laughs] Now I've got 100 people on Facebook trying to buy one.
Click here for more Game of Arms video.
Read More