Unscripted
Game of Arms Q&A – Andrew "Cobra" Rhodes (Kansas City Rolling Thunder)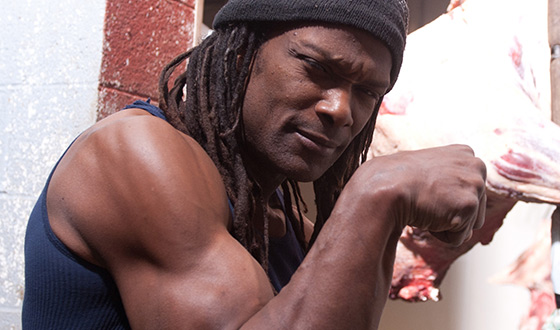 No one in arm wrestling is more well-traveled than gourmet chef Andrew "Cobra" Rhodes, a 35-year veteran of the sport who's been to six continents, appeared in Over the Top with Sylvester Stallone, and is notorious for winning David vs. Goliath matches at a compact 176 lb.
Q: Let's get the obvious question out of the way. Why "Cobra"?
A: It came from guys I trained with when I was 14 years old. Before [Michael] Jordan was wagging his tongue, I did that in competition. It would just come out during a match. And then my buddy said to me, "You're quick like a cobra."
A: But now you wear a mouth guard, which is unusual for arm wrestlers.
A: I once read when your jaw is relaxed, you get better performance. When your bite is set properly, you get more speed, more power, more flexibility. I'm not a spring chicken, so I'm always looking for natural ways to do better. In this sport, there's no wind that's going to blow a field goal to the left of a goal post.
Q: You worked as a chef for years. How did you acquire those skills?
A: I've trained with the most talented chefs you've ever met, but there's no degree on paper. I've been all over the world and to the good restaurants so I could spend time with the chefs there and take recipes back home. You go to Eastern Europe or Russia and get down with the Babushkas — the old ladies who do the real deal. I've got a cookbook waiting to be published. But I got out of it because the cooking business will kill you. It's high stress, man. Banging out those hours was not healthy.
Q: You've wrestled on six continents. Any good stories?
A: You know where it rocks? Eastern Europe. They're a strong, proud people, and arm wrestling is the real sh-t there.
Once, a buddy of mine got a rock star bus, named it Club Cobra, and we drove all over Scandinavia for months. We had over 5,000 wrestling matches and never lost one. But the one that stands out was the 1999 Russia World Championships. This town, half their businesses closed, schools let out, and they ushered Russians in to watch the gold medal round. I was pulling against a Russian, and what stays in my mind is the love I received from people. They were chanting my name as I won the gold while the Russian took silver. You can't write that.
Q: Well, Sylvester Stallone did, if you count Rocky IV.
A: [Laughs] I never saw that one.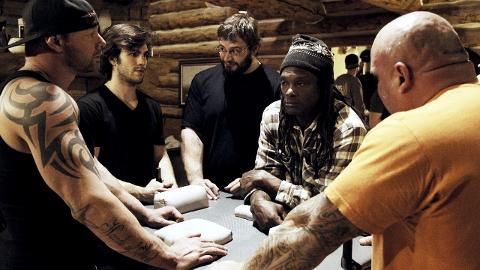 Q: But you did do Over the Top with him. Was the expectation in the arm wrestling community that the movie was going to be the vehicle to get the sport going in the States?
A: I think so. And at the time, I was super excited. I was just a 20-year-old kid from East Providence, Rhode Island. Every arm wrestler wanted to be in the movie. Someone from Cannon, the film's studio, brought me to a tourney in Texas where I met Mr. Stallone. The guy said, "He likes you and he wants you around for the movie." Next thing I know, I'm standing next to Sly. I had a lot of fun. But the film didn't win any Oscars.
Q: You once said mixed martial arts fighter Gary Goodridge was the toughest guy you ever pulled against. Why?
A: Just the dogfight in him. Every time I've had wars with Gary, I wasn't right for over a week. My body was jacked up somewhere, somehow. Gary brought out best in me. When you go to a table and have a war, it makes you elevate your game. Something about that draws me in. You don't want it, but when it happens, it's awesome.
Click here for more Game of Arms video.
Read More