Unscripted
Game of Arms Q&A – Mike Selearis (New York City Arms Control)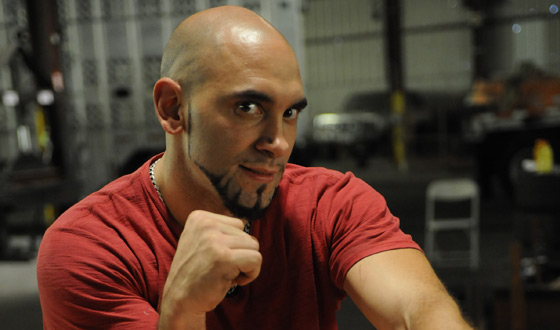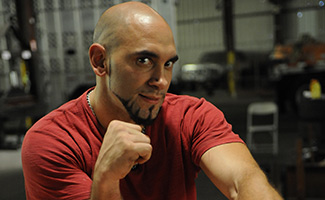 High school chemistry teacher Mike Selearis started competing in professional arm wrestling at the age of 16. Over twenty years later, Selearis has an entire school behind him in his efforts to be crowned champion in Game of Arms, a new original series premiering this Tue., Feb. 25 10/9c.
Q: Do you remember the first time you arm-wrestled anyone?
A: It was every day at the lunch table in junior high. A little group of four or five of us would be arm wrestling and challenging everyone. I would be one to say, "Come on, let's go." It got to the point where I was annoying people.
Q: What was your fascination with it?
A: It's weird to put into words. It's just the one-on-one competition in close quarters. There's no equipment, no ball to chase. The simplicity of it is what drew me in.
Q: What about your first professional experience?
A: I was 16 years old. It was a tournament in Flushing Meadow Park in Queens. Prior to hearing about it, I never knew arm wrestling was a sport. When I did, I knew I wanted to compete.
Q: Was this a teen division?
A: No. They went by weight classes. I was in the under-200 lb category and went up against professionals. I had my longest match ever and my shortest match ever there. I remember a guy sniffing ammonia, getting to the table, and bam — he put me down faster and harder than I had ever been hit before. He used to joke around and put his occupation down as "chicken farmer." I swore I'd beat him one day.
Q: Did you?
A: I did, but I didn't even realize it. It was years later. Someone had to tell me, "You beat the chicken farmer!"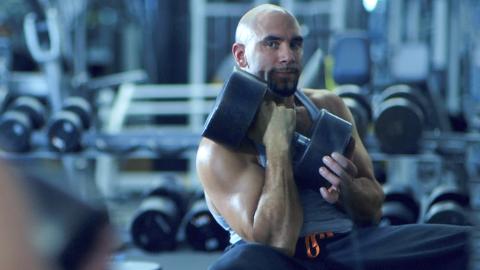 Q: Was there anyone who showed you techniques?
A: Oh, absolutely. We would practice in a garage every Thursday. When I drove home, I couldn't get my arm on the steering wheel because it hurt so much. Next week, I'd go back and do it again.
Q: You need a week to recover from training?
A: You can't do it more than once a week. I don't know many who do it more than that. I'd use bags of ice when I went to sleep.
Q: What does a tournament take out of you?
A: The day after, my butt is literally sore. You're flexing so much that your legs, butt, and calves are all sore. Every single muscle is trained to explode. It's not just the forearm.
Q: You're a high school chemistry teacher. What kind of reaction do you get from students and faculty?
A: I tell my kids they can get an A if they beat me. My co-workers think it's cool, especially now that they're seeing commercials for Game of Arms. Even the principal is behind it.

Q: Arm wrestling is a little like pool — a lot of people mess around with it casually in bars. Did you ever hustle anyone?
A: I thought it was almost cheating if I did, so I never put a lot of cash on the line. But in college I'd say, "I'll give you $200 if you beat me. If I beat you, you buy me pitcher of beer." It's a bet they can't refuse, and you make a friend instead of an enemy. It paid for all of my drinking in college.
Click here to watch more Game of Arms video.
Read More