Unscripted
Game of Arms Q&A – Kenny Hughes (Sacramento Arm Benders)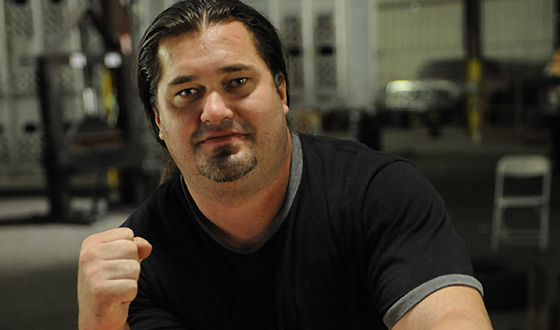 Kenny Hughes has arm wrestling in his blood: the California native learned the sport from his father and grandfather and entered his first tournament against adults at the age of 14. Now 32, the former prodigy is finding fresh motivation on Game of Arms, a new original series premiering tomorrow at 10/9c on AMC.
Q: You took fourth place in an amateur tournament at the age of 14. How do grown men react when they've been bested by a kid?
A: I would think it would bother them. [Laughs] I wouldn't want to lose to a 14-year-old! My dad originally took me to a tournament in Patterson, California, but I was too shy to wrestle there. I got over that barrier, got up my nerve in Lake Tahoe a couple months later and competed in the 132 lb class. I was able to beat grown men who had been doing it for years.
Q: Did you always want to wrestle?
A: It's all I wanted to do. I was completely invested in it. I was just naturally strong. It takes some people three or four years to get good — I started out good. I'd practice with my dad and work on techniques.
Q: Do you remember the first time you beat him?
A: I started beating him when I was about 15. It wasn't easy. I was 154 lb at the time and he was around 200. I think he was happy for me. I had wrestled him since I was a kid.
Q: Being a kid, was it easy to fool someone into thinking they could beat you?
A: When you're 176 lb and skinny, sure. But now I'm 225, and it's harder to hustle anyone. [Laughs] People see your forearm and don't really want to do anything. Not that I ever really took advantage. Guys sometimes like to bet, but I wouldn't usually take their money since it can wind up turning into a fight.
Q: One of your Sacramento Arm Benders teammates is Allen Fisher, one of the greats in the sport. Didn't you beat him once before?
A: I was 16 when I beat him the first time. We've wrestled a bunch. As I got older, he beat me a few times. He's taught me a lot, and I'd like to think he's learned from me, too. Beating him as a teenager, though, that was probably my most memorable match so far. His reputation was huge. Being so young, it surprised everyone.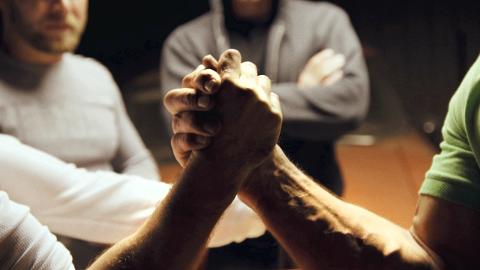 Q: Some people say that you've never realized all the potential you displayed at an early age. Is that fair?
A: I do need to train more and get more dedicated. But I've been doing this since I was a teenager. Time goes by, you get older, and you need something to help you get motivated again. It takes something like Game of Arms — something big — to make you take things more seriously.
Q: What do you think about when you lock up with someone?
A: I try to run the match through in my head. Everyone has a different style, so you try to go after their weak point. Not every move works against everyone. It's like chess in that way. There's strategy involved. If you're not sure what you'll be doing at the table, you'll be second-guessing and slow off the start.
Q: You've stayed relatively injury-free. Have you seen any nasty breaks?
A: At least five. I just saw one this past Saturday, in fact, at a small tournament in Modesto. A guy broke his arm. It happens with beginners. They're strong, but their bones aren't necessarily dense enough and their tendons aren't conditioned. They don't know what they're doing. Once you've been doing it for years, it's rare you'll break something.
Click here for more video from Game of Arms.
Read More