Press
Game of Arms AMC's Highest-Rated Unscripted Series Premiere; Show Fascinates Daily Beast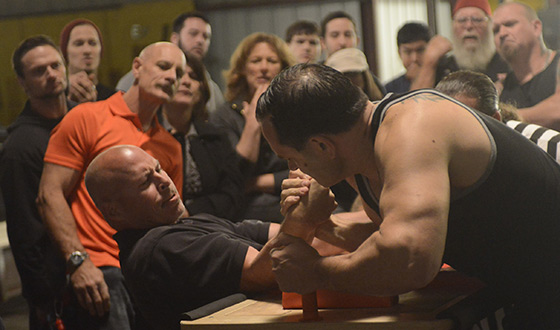 This week, Game of Arms distinguished itself as the highest-rated unscripted series premiere in AMC history, while The Daily Beast calls the reality show "fascinating." Plus, The New York Times previewed Game of Arms ahead of its Feb. 25 airing. Read on for more:
• The Daily Beast reviews Game of Arms, calling it "completely ridiculous—and so very fascinating."
• TheWrap reports that Game of Arms, which debuted Feb. 25, became the highest-rated unscripted series premiere ever on AMC — with one million total viewers, of which 626,000 were in the 18-49 year-old demographic.
• The New York Times highlights Game of Arms's Feb. 25 debut in its Television Week Ahead column.

• The Boston Globe suspects that the high school chemistry students of Michael Selearis, a Game of Arms arm wrestler, are "very well behaved." [No link]
• Zap2it features an exclusive Game of Arms clip that spotlights Kevin Nelson, who hopes to "reconnect with his kids" via arm wrestling.
• Dan Fortuna, a Game of Arms competitor from New York City's Arms Control, tells the New York Post that he thinks arm wrestling is "poised to take on greater respect and popularity with the help of the show."
• The Sacramento Bee calls Game of Arms "promises to be the biggest thing to hit the sport since Sylvester Stallone's Over the Top."
• One member of Baton Rouge's arm wrestling team, who appears in Game of Arms, tells The Advocate, "We're not animals. We're actually good people that take this seriously."
• Erie, Pennsylvania's WICU profiles the Erie Wrecking Crew ahead of its Game of Arms debut.
• Bloody Elbow applauds Game of Arms in its review: "Note perfect in tone and execution, Game of Arms expertly portrayed the dizzying highs and terrifying lows of high-stakes arm-wrestling."
• Screen Crush checks out a first look at Travis Bagent, an arm wrestler with the Erie, Pennsylvania "Wrecking Crew" who will appear on Game of Arms.
• Check out some photos of Game of Arms cast members visiting Elvis Duran and the Morning Show.
• For a recap of the series premiere, "The Battle Begins…," check out A.V. Club.
Read More