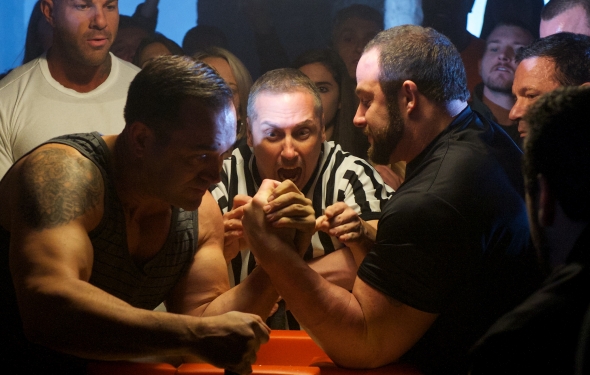 Season 1, Episode 9
Playing Hurt
Mike Selearis must face Bart Wood with a broken hand. Travis Bagent reflects on how arm wrestling brought him out of poverty.
Show Full Recap
Full Recap
After a loss two weeks ago, NYC Arms Control co-captain Mike Selearis got so frustrated he punched a wall. The result: a broken right hand. It's not his dominant arm, but he needs it to secure leverage during matches – and his team has a big one coming up against the Erie Wrecking Crew. Mike risks a career-ending injury if he pulls before it's healed, his doctor tells him. But Selearis, who values "mind over matter," plans to compete against Bart Wood in just one week.
At a poker game, Arms Control tries to get past their 0-5 sweep by Kansas City and sizes up their Erie competition. Dan Fortuna will pull John Heynoski, a former MMA fighter. Selearis is confident he can win against Wood, who's beaten all-time great Allen Fisher. Mike Ayello, a NYC firefighter, will battle fellow super-heavyweight Travis Bagent, owner of the sport's loudest mouth (and arguably its strongest left arm). Selearis is concerned that Ayello's self-doubt jeopardizes his ability to reach his physical potential.
Over in Erie, it's been a cold winter. Wood now plows snow after being laid off early from his concrete-laying job. Wood explains, he graduated college and landed a "dream job" as a high school physical education teacher, but had to resign after being indicted on a drug conspiracy charge. He calls it "the most humbling experience of my life." After spending 18 months in a federal prison, Wood can only get manual labor jobs.
Wood and Bagent get a workout in at teammate Dave Chaffee's place of work – which happens to be a prison. Chaffee is a guard there, and Wood, though hesitant, believes the visit is a good reminder of how far he's come. Later, Bagent takes 155 lb teammate Heynoski to a bar for a workout against some bigger guys. Heynoski is beaten by a 260 lb truck driver, but manages a win against a 245 lb mechanic. Bagent advises Heynoski to "make it personal" in his upcoming match.
Back in Queens, Selearis tries to motivate Ayello, who believes Bagent doesn't have any weak points. "Master the mind," Selearis tells Ayello, "and you're gonna master the match."
On match day, Ayello seems more confident. Sizing up his competition, Ayello says Bagent "looks like he works at Wal-Mart," -- but Bagent is as good at psychological warfare as he is at arm wrestling. At the table, Bagent laughs as he easily pins Ayello twice in a row.
Just before the straps go on for the third pull, Bagent addresses the crowd. "I just want to apologize to everybody," he shouts. "I had no idea I was this f-cking strong." After toying with Ayello a bit more, Bagent slams him a third time, giving Erie the first win in the best-of-five series.
Lightweight Heynoski is up next, taking on NYC's Fortuna. Size and experience allow Fortuna to grab three straight pins, tying the team score at 1-1. NYC takes the lead 2-1 when Rob Bigwood sweeps James Wagner.
NYC's Kevin Nelson has a chance to win it all in his match against Chaffee, who's agreed to pull with his "weaker" hand because he's 40 lb heavier than Nelson. But Chaffee's left arm proves to be strong enough to win, and the team score is now 2-2.
It's time for Selearis to back up his talk about mind over matter. Still sporting a splint, Selearis locks up with Wood. The two struggle in the longest match of the night before Selearis gets the first pin. After a slip, the straps come on, and Selearis takes another. Selearis gets his third pin, and NYC is declared the winner, 3-2.
Wood is distraught: "Going away without any money to hand over, that's the most frustrating part," he says. "It makes me feel guilt-ridden that I didn't win."