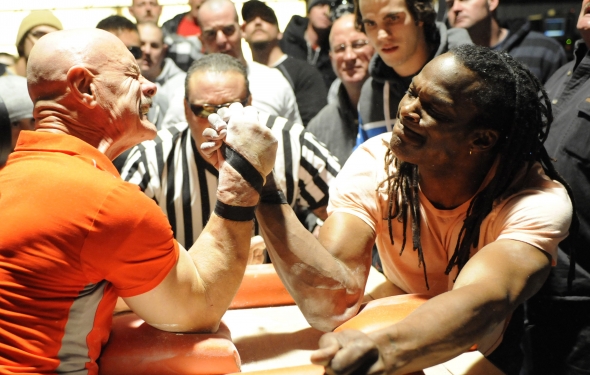 Season 1, Episode 8
End of the Line
Continuing to drink, Kenny Hughes poses a serious threat to a seriously injured Nick Zinna. Cobra Rhodes and Allen Fisher renew an old rivalry.
Show Full Recap
Full Recap
Kenny Hughes knocks back a beer, slams the can down on the table, and grips up with Nick Zinna. Hughes's Sacramento Arm Benders are up against Zinna's Kansas City Rolling Thunder -– and it's a match that almost didn't happen.
A week earlier, Zinna gets in a workout by tossing 70 lb hay bales nearly to the rafters. As a farmer and mechanic, physical mobility is essential. But when he faced off against Mike Selearis in Episode 5, he pulled his biceps.
Zinna shows his bruised arm to the farm's veterinarian. "This type of injury is no joke," the vet says. He advises Zinna to rest, but Zinna's wife worries he'll keep wrestling and injure himself further. With a new baby, the Zinnas can't afford to have Nick out of commission.
Outside of Sacramento, Kenny Hughes is doing some manual labor of his own. He's facing prison time as a result of a drunk driving accident that nearly killed him, and he needs the distraction. Kenny keeps his legal troubles from the team as they discuss their pending match against Kansas City. At 0-2 for the season, the Arm Benders desperately need a win.
Both teams agree, the marquee match will be Allen Fisher vs. Andrew "Cobra" Rhodes, men who have wrestled each other more than 20 times over the past three decades. Since a car accident several years prior, Cobra has lost every match to Fisher. Nonetheless, Fisher says, "He's in my head."
Adding to his psychological stress is the fact that Fisher's son, Austin, has a rare genetic disorder that affects his tendons: just getting around is painful, and he's no longer able to train with his father.
Outside the courthouse, a nervous Hughes waits while his lawyer negotiates with the judge -- his warrants for evading arrest have been outstanding more than a year. Kenny's lawyer finally emerges. He was able to get both cases dismissed due to a technicality.
On tournament day at an abandoned auto repair shop in Sacramento, a shoving match erupts even before the first pull.
When things settle down, Zinna and Hughes step up to the table. Zinna has a 55 lb advantage but is still nursing his injured arm. On their first pull, a slip necessitates the use of straps. Hughes gets a quick pin. The second time, Hughes leans back, but Zinna gets an ugly pin – and another. Down 1-2, Hughes pulls Zinna's body toward him for leverage and evens the score, then grabs the winning pin.
Immediately, Zinna knows something is wrong. "I tore my bicep," he says. Rhodes calls an ambulance. Hughes comes over to apologize.
Kansas City's Bill Logsdon is up next against Mike McGraw. The two exchange pins before Logsdon lands the winning point. Sacramento's Tom Nelson gets a chance to even the score with Don Underwood, but can't get on the board: Underwood wins 3-0 and puts Kansas City up 2-1.
Sacramento has a chance to tie with Luke Kindt taking on the younger Ethan Fritsche. After a slip, Kindt gets the first pin. Kindt's feet come off the floor in the second grip, and Fritsche gets two pins in a row. After another slip, Fritsche retains undefeated status on Game of Arms by taking Kindt 3-1 and giving Kansas City the team win.
The final battle pits two legends – Fisher and Rhodes – against each other. Just before the match, Nelson surprises Fisher by bringing Austin to watch in a table-side seat.
Fisher and Rhodes lock up. The first pull is a slip. In the straps, Fisher gets the pin. On the second pull, Rhodes's wrist bends forward and he struggles to keep his footing. Fisher gets another pin.
"I think the tendon popped in that wrist, but I don't care," Rhodes says, and heads back for their third pull. It's the longest of the day, but Fisher pumps Rhodes's arm down for the third pin and the victory. Fisher embraces his son. "You need to be with me more often," Fisher says.
Off to the side, Zinna calls his wife and tells her the bad news: his arm wrestling is over. Without being able to work or pull, Zinna's future is uncertain.