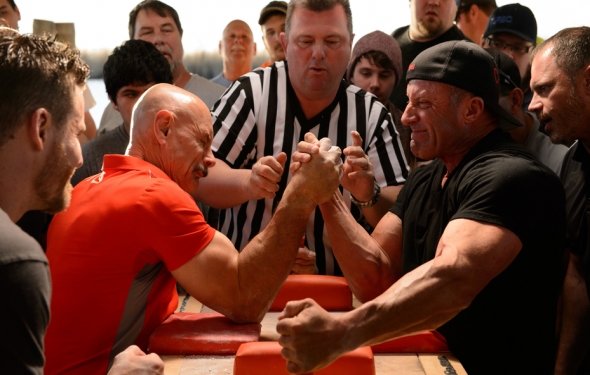 Season 1, Episode 7
War Horses
Arm wrestling has affected Allen Fisher's and Craig Tullier's families in different ways. Kenny and Chop receive interventions for unhealthy habits.
Show Full Recap
Full Recap
In Baton Rouge, Louisiana, Roughnecks captain Craig Tullier tosses a hatchet at a photo of Sacramento Arm Benders's Allen Fisher pinned to a tree. Fisher will be Tullier's opponent in the upcoming week's match.
Coming off a win over the NYC Arms Control, Roughnecks morale should be at an all-time high. But Tullier is concerned about Matthew "Chop" Bertrand, who guzzles beer and avoids vegetables with the same enthusiasm. Tullier explains, arm wrestling is about endurance, which requires a proper diet. Chop sips from a container of ranch dressing and declares he's unconcerned about his match against Kenny Hughes.
Tullier reveals, he dropped out of the sport for six years in order to save his marriage. Tullier ultimately got divorced and returned to arm wrestling, but the decision to stop – and its consequences -- still weighs heavily on his mind.
In Sacramento, Fisher digs through a box of his world championship trophies, remembering days of "sex and drugs and rock 'n' roll." A minister now, Fisher says even then God was never far from his mind.
Fisher's teammate, Hughes, has issues of his own with depression and anxiety, which he self-medicates with alcohol. Fisher recalls how Hughes beat him when Hughes was just 16 years old. "Can you imagine," Fisher wonders, "if he cleaned up his act, what he could do?"
In Baton Rouge, Bertrand is in the hospital after experiencing severe chest pain during a workout. He's lectured on his cholesterol from both the physician and his own mother. Bertrand's father died from complications due to high cholesterol before he turned 50. Back at home, Bertrand's mother starts the family on a diet.
In Lafitte, Louisiana, it's match day on the bayou. Sacramento arrives to face the hometown favorite Roughnecks. Blatantly ignoring Fisher's advice, Hughes drinks and smokes while watching his teammates compete.
Sacramento's Tom Nelson is up first, taking on Larry Alexie. The first pull is a foul, with Alexie dropping so low to the ground that his elbow comes off the pad. The next is a quick pin for Nelson, but Alexie turns the tables to tie the score. Nelson scores a second pin, and then secures the win when Alexie fouls a second time.
Sacramento, now on the board, is still in search of their first team win of the season. Mike McGraw tries to make it 2-0 for the Arm Benders and succeeds with three quick pins against super heavyweight Turbo Borrow.
Because Sacramento's Luke Kindt is a no-show, substitute Randy Weaver steps in. Weaver faces Ray Hennerichs, who easily takes the series 3-0 and gets the Roughnecks on the board.
With Sacramento up 2-1, Hughes slams down a beer and approaches the table. Hughes and Bertrand have agreed to pull two matches with their left arms and two with their right. After slips on the first two left-arm pulls, the straps come on. They favor Bertrand's power, and he wins both. Switching to the right, Bertrand takes the third and final pin without the straps, tying up the team score for Baton Rouge.
It comes down to Fisher vs. Tullier. The two last met 14 years ago and have a combined 50 years of experience between them. After a slip calls for the straps, it takes everything Tullier has to get down a resilient Fisher, who responds with a flash victory on the second pull. On the third, Tullier again has to dig deep to pin Fisher. Tullier tries to do it a third time, but Fisher fights him off in one of the best matches of the season. Tied 2-2, the men are exhausted. With their muscles drained, Fisher nearly pulls off a pin before Tullier stages a comeback for the win. Baton Rouge takes the meet 3-2.
Tullier celebrates with a rare break from his strict diet, indulging in some ice cream with his daughter. "I'll have to do two hours of cardio to burn this off," he says, but admits it's worth it.