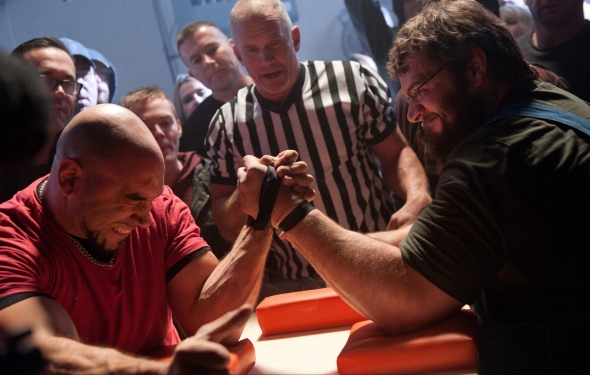 Season 1, Episode 6
Welcome to the Slaughterhouse
Bones are broken in a clash between humble farmer Nick Zinna and tactician Mike Selearis as Kansas City defends its home turf against New York.
Show Full Recap
Full Recap
Preparing to face off against Kansas City Rolling Thunder's Nick Zinna, a 6'4", 280 lb farmer, New York City Arms Control's Mike Selearis compares the battle to David vs. Goliath. The match is on Zinna's home turf, but Selearis doesn't seem concerned.
A week earlier, Zinna herds cows and bales hay on his family's farm, a job that's helped him develop incredible strength leading to success at the arm wrestling table. Of Selearis, Zinna says, "For him, losing is the end of the world."
In New York, high school chemistry teacher Selearis tells his students his strategy for beating the much larger Zinna. Selearis then gathers his team, still aggravated over their defeat by Baton Rouge. Vegan Rob Bigwood is taken aback upon hearing that the upcoming match will be held in a slaughterhouse. The men think it's a strategic move to get in Bigwood's head.
In Kansas City, Bill "Hands of Steel" Logsdon explains, he's been separated from his wife since 2001 and doesn't see his kids as often as he'd like. After school, he teaches them arm wrestling techniques. "When I arm wrestle, I get to be somebody I'm not," he says. "Someone they can look up to and be proud of."
Bigwood brings teammate Kevin Nelson to train at his family's house. Bigwood has been depressed since the last tournament, and his father rubs salt in the wound, calling him a loser.
On match day in a makeshift arena in Kansas City, Rhodes is first up in a match against Kevin Nelson. After losing to Matt "Chop" Bertrand in episode two, Rhodes has something to prove. After pinning Nelson quickly twice, Rhodes has to work for a third. The two exchange words before Rhodes gets the last pin, giving Kansas City the first win. They'll need two more to take the best-of-five series and $1,000.
Dan Fortuna is up next, squaring off against the younger, smaller Ethan Fritsche. Though it looks like a mismatch, Fritsche lives up to his reputation as the next generation of arm wrestling by slamming Fortuna down three times in succession.
With New York on the verge of losing the meet, Rob Bigwood shakes off his agitation and comes face to face with Logsdon. Their first pull ends in a slip, and the referee uses straps to secure their hands. Logsdon gets two pins. Bigwood appears on the verge of winning the third pull, but Logsdon reverses and gives Kansas City the 3-0 win.
"It's embarrassing," Bigwood says. "Two losses is seriously, seriously, seriously depressing."
Logsdon hugs his kids. "I love him so much," his son says, crying. "I wish I could be around him more... I wish I could see him this happy all the time."
With the Rolling Thunder guaranteed the overall win, the next two individual bouts are for pride. NYC firefighter Mike Ayello faces Don Underwood. Underwood gets three quick pins, meaning Arms Control is now in danger of being shut out. Not only have they lost every match, they haven't scored a single pin.
Selearis approaches the table to square off against Zinna, who nails a quick first pin. During the second pull, Selearis pulls his arm away from the table. Selearis argues that it wasn't intentional, but the referee calls it a foul, putting Zinna up 2-0.
Selearis takes a moment to collect himself. After a slip, the straps come on. While they normally favor the bigger, stronger man, Selearis avoids a sweep by pinning Zinna not once but twice. Selearis pulls his elbow so far off the pad that most of his fingers slip out of Zinna's grip before the referee awards Zinna the final victory.
An irate Selearis punches a wall, injuring his hand. "Mike," his wife observes, "is not good at taking a loss."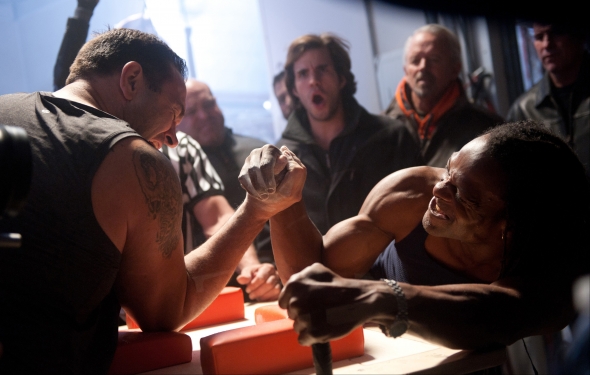 View photos from Season 1 Episode 5, "Welcome to the Slaughterhouse"