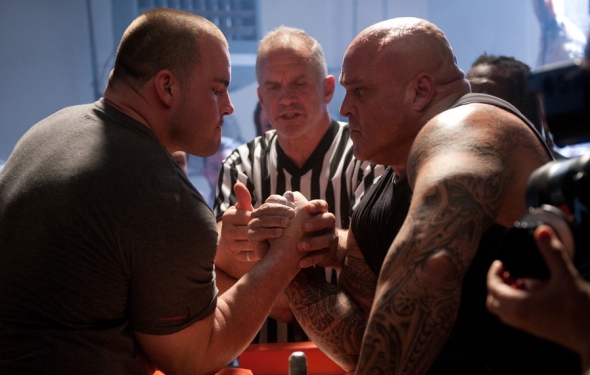 Season 1, Episode 5
Battle for the Belt
Travis Bagent and Don Underwood put a coveted championship belt on the line. Cobra contemplates what a loss to Bart Wood would mean for his career.
Show Full Recap
Full Recap
At a salon in Kansas City, Missouri, Don Underwood is busy living up to his "Hollywood" nickname. He gets a facial and a manicure while discussing the last time he ran into longtime rival Travis Bagent. Underwood "crushed" Bagent, and he'll get a chance to prove it was no fluke when his Kansas City Rolling Thunder meet the Erie Wrecking Crew in the last regular team match of the season.
Underwood heads for the Ponderosa, a property reserved for wrestlers to train and trade techniques. There, Andrew "Cobra" Rhodes says Erie is the strongest team they've faced and the Rolling Thunder's undefeated record is in jeopardy. Nick Zinna reveals, his left arm is "officially retired" after he tore his bicep in a bout with Kenny Hughes two weeks earlier.
While Rhodes – a 16-year veteran who's been on a losing streak and is doubting himself more than ever -- has his work cut out for him against Bart Wood, he's most concerned with Underwood keeping his cool against Bagent, aka "The Mouth of the South," who's a master of getting inside his opponent's head.
Later, as Underwood trains, he explains the source of his aggression. He was overweight and teased in school until he discovered his alter ego: "I was bullied until I grabbed hold of 'Hollywood.'" But Underwood's massive power comes at a price. He's abused his body to the point where he must sleep with a breathing-assistance device and he has chronic back pain. Tied up with pulling, he forgot his son's birthday, and his ex-wife refuses to bring their kids to the upcoming match. Despite the bravado, Underwood says he's "f-cking tired of being me."
In West Virginia, Bagent isn't aware of Underwood's distractions. Bagent concedes, his opponent may have a chance at beating him. To up the stakes, Bagent phones Underwood and asks him to wrestle for a championship belt that Underwood won the last time they pulled. Underwood agrees – while wearing the belt.
At a Kansas City slaughterhouse, the Erie team arrives to a hostile crowd. Wrecking Crew captain James Wagner is up first, facing Bill Logsdon. Wagner's prediction: "I'm gonna squeeze his hand so hard his eyeballs pop out." Logsdon is not concerned, and after trading victories, he beats Wagner 3-1.
Next, Erie prison guard Dave Chaffee takes on Doug Allen, Nick Zinna's substitute. While Chaffee is enormous and Allen a late replacement, Chaffee recalls how Allen broke his arm in 2007. Chaffee blocks out the memory long enough to put Allen down three straight times for the win, tying the team score. But Kansas City takes the lead when Ethan Fritsche encounters no resistance against John Heynoski Jr., slamming him down 3-0.
Kansas City can secure an undefeated record for the season if Cobra Rhodes can best Bart Wood. Rhodes turns it on at the table, knocking off two quick pins. Wood regroups and purposely slips so the referee goes to the straps, which favors Wood's power. Rhodes struggles, but ultimately overwhelms Wood. Kansas City takes the day 3-1 and becomes the only undefeated team in Game of Arms.
With Bagent's squad on the losing end, he's pulling only for himself. Bagent locks up with Underwood, and slams Underwood right down. A second pin is scrapped when the referee calls a false start. After the straps come out, Bagent pins Underwood again.
Rhodes takes Underwood aside and quotes Apollo Creed, telling Underwood, "There is no tomorrow." On the third pull, both men scream from the exertion, with Bagent trying to pump Underwood's arm down. After an epic 40 second battle, Bagent finally gets the pin, and with it the heavyweight belt.
Underwood sums up his performance succinctly: "F----------ck."