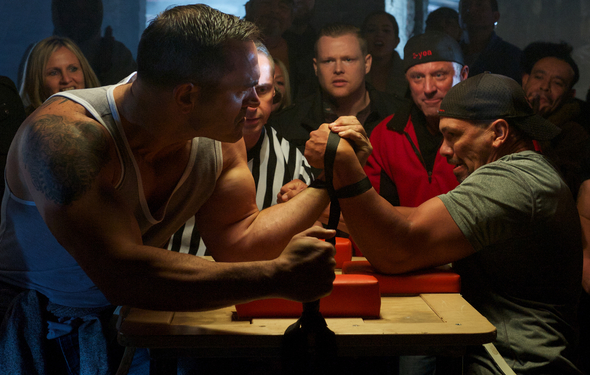 Season 1, Episode 4
Bloodlines
New Yorker and tattooed vegan Rob Bigwood wrestles crippling doubts as he trains for an epic match against soft-spoken, gun-totin' Chop Bertrand.
Show Full Recap
Full Recap
On a cold night in Queens, New York City Arms Control team member Rob Bigwood joins his teammates at a bar. In just one week, Arms Control will meet the Baton Rouge Roughnecks and attempt to improve their Game of Arms record to 2-0. Bigwood declines an invitation to go out drinking the night before the match. He'll be taking a bubble bath -- his pregame ritual.
Bigwood shrugs off teasing from his teammates and explains how he became a vegan. "I'd like to prove to these guys that you can be super-strong without eating meat," he says. Bigwood will be matched against Matthew "Chop" Bertrand of Baton Rouge, a devout meat eater.
In Louisiana, Bertrand orders at a restaurant: "Double cheese, double meat, double bacon." Teammate Josh "Turbo" Borrow asks Bertrand if it's possible for a vegan to beat him. "There's no way a vegetable can beat up a steak," Bertrand answers.
Back in New York, Bigwood analyzes footage of Bertrand competing. Bertrand seems to have an advantage when arm wrestling in the straps. Meanwhile, Bigwood's teammates practice on the streets and riverbanks of New York.
Kevin Nelson prepares for his bout against Ray Hennerichs by using a custom-built pulley that simulates the resistance of an opponent. Hennerichs, a refinery supervisor and 10 time national champion, is known for his speed.
Kevin explains, his recent divorce after 18 years of marriage has created a rift between himself and his kids. He leaves a phone message for son Kyle, 17, asking him to come to the match. Bigwood seeks familial support of his own, asking his father -– who doesn't attend many matches -– to be there for this one.
The Baton Rouge contingent trains using devices invented by Hennerichs, with Turbo aiming to avoid a repeat performance of his humiliation at the hands of Ethan Fritche from Kansas City. However, arm wrestling isn't the only obstacle they face: The steering breaks on Bertrand's shrimp boat and he loses an entire day's income.
A crowd gathers in an abandoned iron works facility for the match in Queens. Nelson paces outside, waiting for his son. When Kyle finally appears, the two hug: "It's been years since I've seen my dad arm wrestle."
A fired-up Nelson is first, pulling against Hennerichs. Nelson gets a quick pin, but on the next round a slip necessitates the use of a securing strap. After a protracted struggle with both men seemingly on the verge of victory, Nelson gets his second pin – although Hennerichs complains the match started too early. On their next pull, Nelson pins Hennerichs quickly but the referee calls a false start. Nelson gets the final pin and the first win for New York. He hugs Kyle, tearing up.
New York's Selearis is up next, facing oil worker Craig Tullier. It's a blitz, with Selearis barely breaking a sweat to pin Tullier three in a row. Baton Rouge surges back when New York's Dan Fortuna falls 0-3 to Jerry Avanti and Borrow takes New York alternate Patrick Baffa 3-1.
With the teams tied 2-2, it's down to Bigwood and Bertrand. Bigwood's father is in attendance, along with his mother and brother. Bertrand gets his first pin easily; the second is a slip, which cuts Bigwood's hand. Covering the blood with chalk, Bigwood dives back in, but Bertrand is too strong: he takes two more quick pins to give Baton Rouge the team win and $1000 prize.
A devastated Bigwood apologizes to his family. "For my dad to come here and see me get my ass kicked, it hurts."