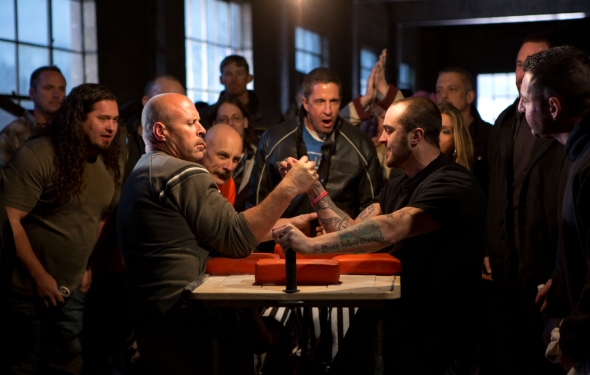 Season 1, Episode 3
The Cold War
Everything is on the line for two fathers as the menacing squad from Erie meets the Sacramento Arm Benders at the arm wrestling table.
Show Full Recap
Full Recap
Tom Nelson paces back and forth in an abandoned train station near Erie, Pennsylvania. Waiting for him down the hall is rival Travis Bagent. It's the marquee match between Nelson's Sacramento Arm Benders and Bagent's Erie Wrecking Crew.
Though Bagent is the star of the Erie team, he lives in West Virginia, where his high school sports and arm wrestling exploits have made him a local legend in the area: "I'll walk in and they'll know the champ is here."
Bagent grew up in a rural area of the state, with no running water and a spot for an outhouse that he jokes is now "fertile ground." He brings his children to the land where he grew up so they can better appreciate their good fortune.
As he drives to Erie, Bagent turns his focus to arch rival Nelson -- a 6-time national champion who has continually run into roadblocks when facing Bagent.
In Sacramento, Nelson and teammate Kenny Hughes blow off steam riding ATVs. The two men discuss an ATV accident that nearly took Nelson's life just a few years prior. Nelson believes he actually died before he heard God tell him he was destined to be a world champion – and then "boom, I'm back." Nelson tells Hughes, he intends to fulfill that prophecy.
In Erie, Bagent picks up teammate Dave Chaffee, who is returning from a match in Poland. Bagent takes Chaffee to a bowling alley, where a surprise party is waiting to welcome him home. The remaining Wrecking Crew members are team captain James Wagner, a maintenance worker who's made a science out of the sport; Bart Wood, a concrete mason with five children; and John Hynoski, the smallest of the bunch.
Nelson introduces his family, nearly all of whom have wrestled competitively – including his wife, mother and sister. Later, he listens to an online radio show where a chuckling Bagent doubts Nelson will put up much of a fight.
Wood breaks the news to his wife: He's been laid off for the winter. They look through the newspaper for jobs before he joins his wife as a busboy at the local bar.
Allen Fisher thinks back to the matches he lost in Episode 1 and contemplates the effect of aging on his body.
At the match, Erie has a hometown advantage of subzero temperatures. It's 15 below when the Arm Benders arrive at the train depot. The standard best three-of-five rules apply for both individual matches and the team meet.
Sacramento's Hughes is up first, taking on Chaffee. Because Chaffee outweighs Hughes by a considerable amount, Chaffee agrees to pull using his non-dominant left hand. He still pins Hughes three times in a row.
Because they're one man short, Sacramento team captain Mike McGraw volunteers to wrestle twice; Erie agrees. He first challenges Erie's Hynoski and gets three straight pins. McGraw stays in place to face James Wagner. After a slip, the men strap up and Wagner slams McGraw's wrist down three times in succession to win.
After a controversial elbow foul, Wood bests 58-year-old Allen Fisher, putting Erie up 3-1.
With a team win secured, Bagent is under little pressure against Nelson. The first two pins are lightning fast. Bagent looks amused, talking trash as Nelson tries to resist. In the decisive pull, Nelson submits by breaking the hold before Bagent can pin him. He tries to congratulate Bagent, who pushes him away. "Don't be kissing my ass now," Bagent spits.
Nelson ends the day marveling at how strong Bagent is. The same is true for Bagent, who looks at his swollen left arm with a sense of wonder. "I wish," he says, "I was just a normal person."