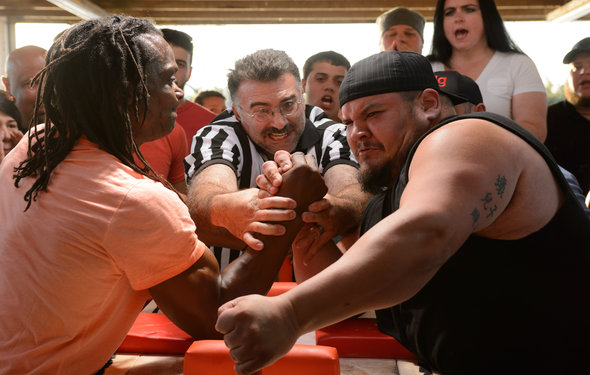 Season 1, Episode 2
Southern Inhospitality
Arm wrestling guru Cobra Rhodes joins forces with the legendary Kansas City team for a battle in Louisiana against a team of outlaws and roughnecks.
Show Full Recap
Full Recap
On a Louisiana shrimp dock, Matthew "Chop" Bertrand, a burly fisherman and oil worker, assesses his chances against arm wrestling royalty Andrew "Cobra" Rhodes. The two are seconds away from squaring off as Rhodes's Kansas City Rolling Thunder faces Bertrand's Baton Rouge Roughnecks.
"Cobra's a legend," Bertrand says, "but every legend has to end."
A week prior, Bertrand, 29 and a respected super heavyweight competitor, discusses the rough labor work he credits with developing his power. His family owns a crawfish farm and one of the oldest oil wells in the state.
Bertrand's Roughnecks teammates are Craig Tullier, a refinery supervisor and the team captain; logger Jerry Avanti; Larry Alexie, a tugboat captain missing an index finger; and Josh "Turbo" Borrow, a newcomer who tips the scales at 432 lb.
As the team fires up the grill, talk turns to Rhodes. A 16-time champion and gourmet chef, Rhodes is renowned for his ability to crush bigger men even though he's older (49) and smaller (176 lb).
In Kansas City, Rhodes talks about his extended layoff from the sport: "You never do really retire," Rhodes says. "Arm wrestling retires you."
Rhodes and co-captain Don Underwood arrive at The Ponderosa, a "Zen monastery" for wrestlers in the Midwest. Athletes live and train here, invited by owner Don Fritsche. His son, Ethan, is a Rolling Thunder team member and protégé of Rhodes.
The Kansas City team is rounded out by Nick Zinna, a farmer, and Bill Logsdon, who fabricates special training equipment for the sport. The men dwarf Ethan, 22, but acknowledge his role as a next-generation competitor. Discussing the upcoming match, the men feel speed is critical to win.
In Louisiana, Turbo seems unconcerned with Ethan's chances against him, but Bertrand admits to being unfocused, with his wife leaving and three friends having died in a short period of time. Arm wrestling, Bertrand says, is what keeps him from falling apart.
The meet is set for 7AM on the shrimp dock, with the Roughnecks having home field advantage. The standard rules are in place: the one-on one matches are a best-of-five series for $250 each. The team to win three out of the five individual matches takes the overall win and a $1,000 prize.
Underwood is up first, facing Baton Rouge's Tullier (and outweighing him by 115 lb). Underwood takes it in a sweep. Kansas City's Logsdon continues the streak by beating Avanti.
With Kansas City up 2-0, Ethan can take the tournament for the Rolling Thunder by beating Turbo. When the referee signals the start of the match, Ethan explodes, pulling Turbo's hand in for leverage and swiftly pinning him. Ethan does it twice more, giving Kansas City the win.
"That little long haired Jonas brother just beat me at arm wrestling," Turbo says, embarrassed.
To avoid a sweep, Baton Rouge's Alexie tries to overcome Zinna, but fails -- Zinna commandeers all three pulls.
Roughnecks pride rides on Bertrand now. He and Rhodes lock up. Bertrand pins him once, then a second time when the referee declares Rhodes slipped out intentionally. After another slip, the men's hands are put in straps to keep them together. Rhodes comes back from a near-pin to make the score 2-1. The win took over 80 seconds -- an eternity in arm wrestling -- and both men are fatigued.
For the fourth pull, Rhodes gives everything he has, but Bertrand perseveres. He pins Rhodes, taking the individual win and avoiding a blowout by Kansas City. The battle cost Bertrand, though: his arm is too sore to open a water bottle.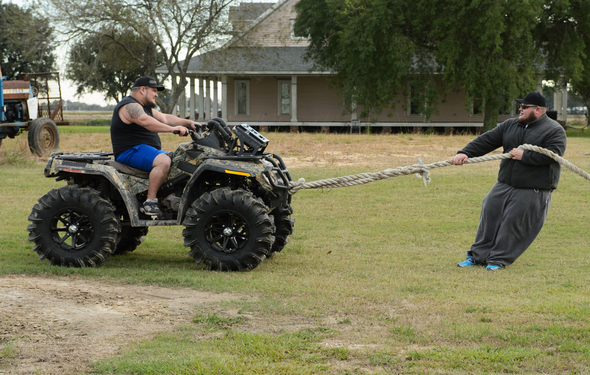 View photos from Season 1 Episode 2, "Southern Inhospitality"