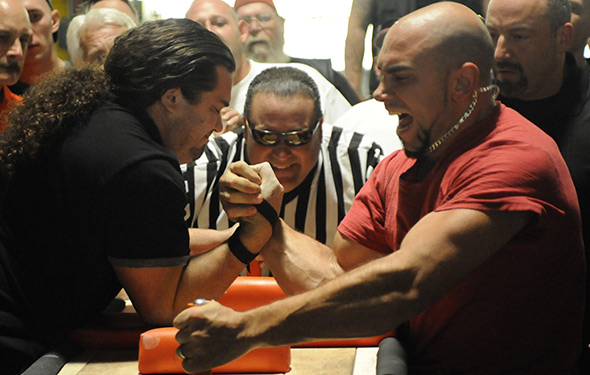 Season 1, Episode 1
The Battle Begins…
The Sacramento Arm Benders try to take down the powerhouse New York City Arms Control, led by the fiercely driven giant-slayer, Mike Selearis.
Show Full Recap
Full Recap
In Stockton, California, a crowd gathers for the arm wrestling match between the Sacramento Arm Benders and New York City Arms Control. Kenny Hughes (Arm Benders) sits on a chair, sick with the flu. "I feel ready to pass out," he tells supporters. Across the auto repair shop, Mike Selearis (Arms Control) looks ready to attack.
"When I tell people I'm a professional arm wrestler, they laugh,"says Selearis. "They ask, 'Is that a real thing?' You're G-ddamn right it is."
As Selearis locks arms with Hughes, his longtime rival, snapshots appear of regional arm wrestling teams: Erie, New York City, Kansas City, Sacramento, and Baton Rouge. All are home to squads of professional "pullers" who travel the country looking for prize money and recognition. This week, Sacramento meets New York City in a best-of-five competition.
The five members of the New York team meet in Selearis's basement to train. The sound travels up to the first floor, where Selearis's wife is trying to get their children ready for school. "It's 5:30 in the morning," she says wearily, "and I have five men making screaming [noises] and lifting weights."
Surrounding Selearis, the star of the team, are Mike Ayello, a firefighter built like a brick; Kevin Nelson, a graphic artist who uses a sensory deprivation tank to focus; heavily-tattooed Rob Bigwood, an art director and vegan; and Dan Fortuna, an animal rehabilitation worker.
The focus shifts to Sacramento: Kenny Hughes pounds back beers as he trains. Surrounding him are Luke Kindt, a mechanic; Mike McGraw, a grocery clerk missing a leg; Tom Nelson, a UPS worker; and the legendary Allen Fisher, a 57-year-old minister and 26-time world champion.
The team addresses the issue of Hughes' drinking. Hughes argues, he doesn't drink every day, but admits that "once I start, I can't stop." Fisher says he's slowly killing himself.
Later, Hughes arrives at his father's house for training. Jed Hughes introduced his son to the sport, but believes his son's drinking is keeping him from realizing his full potential.
At the auto repair shop, the teams converge. The referee explains the rules: individual winners of a best-of-five match get $250. The team to take three of the five individual matches splits $1,000 between their members.
In the first bout, Fisher faces off against Bigwood. Despite Fisher being the favorite, Bigwood pins his hand to the table three times in a row. Fisher argues, claiming the ref started them in a bad position.
After three more bouts, the teams are tied 2-2. Selearis and Hughes take to the table. Despite feeling ill, Hughes pins Selearis immediately. Their hands slip out the second time, necessitating the use of straps to keep their hands locked. Selearis puts up more resistance, but Hughes gets his second pin. Sensing Hughes fatiguing, Selearis fires back with two consecutive pins.
During their last pull, Hughes appears to have won -- but the referee reverses his call, ruling that Selearis slipped out before hitting the table. Tempers flare and Nelson briefly tussles with Selearis before it's broken up. Back at the table, Hughes has nothing left: Selearis pins him, taking the win for the Arm Benders and the $1,000 prize.
"Some people are going to say I stole this match," Selearis says. "Losers always make excuses. It's my victory. I made it happen."