Unscripted
Freakshow Q&A – Phoenix Ray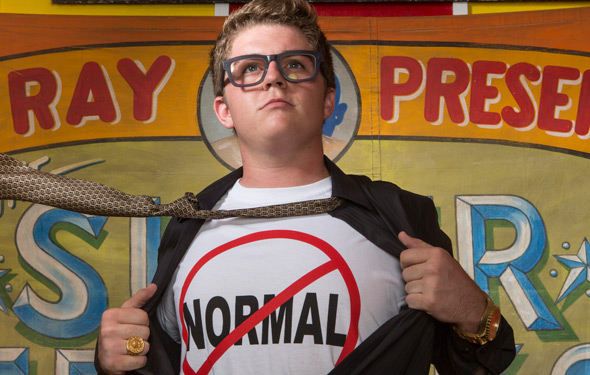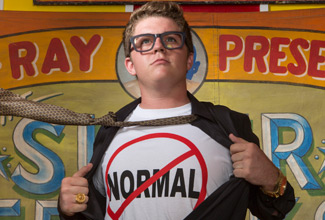 Phoenix Ray, co-owner of the Venice Beach Freakshow, talks about dating, his plans for the future and his role in carrying on the legacy of the Freakshow.
Q: In episode 212, "Freaks Hanging By a Wire," you went on some dates. Is it hard trying to date when you're part of the Freakshow?
A: Yeah, it is. It's just a weird thing to say, "I work at a freakshow… You can go there and see a sword swallower." It's just a weird thing to throw out there to a girl.
Q: How do you feel about your parents, Todd and Danielle, giving their two cents on your love life this season?
A: It's just stressful that they treat me like I'm 13. But they're just looking out for me. I understand what they're saying.
Q: This season your dad showed you how to "talk" in order to bring crowds into the sideshow. When did you first become interested in "talking"?

A: I got into it because I've always been out in the front [of the Freakshow] and I was like, I've heard [the pitch] so many times, if you need help, I'm totally down. I know what to say. I've got the spiel down.
Q: What were some challenges you faced during your big "talking" debut?
A: Some of the audience members were standing on the stairs and I would forget to make eye contact with them. I was nervous since I had never done it in front of people before. It was just butterflies in my stomach. I needed to get over my nerves.
Q: Have you ever wanted to attempt any stunts in the Freakshow?
A: In the past, I was learning how to throw knives. But I haven't really been thinking of doing any [stunts] lately. In the future, I might. But right now, no. I'll probably keep hanging outside with my dad and doing the "talking." I plan to take over for him and run the Freakshow one day.
Q: What are your plans after high school graduation?
A: Right now, my plans for the summer now are to work at the Freakshow and on my days off, hang out with my girlfriend.
Q: Outside of the Freakshow, what are some of your hobbies?
A: I like to go to Six Flags, Universal Studios and Disneyland. I have yearly passes for all of the parks.
Q: What has growing up in the Freakshow taught you?
A: Growing up in the Freakshow has given me a lot of patience. It's given me a lot of people skills and has taught me a lot about business. All of my friends are stupid with how they spend their money. So it's taught me about working for my money and saving.
Q: What was the craziest thing you saw this season?
A: Honestly the craziest thing I saw this season was Asia doing her stunts. I would've never thought she would push herself to do fire-eating or the electric chair [stunt]. And also Morgue's bed of razor blades was crazy!
Click here to read an interview with Amazing Ali.
Check out back-to-back, new episodes of Freakshow Tuesdays at Midnight/11.
Read More